Human Trafficking Case Study 1: Philip
Read the case study that follows. Then, click on the image to take the quiz about Philip.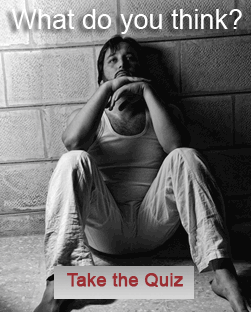 A construction worker named Philip visits a community health centre seeking treatment for a chest infection. While treating him, the doctor and nurse notice serious bruises on his chest and forearms.
They ask him if he was in an accident at his work at a construction site. He says no, he just tripped and fell. They leave the topic alone for the moment, but a few details Philip lets slip about his life make them begin to wonder. They find out that he has been living where he works, at the construction site, for more than two months, and that he does not have proper equipment: no helmet or steel-toed boots.
After the doctor treats his bruises and gives him a prescription for his chest infection, Philip says he's worried he may not be able to afford the medication because he hasn't been paid yet for his work — and then he tells them the real story about his "accident": It turns out that his employer beat him the day before when the coughing caused by his chest infection forced him to stop work early.
| | |
| --- | --- |
| previous | next |
Copyright © 2014 Province of British Columbia.