Government Initiatives for Trafficked Persons
Canada's National Action Plan to Combat Human Trafficking
In Module 1, you learned that by ratifying the Trafficking in Persons Protocol, the majority of countries around the world have committed to the Four Ps approach to combat human trafficking:
Protection — Protecting and assisting those who have been trafficked.
Prevention — Preventing and combating human trafficking.
Prosecution — Prosecuting the traffickers.
Partnerships — Promoting cooperation and partnerships among countries in order
to effectively meet the goals of Protection, Prevention and Prosecution.
Canada's Four P measures are reflected in Canada's National Action Plan to Combat Human Trafficking which was released in 2012. The National Action Plan commits $25 million over four years to build on and strengthen Canada's efforts to prevent, detect and prosecute human trafficking. Specific funding to assist victims of human trafficking is made available as part of the plan, and a new Human Trafficking Task Force led by Public Safety Canada at the federal level has been established.
More information about Canada's efforts to combat human trafficking can be found on the Public Safety Canada website.
B.C.'s Action Plan to Combat Human Trafficking 2013-2016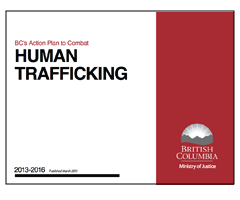 In 2007, the British Columbia government established the Office to Combat Trafficking in Persons (OCTIP), which is responsible for developing and coordinating British Columbia's response to human trafficking. Other provinces are exploring the option of establishing similar Offices based on OCTIP's successful service coordination model for trafficked persons. (See the Human Trafficking in B.C. website for more information.)
B.C.'s Action Plan to Combat Human Trafficking sets out key priority focus and action areas for responding to issues of human trafficking across the province for the years 2013-2016. The priority focus areas outlined in the Plan are:
Youth — preventing and addressing trafficking of youth for sexual exploitation.
Vulnerable workers — preventing and addressing labour trafficking of vulnerable workers.
Aboriginal communities — preventing and addressing domestic trafficking of Aboriginal youth and women.
Tracia's Trust: Manitoba's Sexual Exploitation Strategy
Earlier in this module, you learned about legislation in Manitoba that creates a protection order for victims of human trafficking or child sexual exploitation. This legislation is part of a provincial strategy to address the sexual exploitation of children. Launched in 2008, Tracia's Trust is phase two of this strategy and emphasises implementing more prevention initiatives, developing a continuum of services for victims, increasing public awareness and making offenders more accountable. Tracia's Trust considers all forms of sexual exploitation, including prostitution, pornography, sex trafficking, sex tourism and internet luring.
| | |
| --- | --- |
| previous | next |
Copyright © 2014 Province of British Columbia.