Trafficking in Persons Protocol
The United Nations' Trafficking in Persons Protocol, also known as the Palermo Protocol, has now been ratified by 117 countries around the world, including Canada. These countries have committed to viewing human trafficking as a serious crime which violates the human rights of trafficked persons, accepting the Trafficking in Persons Protocol's definition of human trafficking, and taking steps to implement the "Four Ps" of human trafficking.
The Four Ps of Human Trafficking
Prevention — Preventing and combating human trafficking through public awareness and education campaigns, poverty reduction, and discouraging demand for the labour or services of trafficked persons
Protection — Protecting and assisting those who have been trafficked by providing physical safety, legal information, and protection of their privacy and identity
Prosecution — Prosecuting the traffickers by enacting laws that make trafficking human beings a crime, training law enforcement and other authorities on how to identify traffickers, and protecting the rights of trafficked persons
Partnerships — Promoting cooperation and partnerships among countries in order to effectively meet the goals of protection, prevention, and prosecution
Public Awareness Campaigns
Many countries worldwide have launched public awareness campaigns in recognition of the importance of partnership, such as: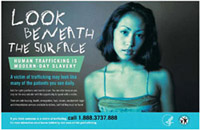 Look Beneath the Surface
Program (ATIP)
| | |
| --- | --- |
| previous | next |
Copyright © 2014 Province of British Columbia.