3.6.1 Log Culvert Design
For the purposes of this manual, the term "log culvert" is interchangeable with "woodbox culvert," "log stringer culvert," or "wood stringer culvert."
A log culvert is a log crossing structure having a span of less than 6m centre-to-centre of bearing, and an abutment height (if constructed as a log crib) of less than 4m between the underside of the lowest crib log to the underside of the stringers, and is used to carry ephemeral or perennial stream flow in a stream channel from one side of a road to the other. A log culvert structure is covered with soil and lies below the road surface (Figure 3-14).
Figure 3-14 Simple log culvert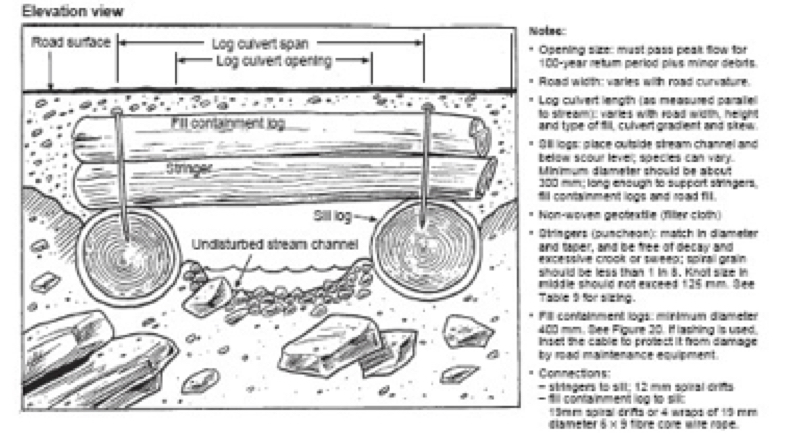 ---
Notes Figure 3-14:
Opening size: passes peak flow for 10-year or 100-year return period, (depending on the anticipated time that the log culvert will remain on the site) plus minor debris.
Road width: varies with road curvature.
Log culvert length (as measured parallel to stream): varies with road width, height and type of fill, culvert gradient and skew.
Sill logs: place outside the stream channel width and below scour level: species can vary. Use minimum diameter of about 300mm; long enough to support stringers, fill containment logs, and road fill.
Non-woven geotextile (filter cloth).
Stringers (puncheon): match in diameter and taper, and be free of decay and excessive crook or sweep; spiral grain should be less than 1 in 8. Knot size in middle is less than 125mm. See Table 3-8 for sizing.
Fill containment logs: minimum diameter 400mm. See Figure 3-15. If lashing is used, inset the cable to protect it from damage by road maintenance equipment.
Connections:
Stringers to sill; 12mm spiral drifts
Fill containment log to sill: 19mm spiral drifts or four wraps of 19mm diameter 6 x 9 fibre core wire rope
Inlet control: place shot rock to protect against fill erosion below the design flood level.
Outlet control: place rock as required to prevent outlet scouring and undermining of the sill logs.
In the case of a skewed log culvert, measure the span of the stringers for design purposes from bearing to bearing along the stringers and not at right angles to the sill logs.
---
Consider log culverts for:
streams where other resource agencies require the culvert to be open bottomed; and
steep gradient streams.
Where the planned service life of the road is less than the life expectancy of the drainage structure components, consider using log culverts:
as temporary structures on tote roads or pilot trails;
on roads where ongoing minor debris problems are anticipated; and
on permanent roads as temporary drainage structures at the clearing or subgrade construction stage, until the permanent drainage structures are installed.
Ensure that a log culvert design addresses the following:
opening size for design flow and debris management;
culvert length and fill and surfacing requirements;
superstructure design (stringer or puncheon sizing);
substructure design (sills, mud sills, and foundation logs); and
inlet and outlet protection requirements.