Rebecca Hunter, Ph.D., P.Geo.
Senior Minerals Geologist - Base Metal Metallogeny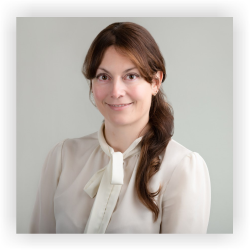 Phone: (250) 419-8744
Email: Rebecca.Hunter@gov.bc.ca
Rebecca is a geological mapper and mineral deposit geologist with an emphasis on the geology of sediment- and volcanic-hosted, stratiform and stratabound Pb, Zn, Au and Ag deposits in British Columbia.
Education
University of Saskatchewan (B.Sc., 2003)
University of Regina (M.Sc., 2007)
Laurentian University (Ph.D., 2021)
Expertise
Rebecca joined the British Columbia Geological Survey in 2019 after spending 14 years as a uranium exploration geologist in Saskatchewan and Nunavut. As a Project Geologist for Cameco Corporation, she led their Thelon Basin exploration team to discover two high-grade unconformity-type uranium prospects. Rebecca has bedrock mapped in northern Saskatchewan as a graduate student for the Saskatchewan Geological Survey, and the Anialik greenstone belt and the Aberdeen Lake area in Nunavut as an exploration geologist. Her Ph.D. was focused on the geological and structural setting of uranium mineralization in the northeast Thelon Basin area.
At the BCGS, Rebecca is responsible for field mapping and mineral deposit studies with a particular focus on base metal mineralization. Her primary areas of interest and expertise are tectonics, structural geology, and the formation of ore deposits.
Publications