Feed BC in Interior Health
In collaboration with B.C.'s Interior Health Authority, the Ministry of Agriculture and the Ministry of Health are working together to bring more B.C. food to Interior Health facilities and long-term care facilities in B.C.'s southern interior.
Interior Health prepares over 5 million meals a year for patients, families and individuals in need in the community
Interior Health is working closely with its food distributors and suppliers to source more B.C. food and meet the high food safety and nutrition standards required for health care food services
Celebrating Feed BC: Good for Patients and Communities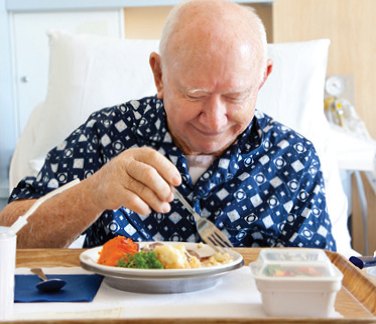 From February to April 2019, hospitals in Kelowna, Kamloops, Vernon, Penticton, Oliver, Salmon Arm and Williams Lake will showcase their commitment to Feed BC. Patients across health care facilities will get information about Feed BC delivered along with their meals.
By using B.C. ingredients, Interior Health is improving the patient experience while at the same time supporting B.C. growers, producers and processors from all over the province.
Dietitian Services at HealthLink BC
Contact HealthLink BC and ask to speak to a registered dietitian. Registered dietitians can answer your healthy eating, diet and nutrition questions.
To speak with a registered dietitian, call 8-1-1 (or 7-1-1 for the deaf and the hard of hearing) from 9 am to 5 pm Pacific Time Monday to Friday. Translation services are available in over 130 languages.