Subdivision Approval Near Farming Areas
In almost every community in British Columbia, residential subdivisions occur next to farming. Often there is a lack of buffering and unnecessary road access to lands in the Agricultural Land Reserve (ALR).
The Strengthening Farming Program's emphasis is on finding a means to improve compatibility between agriculture and non-farm land uses. B.C.'s Land Title Act provides discretionary powers to approving officers when considering subdivision proposals in close proximity to farmland.
An approving officer may refuse a subdivision if:
"anticipated development of the subdivision would unreasonably interfere with farming operations on adjoining or reasonably adjacent properties, due to inadequate buffering or separation of the development from the farm; or" (Land Title Act - Section 86(1)(c)(x))

"despite subparagraph (ix) (which refers to the need to ensure that a proposed subdivision does not make future subdivision of adjacent land impracticable) the extent or location of highways and highway allowances shown on the plan is such that it would unreasonably or unnecessarily increase access to land in an agricultural land reserve." (Land Title Act – Section 86(1)(c)(xi))
Support for Subdivision Approving Officers
To support approving officers in their efforts to contribute to compatibility along the urban/agricultural interface, Agri-Team members can be consulted. If questions arise concerning the ALR, advice can also be sought from the staff of the Agricultural Land Commission (ALC). Where more information is required about local agriculture in the vicinity of a proposed subdivision, assistance can be requested from the Agri-Team staff.
In some situations, questions may come up concerning appropriate buffer techniques that should be applied to ensure effectiveness. Agri-Team staff will provide what assistance they can. Informational material has been developed to assist approving officers.
An example – a subdivision involving park dedication
A park or school playing field can act as a buffer between residential and agricultural uses. In this example, however, the park design could also invite trespass and vandalism. Runoff from the subdivision and parking lot may also cause flooding. The road ending and half road width also imply that the adjacent farm will be subdivided in the future.
The following changes could prevent these problems:
Eliminating the road ending and half road width dedication
Providing a fence and vegetative screening
Locating the park trail and parking area away from the agricultural edge
Preventing runoff onto the farm through ditching, relocation of the parking area and a water detention pond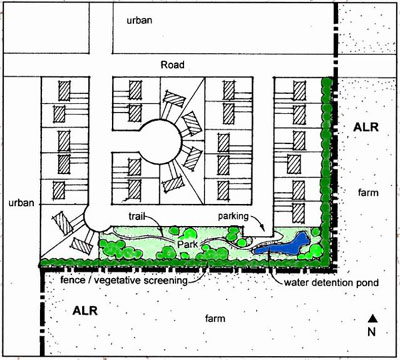 When school or park dedication is required, it is important to consider potential issues such as theft, trespass, vandalism, harassment of farm animals, noise and chemical spray drift.