Agricultural Land Use Inventories - Map Examples
---
Delta - Land Cover and Farmed Areas, 2010
Land cover describes the biophysical material at the surface of the earth. Land cover is inventoried by separating each land parcel into homogeneous components and assigning a description such as landscape lawn, natural open treed, anthropogenic wetland, blueberries, road, and small single family house. The term "Farmed" land cover refers to land in cultivated field crops, farm infrastructure, greenhouses or crop barns.
In 2010-2011, Delta had the largest proportion of its ALR area in "Farmed" land cover (76%) compared with other municipalities in Metro Vancouver.
Refer to the following reports for further information:
Barnston Island - Land Use and Farming, 2010
Land use focuses solely on human use and describes the economic function of type of establishment using the parcel. Parcels where the majority of the parcel area is utilized for agriculture or parcels which exhibit significant evidence of intensive agriculture are considered "Used for farming". In 2010, 66% (407 ha) of Barnston Island's ALR area was on parcels "Used for farming".
Refer to the following ALUI Reports for further information: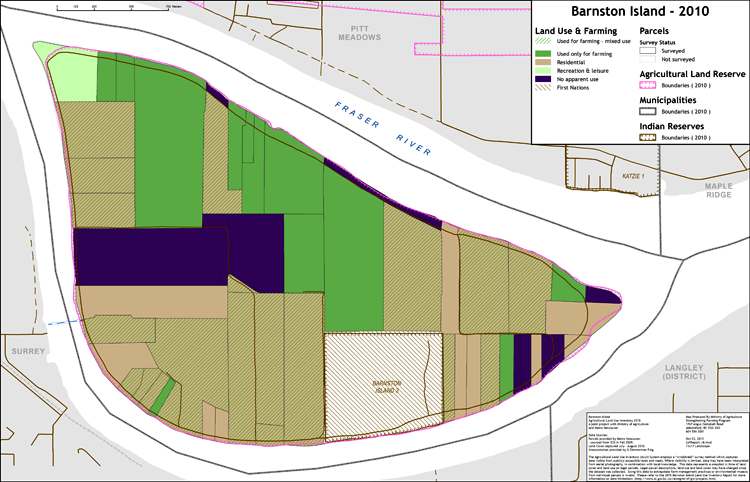 Pitt Meadows - Field Crops, 2011
In 2011, berries were the most common type of cultivated field crop in Pitt Meadows accounting for 69% of all cultivated land and 36% of Pitt Meadow's ALR area. Forage and pasture was the second most common type accounting for 23% of cultivated land and 11% of Pitt Meadow's ALR area.
Refer to the following ALUI Reports for further information: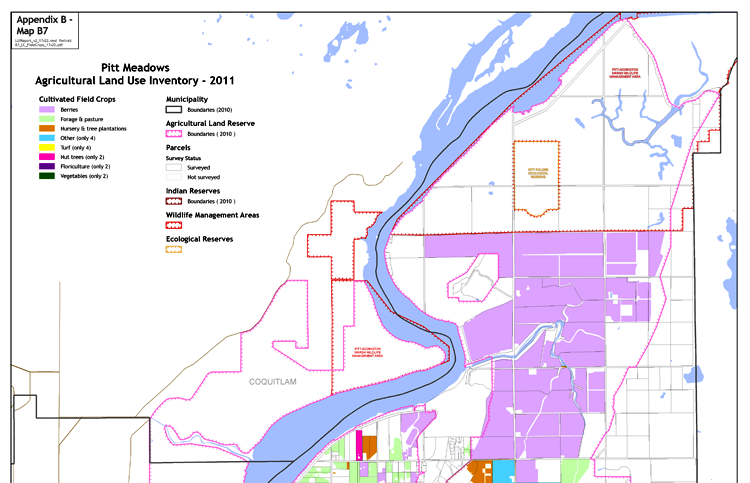 Nicomen Island - Livestock, 2011
On Nicomen Island, dairy was the most common type of livestock activity in 2011. There were 40 parcels with intensive dairy operations and 9 parcels with non-intensive dairy operations. Intensive operations use specialized structures designed for confined feeding at high stocking densities while non-intensive operations allow animals to graze pastures and often utilize more general barns and corrals.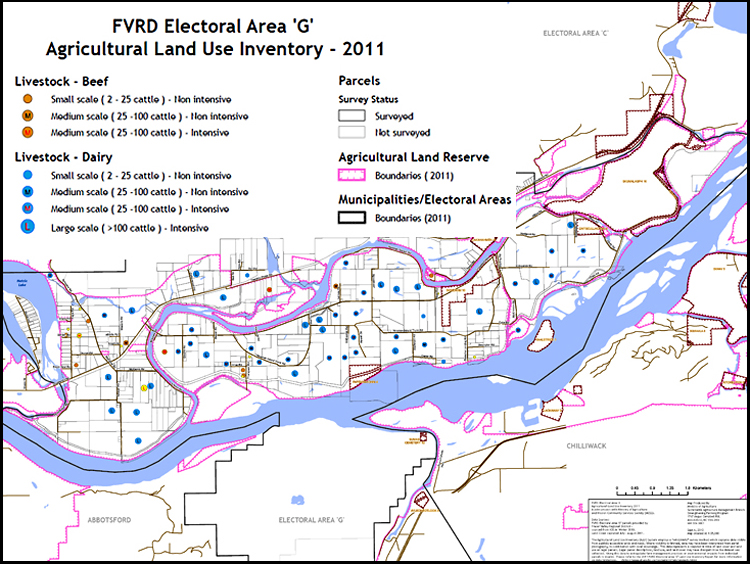 Kelowna - Land Use and Availability for Farming, 2014
Parcels not currently farmed with an established non-farm use that is incompatible with agriculture, such as a school or golf course, are considered unavailable for farming. This map identifies parcels which are unavailable for farming in the agricultural areas of the City of Kelowna.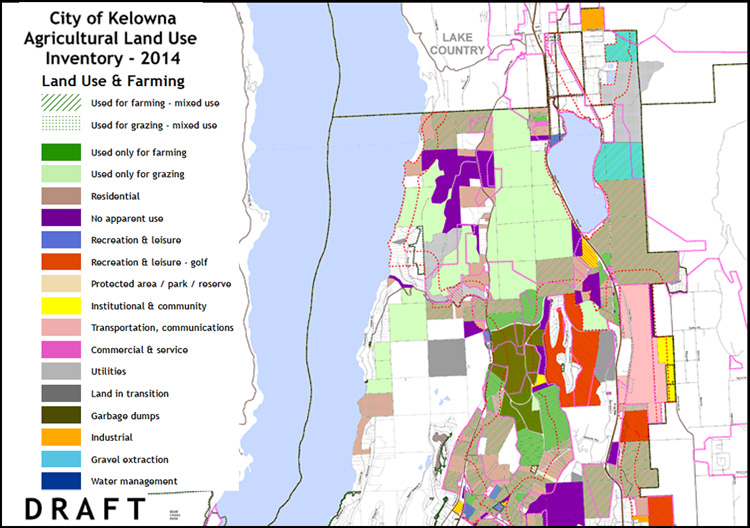 Vanderhoof - Parcel Size in the ALR, 2013
Parcel size must be considered when determining the agricultural potential of a land parcel. Larger parcels usually allow farmers greater flexibility to expand or change their type of operation as the economy and markets change. Although some types of agriculture can be successful on small parcels, (e.g. intensive market gardens, greenhouses, nurseries), generally the smaller the parcels, the fewer viable options there are for farming.
In Vanderhoof and the surrounding Electoral Area F, there are 1,875 privately owned parcels in the ALR with an average parcel size of 48 ha. Of these parcels, 6% (118 parcels) are less than 1 ha, 16% (304 parcels ) are between 1 ha and 4 ha, 4% (85 parcels) are between 4 ha and 8 ha, 4% (86 parcels) are between 8 ha and 16 ha, and 70% (1,347 parcels) are greater than 16 ha.