Osteoarthritis in Peripheral Joints - Diagnosis and Treatment

Effective Date: September 15, 2008
Revised Date: December 1, 2009
Recommendations and Topics
Scope
This guideline summarizes current recommendations for assessment, diagnosis and treatment of osteoarthritis (OA) in peripheral joints for patients 19 years-of-age and older. Discussion will include patient education, rehabilitation, medications, and surgical choices as viewed within the chronic disease management context. A medication table is enclosed for reference.
Diagnostic Code: 715 (Osteoarthritis)
Introduction
Arthritis is a leading cause of long-term disability and one of the leading economic burdens to society. From a 2005 survey, 10.8% of British Columbians aged 12-64 and 42.4% aged 65 and over self- report that they have arthritis or rheumatism.1 OA is the most common form of arthritis. From British Columbia 2005/2006 Medical Services Plan (MSP) claims data (physician billing, hospitalizations and PharmaCare claims), approximately 306,000 people (6.03% of the population) received medical services for OA.2
OA should not be considered simple wear and tear of joints. It is a slowly progressing disorder of unknown cause, but risk factors include: obesity, muscle weakness, heavy physical activity, inactivity, previous trauma, reduced proprioception, family history3 of primary generalized OA, and mechanical factors. Often there is a progressive loss of articular cartilage and abnormal bone formation. OA symptoms usually begin in mature adults, presenting with minimal morning stiffness or stiffness after inactivity, pain in and around the affected joints (particularly with weight-bearing exercise), and transient pain alleviated with inactivity and rest. The joints usually have bony enlargement, crepitus with motion, and/or limitation of motion. Inflammation is usually absent or very mild. Any joint may be affected but most often involve the hands, great toes, spine, knees and hips.
Because there is no known cure for OA, the treatment goals are to: reduce pain, maintain or improve joint mobility, limit functional disability and improve self-management. The four pillars of treatment are: patient education, rehabilitation, medications and referrals (surgery and non-surgical). These are best achieved using a multidisciplinary approach and multi-modal treatments.
Recommendation 1
Follow an organized approach to achieve an accurate diagnosis and functional assessment
OA is a clinical diagnosis. There are no tests that are completely reliable in making the diagnosis. Current tests are primarily used to monitor the disease or exclude other types of arthritis. Radiographs may indicate OA but may not relate to symptoms. People with symptoms of osteoarthritis are usually mature adults and the elderly. As the patient is being considered for OA, it is recommended that assessment include the following:
A. Patient History
B. Physical Examination
(For more detailed information, see Appendix B [PDF, 81KB]: Physical Examination)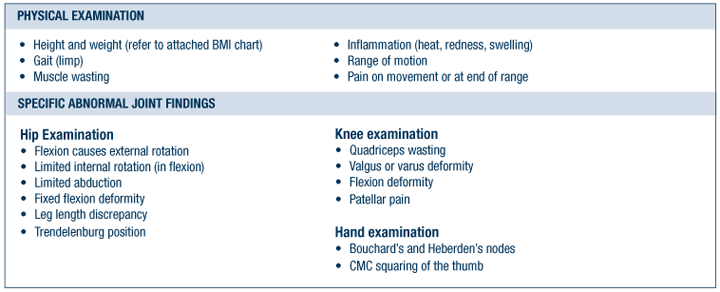 C. Assessment to Exclude Other Diagnoses
(For more details on differential diagnosis of non-osteoarthritis symptoms in the history and physical examination, refer to Appendix C [PDF, 71KB]: Alternate Diagnosis and Overall Assessment)
D. Investigations
(For more details see Appendix D [PDF, 61KB]: Investigations)
Blood tests do not diagnose OA. Blood tests may help rule out other conditions and monitor medications. Order tests when history and physical findings indicate a possible alternative diagnosis.
X-rays are indicated for diagnostic clarification or in anticipation of orthopaedic referral. Indicate that the x-rays are for OA. For knees, x-rays must include standing AP, lateral, and skyline. For hip, specify OA hip series including lateral view of the affected hip and upper 1/3 of femur.
E. Clinical Impression and Factors to Consider Prior to Treatment and Management
(Refer to Appendix C [PDF, 71KB]: Alternate Diagnosis and Overall Assessment)
Rule out alternate diagnosis

If the diagnosis is unclear, a Rheumatology assessment can assist with
Ruling out non-OA conditions or arthritic mimics
Diagnostic arthrocentesis

Severity of condition (pain and function)
Impact on independence in society
Patient goals, expectations, preferences, past treatments
Self-management needs/modifiable factors (e.g. assistance with weight management strategies, education about pain management, exercise, etc.)
Psychosocial issues such as: pain amplification, depression, cognition, adherence to treatment, social support
Recommendation 2
Consider the four pillars of treatment: patient education, rehabilitation, medications and referrals (surgical and non-surgical)
Treatment of OA as a chronic disease is most effective using a multidisciplinary approach and multi-modal treatments. An OA Follow-Up Patient Assessment Form is available in Appendix E (PDF, 93KB).
Step 1: Patient Education
Explain the nature of OA as a chronic disease process. Refer patient to education and treatment resources including:
Emphasize the importance of appropriate exercise, joint protection, strengthening of muscles supporting the joint with activity modification.
Emphasize the importance of developing skills to self-manage the condition (refer to attached A Guide for People Living with Osteoarthritis and patient resources). Also, consider a prescription for exercise which specifies the number of minutes per week for each of the following exercises: walking, range of motion, strengthening and, if available, aquatic exercises. Ask the person to keep an exercise diary.
Address specific issues e.g. social and financial support, nutrition and weight management programs, pain and stress management. Refer to Overweight, Obesity and Physical Inactivity guideline at www.BCGuidelines.ca
Awareness of private and community programs e.g. The Arthritis Society (toll free Arthritis Answers Line 1-800-321-1433 or website www.arthritis.ca) or The Arthritis Resource Guide for BC (Website www.argbc.ca)
Step 2: Rehabilitation
Therapeutic exercise (range of motion, strengthening and aerobic activity).
Generally, a sign that the patient has done too much exercise is increased pain in the joint lasting longer than 2 hours after exercise.
Refer to physiotherapy for assessment and specific exercise recommendations if needed
Recommend supportive footwear with shock absorption such as high-quality, well-fitted shoes and add orthotics if needed.
One of the most cost-effective treatments for OA of the hip and knee is a cane of appropriate height used in the hand of the opposite side.
Assistive devices include splints, gait or mobility aids, braces, home and work adaptations. Consider referral to Occupational Therapist, Podiatrists, Orthotists, etc. as needed and available.
Posture and positioning recommendations for daytime or sleep.
Step 3: Medications
(See Osteoarthritis (OA) Medications Table [PDF, 221KB] enclosure for more details)
Provide education on role of medications (options, risk factors, side effects, complications, cost)
Begin with monotherapy prn and add/substitute medications depending on response and side effects

Note: Gastrointestinal issues with oral NSAIDS
There is no evidence that NSAIDs alter the natural course of arthritis. The patient should be made aware that NSAIDs represent symptomatic therapy, and that the therapy is associated with some risks.6
Review risk factors in Appendix B: History (PDF, 81KB) (long term use, older age, poor health, past history of ulcers or bleeding disorders, and more than 3 alcoholic drinks per day. Consider current medications (anticoagulants, other NSAIDs and oral steroids).4,5
Choose an NSAID appropriate to the patient based on cardiovascular risk factors. Note that COX-2 inhibitors also carry a GI risk.
When an NSAID is essential for control of symptoms, prescribe the safest NSAID in the lowest effective dose for the shortest period of time.7
Gastroprotection does not eliminate risk of ulcers, particularly for patients with high GI risk.5 Gastroprotection will likely reduce symptoms of dyspepsia.
When there are risk factors, prescribe NSAIDs only for short term use along with gastroprotection: misoprostol, double dose H2 blockers and PPI have been shown to reduce the incidence of GI events.5
Inform patient that GI bleeds can occur with or without warning symptoms. Patients should be informed to stop taking the medications and be reassessed if they have the following symptoms: stomach pain, heartburn, blood in vomit or stools.
If the patient is experiencing GI problems, refer to guideline: Dyspepsia - Clinical Approach to Adult Patients available at www.BCGuidelines.ca
Avoid long-term daily NSAID therapy.7
Note: Cardiovascular risk and NSAIDS
"Health Canada acknowledges the panel's view that, as a group, selective COX-2 inhibitors are associated with an increased risk of cardiovascular events, a risk that is similar to those associated with most NSAIDs ["The cardiovascular safety concerns associated with the traditional NSAIDs are not extended to aspirin"8]. The panel noted that this risk is present for all patients taking anti- inflammatory agents and that it increases with longer-term use and when other risk factors, such as cardiovascular disease, are present."9
Step 4: Referrals (Surgical and Non-Surgical)
Note urgency on referral: mild, moderate or severe
Indications for Non-Surgical Referral
Refer to Rheumatology or appropriate Internal Medicine specialist for: red flag conditions (alternative diagnosis), unexpected/unusual disease progression or complications.
Refer to PT or OT for: education on self-management or on the disease process; specific exercises for range of motion, strengthening, or joint protection; gait training; knee bracing; pain management education and techniques; mobility aids; and education for dealing with functional difficulties (home, work or leisure).
Refer to Dietitian for education on weight management.
If the patient has significant disease progression but is not a surgical candidate, for example because of significant co-morbidities, consider referral to OT for assistance with activities of daily living (ADLs).
Indications for Surgical Referral
The indications for arthroscopic knee surgery in patients with OA are similar to patients without arthritis. Arthroscopic debridement has not been shown to have any significant benefit for OA of undiscriminated cause. 10-11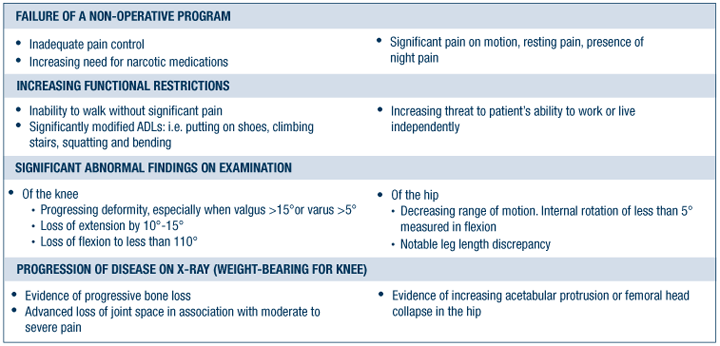 A Rheumatologist involved in the care of difficult cases may provide assistance with the timing of referral for surgical assessment.
Recommendation 3
Follow-up (Consider using a form to monitor disease progress such as provided in Appendix E (PDF, 93KB): Follow-Up Patient Assessment Form.)
Review changes in pain, function and comorbidities.
Refer to Recommendation 1, Section A and/or Appendix A (PDF, 88KB) Patient History.
Review physical findings for red flag issues.
Further information is found in Recommendation 1, Section C and/or Appendix C (PDF, 71KB) Physical Examination.
Review effectiveness of patient education and self-directed treatment plans
Step 1: Self-Directed Programs (questions on disease process, particularly importance of self- management, weight loss, and joint protection)
Step 2: Rehabilitation Needs (home and/or community exercise programs, physical therapy for ROM and strengthening, medical devices, orthotics, cane, walker, raised seats, devices, and/or scooter)
Step 3: Medications: for more details refer to Appendix D (PDF, 61KB) Investigations and Osteoarthritis (OA) Medications Table enclosure
Medications for Mild OA
Occasional prn use of acetaminophen up to 1 gram 4 times per day and add prn NSAIDs if necessary
If the person is on self-directed care and is doing well, then do routine follow-up unless there is a significant change in pain or function
Medications for Moderate OA
For symptomatic OA, prescribe full dose acetaminophen (1 g 4 x day).
Within 30 days, do a baseline haemoglobin, blood pressure, AST or ALT, and creatinine if further therapy is contemplated.
If regular dosing of acetaminophen at 4 g/day or with NSAIDs, follow-up every 3-12 months depending on comorbidities and severity
Consider lowering dose where there is liver disease, alcohol abuse, and for the elderly
If the patient is using diclofenac, consider rare development of hepatitis
Consider risks and benefits of gastroprotection. Refer to GI Issues with oral NSAIDs note in Recommendation 2: Step 3 - Medications
Medications for Severe OA
Same as for moderate OA but review more frequently (every 1-6 months) with a view to surgical referral
If there is an increase in severity, i.e. treatment is no longer efficacious or new symptoms, then revisit more often
Step 4: Investigations
For monitoring liver and renal function and other possible side effects of medications (haemoglobin, blood pressure, AST or ALT, and creatinine tests). For more details refer to Appendix D (PDF, 61KB) Investigations, and Osteoarthritis (OA) Medications Table enclosure
Step 5: Assess Need for Non-Surgical and Surgical Referrals. Details are given in Recommendation 2 Referrals.
Coordination of Care
Treatment is multi-disciplinary involving regular follow-up. The four pillars of treatment are: patient education and self-management, rehabilitation and physical activity, medications, and referrals, as well as consideration of other supports. As with all chronic diseases, optimal outcome is achieved through a multi-disciplinary approach coordinated by the family doctor.
Rationale
Osteoarthritis (OA) was identified by the BC Ministry of Health, BC General Practice Services Committee (GPSC), BC Health Authorities and other stakeholders as one of the top ten chronic diseases for which the greatest opportunities exist to improve the quality of the services delivered and the outcomes for patients. 10 OA is the most common type of arthritis and affects about 10% of the population.
Helping patients to maintain a healthy and active lifestyle is an important goal. Timely physical therapy, appropriate exercise training and patient education can affect one's ability to work and remain active. Maintaining function may reduce the long-term damage to ligaments and joints. Lack of physical activity can potentially lead to a multitude of chronic illnesses including obesity, hypertension, and depression. Treatment for the symptoms (including self management and exercise) should be encouraged. As well, risks and benefits of non-steroidal anti-inflammatory drugs (NSAIDS) should be discussed with the patient. When other treatments are no longer effective, total hip and knee replacements can be a cost-effective means of improving quality of life.
List of Acronyms
| | | | |
| --- | --- | --- | --- |
| ADLs | activities of daily living | MSM | methyl sulfonyl methane |
| ANA | antinuclear antibody | MSP | British Columbia Medical Services Plan |
| AP | anteroposterior | MTP | metatarsophalangeal |
| AST | aspartate aminotransferase | NSAIDs | non-steroidal anti-inflammatory drugs |
| ALT | alanine aminotransferase | OA | osteoarthritis |
| BMI | body mass index | OT | Occupational Therapist |
| C&S | culture and sensitivity | OTC | over-the-counter |
| CMC | carpo-metacarpal | PIP | proximal interphalangeal |
| Cox-2 | cyclooxygenase-2 | PPI | proton pump inhibitor |
| DIP | distal interphalangeal | prn | as needed |
| GI | gastrointestinal | PT | Physiotherapist |
| H2RA | histamine 2-receptor antagonists | RA | rheumatoid arthritis |
| IADLs | instrumental activities of daily living | ROM | range of motion |
References
Additional Supporting Materials
American Academy of Orthopaedic Surgeons. Clinical Practice Guidelines. Available at URL: http://www.aaos.org/
American Geriatrics Society Panel on Exercise and Osteoarthritis. Exercise prescription for older adults with osteoarthritis pain: consensus practice recommendations. JAGS 2001;49:808-823. Available at URL:http://www.americangeriatrics.org/
American Pain Society. Pain in osteoarthritis, rheumatoid arthritis, and juvenile chronic arthritis [summary]. American Pain Society (APS). 2002. Available at URL: http://www.guideline.gov/
Institute for Clinical Systems Improvement. Diagnosis and Treatment of Adult Degenerative Joint Disease of the Knee. Nov. 2004. Available at URL: http://www.icsi.org/
Harris GR, Susman JL. Managing musculoskeletal complaints with rehabilitation therapy: summary of the Philadelphia Panel evidence-based clinical practice guidelines on musculoskeletal rehabilitation interventions. J Fam Pract. 2002;51:1042-6. Available at URL: http://www.jfponline.com/Pages.asp?AID=1364. Accessed October 25, 2007.
Jordan KM, Arden NK et al. EULAR recommendations 2003: an evidence based approach to the management of knee osteoarthritis: report of a task force of the standing committee for international clinical studies including therapeutic trials (ESCISIT). Ann Rheum Dis 2003;62:1145-1155. Available at URL:http://ard.bmj.com/cgi/reprint/62/12/1145. Accessed October 25, 2007.
Marshall KW & Waddell DD. Nonoperative management of osteoarthritis of the knee from a special report: osteoarthritis of the knee. 2000. Available at: http://www.physsportsmed.com
Ontario Program for Optimal Therapeutics. 2000. Ontario Treatment Guidelines for Osteoarthritis, Rheumatoid Arthritis, and Acute Musculoskeletal Injury. Phys Ther 2004 Oct;84(10):934-72.
Roddy E, Zhang MD et al. Evidence-based recommendations for the role of exercise in the management of osteoarthritis of the hip or knee-the MOVE consensus. Rheumatology 2005;44:67-73.
The Second Canadian Consensus Conference. An evidence-based approach to prescribing NSAIDS in osteoarthritis and rheumatoid arthritis. Can J Clin Pharmacol. 2000;7A:4A-16A.
United Kingdom National Health Service (NHS) Clinical Knowledge Summaries - Osteoarthritis. Available at URL:http://www.cks.nhs.uk/
Vogels EM, Hendriks HJ, et al. KNGF-guidelines for physical therapy in patients with osteoarthritis of the hip or knee. 2003. Available at URL: https://ww.fysionet.nl/dossier_files/uploadFiles/EngOsteoarthrHKGln.pdf. Accessed October 29, 2007.
Washington State Department of Labor & Industries. 2003. Review criteria for knee surgery. Provider Bull 2003 Dec;PB 03-16:1-7. Available at URL: http://www.lni.wa.gov/ClaimsIns/Files/OMD/MedTreat/KneeSurgery.pdf (PDF, 140KB). Accessed October 25, 2007.
Yang Y-X, Lewis J, Epstein S, Metz D. Long-term Proton Pump Inhibitor therapy and risk of hip fracture. JAMA 2006;296(24):2947-2954.
Enclosure
Osteoarthritis (OA) Medications Table (PDF, 221KB)
Appendices
Optional Decision Support Tools for the diagnosis and management of OA:
Associated Documents
The following documents accompany this guideline:
This guideline is based on scientific evidence current as of the effective date.
This guideline was developed by the Guidelines and Protocols Advisory Committee, approved by the British Columbia Medical Association and adopted by the Medical Services Commission.
The principles of the Guidelines and Protocols Advisory Committee are to:
encourage appropriate responses to common medical situations
recommend actions that are sufficient and efficient, neither excessive nor deficient
permit exceptions when justified by clinical circumstances.

Contact Information
Guidelines and Protocols Advisory Committee
PO Box 9642 STN PROV GOVT
Victoria BC V8W 9P1
E-mail: hlth.guidelines@gov.bc.ca
Web site:
www.BCGuidelines.ca
Disclaimer The Clinical Practice Guidelines (the "Guidelines") have been developed by the Guidelines and Protocols Advisory Committee on behalf of the Medical Services Commission. The Guidelines are intended to give an understanding of a clinical problem and outline one or more preferred approaches to the investigation and management of the problem. The Guidelines are not intended as a substitute for the advice or professional judgment of a health care professional, nor are they intended to be the only approach to the management of clinical problems. We cannot respond to patients or patient advocates requesting advice on issues related to medical conditions. If you need medical advice, please contact a health care professional.