Smoke-Free and Tobacco-Free Spaces
The Tobacco Control Act and Tobacco Control Regulation help to protect the public and employees from the harmful effects of second-hand smoke.
Business managers, owners or lessees have legal responsibilities to prevent people from smoking in most fully or substantially enclosed public places and workplaces. Employers are also responsible for ensuring that their workplace complies with the restrictions on smoking in fully or substantially enclosed workplaces.
Businesses and organizations should contact their local health authority if they require further guidance on whether their premises are fully or substantially enclosed. Also check with your local government, as there may be more restrictive smoke-free bylaws in place.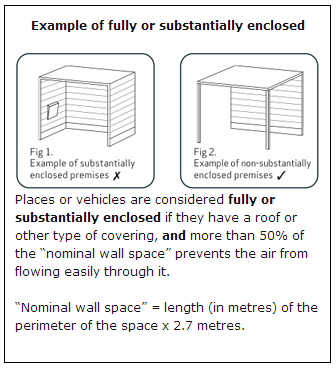 Buffer Zone
Under the Tobacco Control Act, a smoke-free "buffer zone" is created around doorways, open windows, and air intakes of indoor public and work places. No smoking is allowed within 3 metres of doorways, opening windows, or air intakes (with the exception of hospitality patios). This protects against smoke entering the building, and protects people as they enter or exit the building.
The buffer zone does not apply to outdoor hospitality sector patios where smoking can occur, provided that the doors between the patio and building are closed except when entering or exiting the patio; the windows are closed and there are no air intakes in the patio area. However, the buffer zone applies to all other doorways, open windows, air intakes, or other smoking areas not connected to the patio (e.g. front or rear doorway).
Business owners are required to take reasonable steps to prevent people from smoking on their property within the 3 metre buffer zone. They are not required to enforce the law on public property such as sidewalks, unless the person is within the control of the owner (such as a customer or patron) or is their employee.
More restrictive buffer zones are in place in some communities. Please check with your local government for information on the buffer zone requirements in your community.