B.C. Innovation Commissioner
Staying competitive in an ever-changing world requires focused attention.
Gerri Sinclair was re-appointed as B.C.'s Innovation Commissioner in July 2021.
The Innovation Commissioner is the province's champion for technology and innovation, facilitates partnerships, and promotes innovation across all regions and sectors of the economy. Key to this role is the requirement to support the implementation of innovation and technology-related priorities, and to help companies grow.
The Innovation Commissioner reports to the Minister of Jobs, Economic Recovery and Innovation (JERI) and works closely with the Executive Team of JERI and other relevant ministries, as well as the CEO and Board Chair of Innovate BC.
Research undertaken by B.C.'s first Innovation Commissioner, Alan Winter and other organizations related to innovation, can be found here.
B.C. Innovation Commissioner's focus
The first Innovation Commissioner focused on discovery – based on literature, research and international engagement. The Innovation Commissioner role, going forward, will focus on implementation guided by this initial work and the priorities of government.
Implementation: support the application of technology-related innovation, which may also include initiatives under the Technology and Innovation Policy Framework, recommendations by the Economic Plan and COVID-19 recovery efforts. This may include activities that:
Advance innovative cluster development
Build and maintain intellectual property (IP) in British Columbia
Develop talent
Support technology-enabled adoption
Funding & investment: work with industry, the government and other organizations to increase investment that will help scale companies and establish anchor firms in B.C.
Promotion: champion innovation across various sectors through speaking engagements and participation in public events and discourse.
The Innovation Commissioner holds an ex-officio role on the Innovate BC board of directors.
B.C. Innovation Commissioner's Biography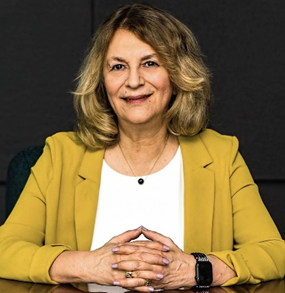 Gerri Sinclair was first appointed as B.C.'s Innovation Commissioner in July 2020 [press release]. She has a breadth of experience in senior leadership positions in the investment capital, digital media and information technology fields. She is also an Associate with the Creative Destruction Lab, a non-profit organization that delivers an objectives-based program to scale up seed-stage science- and technology-based companies.
Sinclair is the former Managing Director at Kensington Capital in Vancouver, leading the $100M B.C. Technology Fund. She was the founder of SFU's ExCITE Media lab, a Visiting Scientist at IBM Research, the founder/CEO of NCompass (acquired by Microsoft), a past President of the B.C. Premier's Technology Council and Chair of Canada's National Telecom Policy Panel.
Sinclair was the Founding Director of the Centre for Digital Media's Master of Digital Media program in Vancouver and has served as Innovation Strategy Advisor at Vancity and Telefonica in Barcelona.
She has served on many government and corporate boards, including the Toronto Montreal Stock Exchange, the Vancouver Airport Authority, Telus Corporation, BC Telecom and Ballard Power, as well as Canada's Information Highway Advisory Council and the National Broadband Taskforce.
Sinclair is the recipient of numerous awards as a leading woman in technology, including the prestigious Canadian Public Policy Forum Testimonial Award. She was named a member of "Vancouver Power 50", a BC Business "Woman of Influence" and among the Top 150 Women in Canada. She is the 2018 recipient of the BC Technology Association's Bill Thompson Lifetime Achievement Award and the 2020 Business in Vancouver Women in Business Lifetime Achievement Award.