Appendix A: Checklists
Pre-Engagement: Checklist
Resources: Ministry staff are available to help with administrative tasks and to act as subject matter experts. They must be available for the duration of the project.
A timeline for approvals and project milestones has been drafted.
A plan for how to report back to participants has been made.
The tools you are using to engage the public are approved by the Citizen Engagement team to ensure B.C. government privacy requirements.
Signed Partnership Agreement: outlines the fees and roles of each partner.
Approvers: Director of Citizen Engagement and ministry expense authority.
Approved Engagement Plan: outlines decision-making, planning and purpose statement. Approvers: Citizen Engagement team, ministry GCPE Director and ministry representative.
A Privacy Impact Assessment has been completed.
An Outreach Plan has been written to help reach your audience.
Written content is in plain language. Your content must be clear and easy to read. See the Plain Language Guide for more information. Try checking your content using the Hemingway Editor, you should be aiming for a reading level between Grade six and eight.
Accessibility: Your project reflects the diverse needs of British Columbians.
Your graphics and images have been approved by GCPE Graphics.
Your engagement website content has been approved by both the Citizen Engagement team and your GCPE Communications Shop.
Moderators have been trained by the Citizen Engagement team (if applicable).
The engagement is posted to govTogetherBC.
(After closing) A results page is posted on govTogetherBC outlining what happened during the engagement and what is happening next. See some examples of results here.
Active Engagement: Checklist
Web Trends are active.
A News Release or Information Bulletin about the engagement is out. (if applicable)
The engagement information is posted to govTogetherBC.
A launch day report has been written.
Moderators have been trained. (if applicable)
A moderation schedule is in place. (if applicable)
The stakeholders are informed and have resources to help to get the word out.
An outreach plan is in place for reaching public participants.
Weekly trending reports are being written.
Government social media channels are used to promote the engagement. (govTogether, BCGov)
Comments are being analyzed for themes and ideas.
Weekly project status meetings occur weekly while the engagement is open, to check in and make any changes needed.
Post- Engagement: Checklist
Site content is updated to reflect that the project is closed.
govTogetherBC is updated to reflect that the project is closed.
Analysis is complete.
The report is complete.
The results are posted to the site when the analysis is complete.
The engagement website is closed within 6 months of posting the results.
The comments are archived according to government records policy.
Lessons learned are done.
Web Accessibility Checklist
Make sure your site is accessible by keyboard.
Structure your content.
Present content in a meaningful order.
Use informative page titles and headings.
Use headings to break up text on pages.
Explain all abbreviations and acronyms.
Ensure it is clear where hyperlinks will take the user.
Underline hyperlinks. Don't use colour alone to indicate a link.
Don't rely on solely on colour (ie.: red to indicate an error).
Clearly identify input errors.
Provide text alternatives for non-text content (such as a graphic timelines).
Only use text in graphics when the content is also available in text format.
Use captions for videos with audio.
Don't play audio automatically.
Use approved colour contrasts.
Use appropriate headings.
Understand how punctuation impacts accessibility.
Use plain language: you should be aiming for writing at a reading level between Grade six and eight.
Don't use time limits.
No content should flash more than 3 times per second.
There are at least two ways to find each page on the site (ie: table of contents, site search)
Event Accessibility Checklist
Provide information on your event at least 4 weeks in advance so people can plan their participation in your event (transportation, supports, assistants, etc.).
Accessible parking: is there any? Where is it?
Accessible transportation: is the venue close to public transportation? Where are the drop-off areas? Allow enough time for attendees to arrange HandyDART transportation and accompanying assistants. HandyDART users require at least a week's notice to book a trip. It can take between one to three weeks for people to arrange for assistants.
Make sure the accessible paths to the entrance are well-marked.
Place signage at eye level for people in mobility devices.
Are there any barriers along the outdoor or indoor paths? The path should be one-meter wide to allow for easy travel for wheelchairs, walkers and strollers.
Are the surfaces firm, stable and level? Avoid loose mats and thick carpets.
Are there automatic doors available? If not, can you prop the doors open wide enough?
Are the washrooms wheelchair accessible? Do they have a grab bar and low sink, soap & paper towel?
Is there good lighting? Lighting helps people who are deaf or hard of hearing read lips or use sign language.
Don't use flashing lights.
Does the room have good acoustics? Echoes can create barriers for those who are hard of hearing.
Clear floor space: is there enough space for people using mobility aids to move around the room easily. (an aisle width of one meter or more is recommended)
Cover electrical cables or cords to avoid tripping hazards.
If you are providing food: be sure to place food, drinks and utensils in easy to reach places for those in wheelchairs. Bendable straws and cups with handles are easier to grasp for those with limited use of their hands.
Clearly label food for those with dietary requirements.
Provide water; help pour it when needed.
If you know ahead of time, reserve seating for people who need it. For example: for people who rely on lip reading it is better to sit closer to the presenter.
Provide sufficient places with no seats for people with mobility devices.
Put materials within easy reach.
Use microphones, speak slowly and describe images that are projected on the screen.
Provide real-time captioning. Ensure the site has the technology to support this.
Are you using an ASL interpreter? (Allow at least two weeks ahead of your event to arrange for an on-site interpreter.)
If an event is mostly standing, provide seating for those who can't stand for long periods.
If a guest has a service animal, have a water bowl on hand for when the animal is thirsty.
Consider providing childcare or children's activities at meetings.
Consider language translation.
Know the emergency evacuation procedures for all individuals including people with low mobility.
Designate a person trained on accessibility issues as a point person.
Provide orientation to all staff and volunteers on accessibility features.
After using a venue, rate how it was for accessibility, this way we can track which ones worked well and which ones didn't.
Ask for feedback from participants.
Invitation and Promotion Checklist
Provide contact information.
Provide information on accessibility features. For example: What do you need to fully participate? If you have any accessibility or dietary restrictions, please contact [contact info] by [date].
Provide information on where to people can be dropped off and where to find accessible parking.
Use at least 12-point sans serif fonts such as Arial or Verdana for print materials.
Use plain language: simple words and short sentences
Use high contrast colours.
Advertise your event broadly using multiple methods to reach different audiences.
Sample community meeting invitation from the City of Vancouver: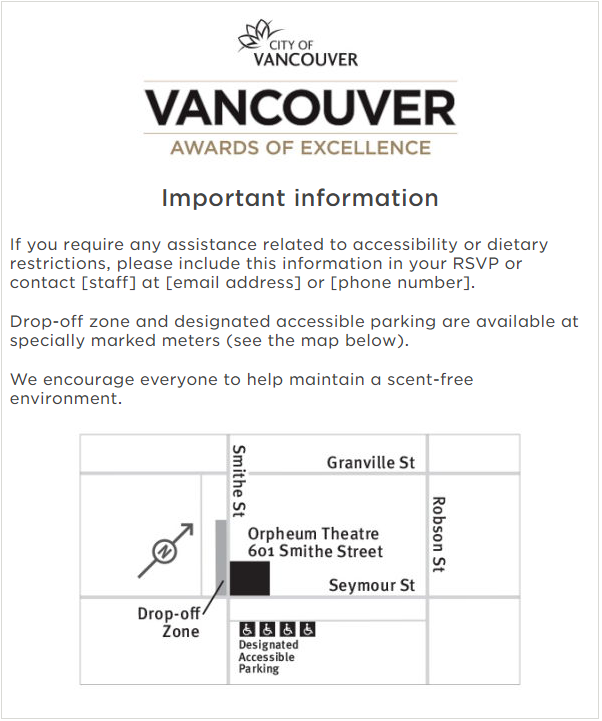 This example meets all the criteria in the checklist, as it:
Provides contact information
Provides information on accessibility features
Provides information on where people can be dropped off and where to find accessible parking
Uses at least 12-point sans serif fonts such as Arial or Verdana for print materials
Uses plain language: simple words and short sentences