BC Bid Replacement Project
Procurement is a valuable tool to deliver government services and maximize value to citizens. Launching a new BC Bid is one of the key projects to be implemented under the British Columbia Procurement Strategy, to make it easier for companies of all sizes to do business with the Province.
The Ministry of Citizens' Services is leading the procurement transformation in partnership with ministries across government.
Background
BC Bid is the present sourcing tool used by both core government and hundreds of publicly-funded organizations, such as Crown corporations, health authorities, and municipalities. The current BC Bid application was implemented in 1995. There is widespread consensus both internal and external to government that the current solution does not meet the needs of buyers or suppliers. For these reasons it must be replaced.
Project Timeline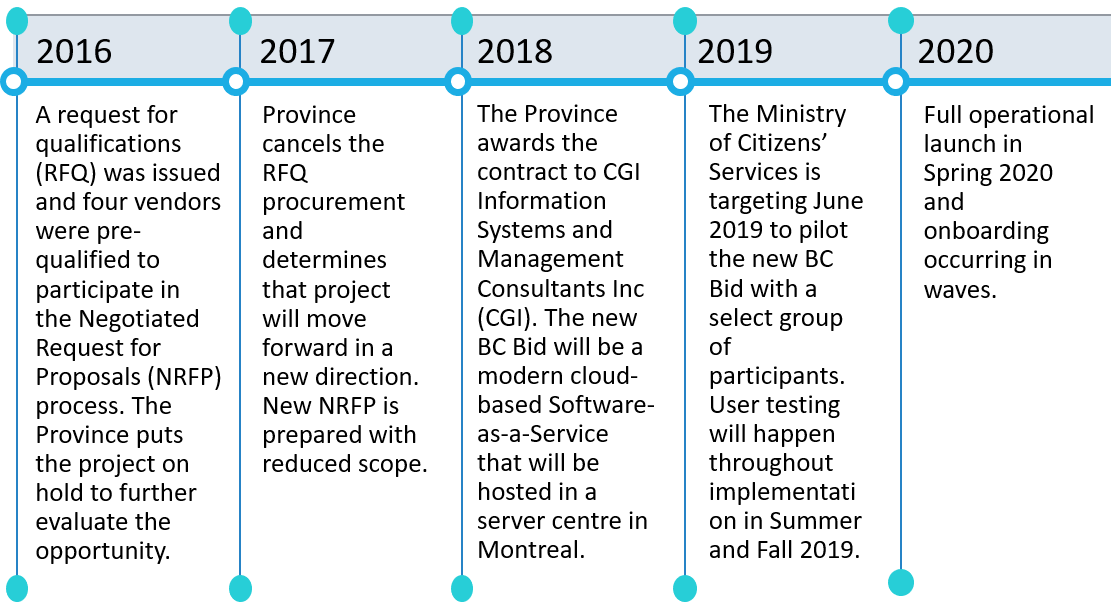 Scope
The new BC Bid will enable more efficient processes and increase transparency across government and broader public sector organizations. From a supply perspective, the solution will make it easier for suppliers to conduct business with the Province by increasing visibility into procurement opportunities, and in turn, support the economy and drive competition and innovation in B.C. The functional requirements for the new BC Bid were posted with the NRFP, Appendix H (SBPT-05) and is also available here: BC Bid Replacement Functionality Requirements (PDF)
The anticipated scope will include:
eSourcing

With a new sourcing tool in place, businesses will engage the Province and broader public sector through a modern interface. This function replaces and expands on the scope of BC Bid
Businesses will be able to load their profile information into the system and auto populate bids
Broader public sector organizations will also be able to post opportunities on the new site, including creating those opportunities within the application if desired

Spend Analytics

​A new spend analytics tool will enrich financial data with detailed information about what is being purchased and by whom
Market intelligence and consolidated spend information will allow government to identify collaborative purchasing opportunities
The new BC Bid will support forecasting across core government procurement to improve planning activities and strategic sourcing

Public Portal

​The Public Portal will support better navigation and improved search capabilities