COVID-19 information for First Nations and Indigenous Peoples
Indigenous communities, particularly in remote areas, face unique circumstances and have specific needs in managing through the pandemic. Supporting Indigenous communities to respond to COVID-19 is a key priority.
Last updated: November 4, 2020
On this page:
---
Support pathways
As Indigenous communities prevent, prepare and respond to COVID-19, the provincial and federal governments are coordinating to make sure services and resources are available and ready.
Emergency Management BC
Emergency Management BC (EMBC) is the lead coordinating agency for non-medical emergency response during COVID-19. EMBC works in collaboration with local governments, First Nations, provincial and federal departments, industry, non-government organizations and volunteers. They host regular regional coordination calls, and First Nations and local governments are invited to join.
First Nations Health Authority
The First Nations Health Authority (FNHA) provides health and wellness services to support First Nations communities. For COVID-19 response, FNHA (in collaboration with the Ministry of Health, Office of the Provincial Health Officer and regional health authorities) supports Indigenous communities by coordinating medical and health-related requests.
The Emergency and Communicable Disease Management Programs provide COVID-19 health and wellness expertise, education, tools and support.
Indigenous Services Canada
Indigenous Services Canada (ISC) works collaboratively with partners to improve access to high-quality services for First Nations, Inuit and Métis peoples. Where possible during COVID-19, ISC will support and empower Indigenous communities to independently deliver response and address the socio-economic conditions in their communities. ISC supports emergency management on reserve through the Emergency Management Assistance Program (EMAP).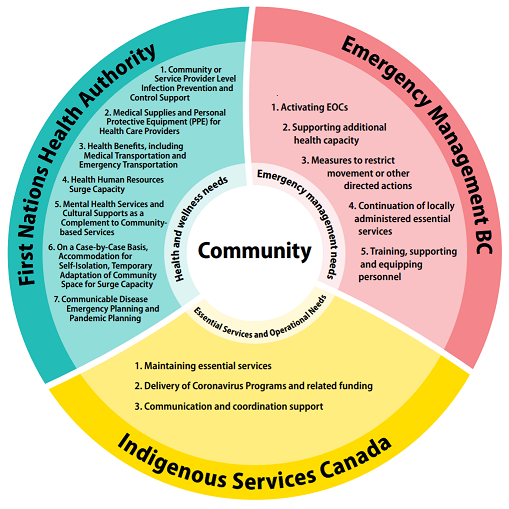 ---
Ministry of Indigenous Relations and Reconciliation
The Ministry of Indigenous Relations and Reconciliation (MIRR) provides guidance and advice to other areas of government on establishing and enhancing relationships with Indigenous peoples. While MIRR does not play a direct emergency response role, it is part of the Provincial Emergency Coordination Centre to support agencies in integrating reconciliation in their response operations.
---
Ministry of Health
As lead coordination agency, through the Health Emergency Coordination Centre (HECC), the Ministry of Health supports First Nations communities and Indigenous peoples by providing updates, documents and expertise to the public and communities. This information is shared with regional partners through the Provincial Emergency Coordination Centre (PECC). Under the Ministry of Health, regional health authorities provide direct health services to British Columbians, including Indigenous health programs.