British Columbia Recognizes Medal of Good Citizenship Recipients
British Columbia is recognizing outstanding citizens with the Medal of Good Citizenship for their exceptional long-term service, and contributions to their communities without expectation of remuneration or reward. The medal reflects their generosity, service, acts of selflessness and contributions to community life.
View recipients by last name:
A
Budd Abbott
Philip Henry Abbott, a retired businessman known to most as Bud, received the medal for his commitment to local service with his involvement in worthy causes like Rotary, the Canadian Mental Health Association, Meals on Wheels and the Salvation Army.

The big-hearted resident was active for years in the Cranbrook Community Theatre and often still shows up with friends at an office building or two to sing Christmas carols or Happy Birthday. Bud has sung regularly at local senior's homes for 40+ years and "Buddn Frenz" and at the time of this recognition was continuing to sing three times weekly for the "old folks" in Cranbrook and Kimberley.
Year Awarded: 2016
City: Cranbrook
Region: Kootenay
---
Ray Abernethy
Ray Abernethy was honoured with the medal for his dedication to helping women in transition, single moms and dads on income assistance, new immigrant families, refugees, fire victims, seniors and others in Burnaby by providing basic household necessities to relieve the cost of establishing and maintaining a comfortable home.
From its humble beginnings over 35 years ago in Ray's garage, the Helping Families in Need Society has blossomed into a local organization that operates out of a 585 square-metre (6,500 square-foot) warehouse and helps more than 1,300 families a year. At the time of recognition in 2017 more than 65 Lower Mainland agencies and government offices rely on the Helping Families in Need services by referring clients to the organization. As Ray himself says, "One person can't help everyone, but everyone can help someone."
Year Awarded: 2016
City: Burnaby
Region: Mainland/Southwest
---
The People of Ahousaht First Nation Community & The Community of Tofino
The Community of Tofino and the People of Ahousaht First Nation Community were honoured with the medal of good citizenship for the selfless dedication demonstrated in October 2015 when coming to the assistance of the families and victims of the sinking of the Leviathan II in Tofino.

The community selflessly banded together to help the survivors and their families, the victims' families and all those involved in the rescue and recovery effort. Despite the incident leaving the community shocked and in mourning, residents opened their houses to strangers, shared food and blankets, and stood in solidarity beside the victims' families during the candlelight vigil organized by the community to honour and remember those who perished.

The two communities are the first communities ever to receive the Medal of Good Citizenship.
Year Awarded: 2016
City: Ahousaht & Tofino
Region: Vancouver Island/Coast
---
Selen Alpay
Selen Alpay moved to Prince George just over a decade ago. Today it is difficult to find a good cause in our city that he has not contributed to or quietly supported, and the line of people who have been touched by his philanthropy, generosity of spirit or personal kindness is lengthy. He is known for his compassion and enormous heart, and one does not need to know him for long, before one realizes that Alpay is a man on a mission to make his world a better place.
As a person, Alpay models good citizenship and humanity to everyone he meets, giving generously of his time to multiple volunteer boards and organizations in the city and beyond; spending time with elders in care at Simon Fraser Lodge; and supporting and mentoring youth within his company and the community. A new branch of the Boys Club Network is being proposed by the Aboriginal Education Department in our school district, and already Alpay is engaged and involved. Any young man enrolled in this new program will benefit from his deep compassion, kindness and wisdom.
In 2017, he was named a Citizen of the Year by the Prince George Community Foundation in recognition of how he goes above and beyond in volunteerism and philanthropy. As a lifetime volunteer, he has a deep appreciation for community members who give back, and he frequently endeavors to recognize their efforts. Last year's long and difficult fire season saw Prince George receive and host more than 10,000 evacuees from the Cariboo region. Alpay was a key supporter behind an event to recognize the local volunteers who helped during the crisis.
As a corporate citizen, he sets an exceptional example of social responsibility for other organizations through his wide ranging support of youth, sport, arts, culture, healthcare and social causes. His quiet personal philanthropy extends to his belief in corporate philanthropy, and his company is his most visible way of giving back to the community through sponsorship of, and donations to, countless organizations and events.
As an employer, he truly believes that good culture starts at the top. In recognition of this, in 2017, his Canadian Tire store was presented the award for Outstanding Corporate Culture at the Prince George Chamber of Commerce Business Excellence Awards.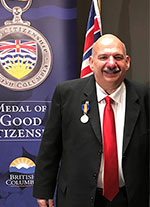 Year Awarded: 2018
City: Prince George
Region: Cariboo
---
Judith Armstrong & Nicholas Marsden
Judith Armstrong and Nicholas Marsden, both Victoria residents, received the medal for their decades of dedication to British Columbians with developmental disabilities. They have helped create joy and life enhancing experiences for people with disabilities and inspired hundreds of volunteers to work alongside them.
The seeds of volunteerism began early with Judith when she assisted a Kiwanis-supported Oak Bay high school club that helped people with disabilities followed by work with the Easter Seal Camps. Observing that there were limited opportunities for persons with disabilities to participate in events fueled Judith to launch a large, annual track and field event in Victoria where every competitor is matched with a counsellor for the entire duration of the event. She also founded the Handicapped Recreation Society, again with a goal of increasing access for persons with disabilities.
Her volunteer contributions reach beyond the national borders as she serves on the board for the Canadian Foundation for the Children of Haiti which provides funds, materials and expertise to two orphanages, a home for children with disabilities, three schools and a hospital in Port au Prince. She regularly travels with a team to Haiti to deliver supplies to the Hope Home for young people with disabilities.
Nicholas' volunteerism extends to many arenas. He is part of an army of volunteers who band under the District of Saanich's Pulling Together Volunteer Program to remove invasive plants and restore ecosystems, and for years he served on the Gordon Head Soccer Association board. For more than 15 years he has helped co-ordinate the annual Math Challengers Contest held at Camosun College, opening the door for participating students aged 13 to 15 to discover the wonder and fun of mathematics.
For more than 45 years, Judith and co-recipient Nicholas have organized Operation Trackshoes, a volunteer-run sports festival geared towards British Columbians with developmental disabilities. Under their leadership, the festival has grown to become a highlight on the provincial calendar that welcomes some 500 competitors between the ages of six and 80. Operation Trackshoes fosters comradery among the participants, who look forward every year to a weekend of races, games, social activities and giving representation to their home communities. Approximately 600 volunteers, including counsellors, nurses and officials, work to make the event a success.
Judith takes charge of counsellor recruitment and competitor care for the event, while Nicholas is the track and field administrator, ensuring events run smoothly by taking care of a myriad of details including writing the computer programs that assist the efficient scheduling of the hundreds of participants and recording their scores.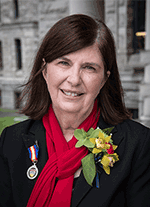 Year Awarded: 2016
City: Victoria
Region: Vancouver Island/Coast
---
Pat Ashton
Pat Ashton was honoured for the incredible mark he has made on Slocan, improving its vibrancy, physical landscape and economic health in the 12+ years he has resided there.
Starting at town hall meetings, Ashton created community enthusiasm and built a 40-member volunteer squad to paint and renovate a former school to include a community gym and install new landscaping. He oversaw the relocation of the village cenotaph to the square and is now involved in planning the landscaping around the cenotaph and grounds. The beautification of the village is an ongoing part of Ashton's volunteering and includes litter pick-up around the information site and repairs and painting of the village sign.
Pat also devotes energy to improving the area's economic health, serving for four years on the Slocan Economics Committee where he oversaw the contract to create a plan for a sustainable future for the Slocan.
His service to community and countless hours of volunteering include serving on the Spirit of Slocan Committee. Many community celebrations have benefited from his ongoing involvement. He plays Santa at Christmas events, helps organize Halloween Hoot fireworks, and every Boxing Day he organizes a family skating party.
As president of the Slocan Valley Legion Branch 276 and as part of his support for the legion he organized renovations for the village-owned legion/community hall and researched grants that helped complete them. He does the yearly Poppy service at the school and officiates the community Remembrance Day service.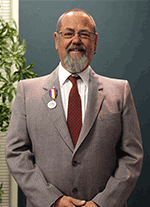 Year Awarded: 2017
City: Slocan
Region: Kootenay
---
Joe Average
Joe Average is a Vancouver artist, philanthropist and internationally recognized HIV/AIDS advocate.
A self-taught Canadian pop-art artist, for the past 40 years Average's bright, playful work has been featured on everything from international HIV/AIDS conference posters to celebratory LGBTQ street banners in Vancouver's West End, the body of an electric car and a commemorative Canadian stamp.
Diagnosed HIV positive in 1985 Average considered it a wake-up call, giving him a renewed sense of purpose. Now 61, he has spent the past 33 years raising awareness through his distinctive artwork, donating at least twice as much art than he's sold.
Despite his own struggle with the disease, which eventually prevented him from making new paintings, Average continues to donate prints and newer digital photographic work to support community-based arts, health care and children's programs.
Along the way he has helped raise HIV/AIDS awareness. He continues to help reduce stigma around the disease by publicly sharing his personal story.
In 1991, Average was one of 50 Canadians invited to dine with the late Princess Diana at Rideau Hall in Ottawa and was asked to meet with her privately, which he describes as the experience of a lifetime.
Average's work has been described as "a visionary kaleidoscope of colour, creativity and compassion" and it has come to symbolize love and inclusivity for all members of our community.
Average has received many awards and honours, including civic merit awards, the Governor General's Caring Canadian Award in 1998 and the Queen's Golden Jubilee Medal for Outstanding Community Achievement in 2002. In that year, Mayor Philip Owen issued a civic proclamation designating November 3, 2002 as Joe Average Day.
Average became a member of the Royal Canadian Academy of Artists in 2004 and won its prestigious RCA award. His images have come to symbolize hope to millions of people living with HIV/AIDS.
He has used his considerable talent to help his fellow British Columbians. Over the last 35+ years, there has seldom been an HIV/AIDS fundraising event that did not feature at least one Joe Average piece on the auction block.
Average's impact on our gay and straight communities has been enormous. His significant contributions as an artist and philanthropist have been helpful to researchers seeking government and private sector financial support as well as the political will to end the global AIDS epidemic.
In 2019, Average designed the new Canadian loonie, celebrating 50 years of LGBTQ rights in Canada.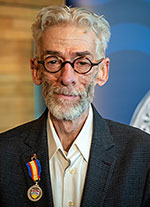 Year Awarded: 2019
City: Vancouver
Region: Mainland/Southwest
---
B
Troy Becker
Troy Becker, a resident of West Kelowna, was honoured for contributions to making his community a safer place and helping to create life-enhancing opportunities that build confidence for people with disabilities.
A professional firefighter and volunteer search and rescue member since 2001, Troy created the Community Recreation Initiatives Society to benefit people with disabilities wanting outdoor experiences like kayaking, zip lining, bicycle riding and mountain climbing. He and his organization also run annual camps throughout the province for various groups like Spinal Cord Injury British Columbia and families with children with Spinal Muscular Atrophy.
His creativity and dedication to his community help people of all ages and disabilities, including some with life-threatening illnesses, gain confidence. As well, his passion has inspired many others to volunteer and bring joy to the lives of individuals and their families.
Year Awarded: 2016
City: West Kelowna
Region: Thompson/Okanagan
---
Richard Bergen
Richard Bergen was honoured with the medal for his deep capacity to serve the Forest Grove community that benefits many of its citizens.
His service to community and countless hours of volunteering include a myriad of every day chores done with enthusiasm. His volunteerism includes helping with fire hall operations, mowing lawns and clearing snow for seniors and in public spaces, and volunteering at community activities. He is a regular volunteer at school track-and-field events and he helps coach students in shot put.
Richard, who has limited use of his right hand and arm and requires a brace on his right leg following a devastating motor-vehicle accident at age seven, is a powerful role model for exemplary citizenship, making meaningful contributions throughout the community and supporting citizens of all ages.
Always willing to lend a hand, he helped found the Forest Grove 94 Lions Club, is involved with the Forest Grove Community Centre and helps organize a senior walking club, providing social time to a group of seniors. He is also an invaluable volunteer at the Forest Grove Fire Department, looking after dispatch, keeping the hall clean, preparing reports and ordering supplies.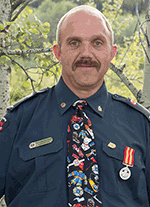 Year Awarded: 2016
City: Forest Grove
Region: Cariboo
---
Alberta "Wadzeed" Billy
Alberta Billy is an Elder of the We Wai Kai. One of four tribes of the Laich-Kwil-Tach First Nation . We Wai Kai is a large sea worm that lives in the ocean and can never be destroyed. Her given name is Wadzeed meaning "Precious One".
Alberta showed leadership at a very young age. In 1981, her and colleagues Thelma Davis and Stan McKay were invited to the General Council Executive of the United Church of Canada. This is when Alberta asked the United Church for an apology for their role in residential schools. This led to an historic moment for Canada when, in 1986, the United Church of Canada became the first religious organization to apologize to Indigenous peoples for its part in colonization. Her request for the apology and the delivery of that apology set the stage for the Truth and Reconciliation Commission.
Alberta has dedicated her life to helping and teaching others and has gained the respect and admiration of everyone who meets her. She trained to help those who have experienced trauma and helps many on their path toward healing.
She is a mentor and a role model to many people and inspires Indigenous women to use their voices to speak out against injustice.
Carrying on and sharing traditional knowledge has been a lifelong commitment for Alberta; it has guided her life.
She has travelled across Canada co-facilitating the Building Bridges Through Understanding the Village experiential workshop. This teaching circle shows how all of us are connected and interconnected and is a transformational experience that helps healing and reconciliation. Alberta's co-facilitation and mentorship of The Village has led many to stepping fully into understanding and reconciliation.
Alberta continues to guide and mentor by serving as an Elder on the Board of Laichwiltach Family Life Services, the Elder Advisory Circles for MCFD Aboriginal Child and Youth Mental Health and the John Howard Society's Elders Council.
Year Awarded: 2018
City: Quathiaski Cove
Region: Vancouver Island/Coast
---
Joan "Bays" Blackhall
The historic village of Fort Langley is regarded as a charming reminder of a gentler age and a slower pace of life, evoking a time when neighbours supported one another and worked for the common good. That Fort Langley has built and sustained this enviable reputation is largely due to the efforts of a single person, Bays Blackhall.
Fort Langley was Bays' passion; promoting, enhancing, and protecting the village's character was her mission. Whenever there was a need, Bays was there: developing strategies, soliciting resources, and building partnerships among diverse interest groups.
Bays was resourceful, doing whatever it took to get the job done. Elected officials knew that to resist her was futile. She was always respectful and respected in return. She would suggest, request, coax, and more often than not, her advocacy succeeded.
Although Bays' involvement in community-building began as a school girl, her innate interest in environmental stewardship, the arts, and heritage conservation took hold and blossomed in Fort Langley.
She mobilized the community to halt the development of a sanitary land fill at the historic Derby town site. She successfully lobbied for the relocation of a planned Fraser River crossing to protect the site of the original Fort Langley. She led community opposition to B.C. Hydro's plan for a high voltage transmission line along the village's southern boundary. Bays was a creator as well as a critic, helping to organize the Derby Reach-Brae Island Park Partnership Association and managing the construction of the Houston Trail at Derby Reach Regional Park. She was an original member of the Fraser Valley Eco Museum Steering Committee and the local liaison for the construction of the Trans-Canada Trail Pavilion in Fort Langley.
Bays was active in both heritage and the arts, creating and managing the Fort Langley Grand Prix and Summer Fair and the Fort Festival of the Arts and Summer Strings program for youth. She served on the boards of the Fort Langley Legacy Foundation, the Fort Langley Community Improvement Society, the Langley Heritage Society, and the Langley Community Music School and its capital campaign committee.
Bays's devotion to Fort Langley was legendary. She worked as a docent and exhibit assistant at its community museum. She was a fervent supporter of Fort Langley National Historic Site: founding the Friends of the Fort, establishing and fostering the site's volunteer program, and developing the gift shop. She raised funds to construct the site's reproduction York boat, a bastion, a gallery, and a squared-log building. She founded and administered the Fort Langley Tourism Information Centre and oversaw the ongoing restoration of the Fort Langley Community Hall. She chaired the C.N. Station Committee, coordinated its volunteers, and masterminded the acquisition of an historic rail car and caboose to complement the site.
Bays was one of a kind; a mentor and team builder – visionary, determined, hardworking and caring. She anticipated needs, seized opportunities, and built capacity in others. She laboured long and hard for many endeavours, not for personal gain, but for the benefit of the community. She was, in short, an extraordinarily good citizen.
Year Awarded: 2018
City: Langley
Region:
Mainland/Southwest
---
Suzanne Bolton
Philanthropist and dedicated hands-on volunteer Suzanne Bolton has, for over five decades changed the way British Columbia's communities operate through her compassion and generosity.
A summary of her dedicated work includes:
40 years with YWCA Metro Vancouver, as a lead donor and former board member, key member of the single mother's bursary selection committee, and volunteer at Focus@Work where she delivers inspirational support and guidance to women job seekers
15 years with the Elizabeth Fry Society of Greater Vancouver where she served on the board and mentored young women exiting prison to re-enter the work force.
23 years of support to children and families suffering from loss and trauma through her role on the board and volunteer of the PACE Child and Family Society.
Support to at-risk youth through Covenant House Vancouver through raising awareness, contributing financial resources, and volunteering in the clothing room for 14 years
23 years of involvement in the hiring and retention of every PACE employee, contributing to the organization's exceptionally skilled and caring team
After 17 years serving on the Board of the Greater Vancouver Community Service Society she has moved on to the board of the Boys and Girls Club of South Coast BC
Both Suzanne and her husband have donated generously towards numerous capital campaigns, but she always insists on naming the facilities after individuals who have inspired her. The Maida Duncan Centre — serving marginalized women and children — was named after a long-time volunteer. More recently the second floor of YWCA Cause We Care House was named in memory of Linda Mitchell who was at the forefront of literacy across Canada. Suzanne has also established several bursaries for single mothers and named them after long-time friends who are active in not-for-profits.
Suzanne envisioned a supportive and viable program for women aimed at changing the arc of the lives of their young children. Through her vision and financial support, the YWCA Futures in Focus project was launched in 2014. As a long-time committee member of the YWCA Single Mothers bursary program, Suzanne and her husband created the YWCA Futures Bursary program in 2017 that provides single mothers access to post-secondary education. Unlike other bursaries, the Futures Bursary provides a wrap-around service until individuals complete their education and reach their employment goal.
Suzanne and her husband have been funding YWCA Focus@Work in its entirety since 2014. It is the only employment program of its kind in Vancouver. Hundreds of women have successfully found employment and financial stability for themselves and their families through this program.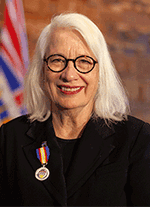 Year Awarded: 2018
City: Vancouver
Region:
Mainland/Southwest
---
Trudie BonBernard
Trudie BonBernard was honoured with the medal for her leadership and compassion benefiting children, vulnerable citizens including long-term care residents, hospice and hospital patients, youth at risk, and comforting families under stress.
Her service to community and countless hours of volunteering have helped to promote and significantly expand the service provided by the St. John Ambulance Therapy Dog Program to Kamloops residents facing a variety of challenges. At the time of recognition, 66 dog-therapy volunteers contribute more than 8,000 hours annually at more than 26 facilities in the Kamloops area. Dog-therapy teams attend community events, join library and school reading programs, visit group homes, university students, and long-term care and mental health facilities. Most recently they are visiting patients at a community dialysis unit.
Under her leadership and work on the volunteer executive of the program, Trudie has developed and implemented a plan for program growth, member retention, community awareness and greater diversity of facility assignments and community events.
She has also inspired a volunteer to do a master's thesis on the benefits of therapy dogs for at-risk youth in schools and has created learning and educational opportunities for all therapy dog team members.
Year Awarded: 2016
City: Kamloops
Region: Thompson/Okanagan
---
Charlotte Brady and Anastasia Castro
Charlotte Brady and Anastasia Castro have been involved with environmental issues since they were in middle school.
In 2012, the two students joined Fin Free Victoria, an organization focused on educating the public about the plight of world shark populations and the need to regulate the sale of shark fin in Canada.
Brady and Castro have spent many hours collecting signatures and engaging and educating the public on declining shark populations worldwide. Their efforts led to an increased awareness of the issue, including by local restaurant owners, and shark fin is no longer sold in the Victoria area.
In the process, Brady and Castro realized the importance of working with federal politicians to achieve their goals. They had an opportunity to do so during the tabling of the Federal Bill to ban the sale of shark fin in Canada. In June 2019, Canada became the first G20 country in the world to ban the import and export of shark fins.
Along the way, Brady and Castro have taken every opportunity to educate and inspire younger students by giving presentations at schools.
During their Grade 8 year they became aware of and concerned about the issue of ocean plastics. They discussed the issue with their teacher and decided to mount a campaign to ban the use of plastic bags in Victoria.
In 2017 Castro won a Canada-wide Science Fair prize for her project on the Fluctuation of Oceanic Microplastics at Depth and Effects on Marine Ecosystems.
Their efforts to ban plastic bags included making presentations to councils in the Capital Regional District area, speaking at local schools to educate and inspire other students, participating in beach clean-ups, and creating a plan to ban the use of plastic bags in the Victoria area.
Brady and Castro spent a year working with the City of Victoria council to implement their plan and worked to educate the public at local markets, petition signing events and school presentations. The City of Victoria ultimately banned the use of plastic bags in December 2017, and other Capital Regional District municipalities are following.
Brady and Castro are currently developing a program to make all schools in B.C. free of single use plastics.
Throughout the past five years, Brady and Castro have worked and continue to work diligently on their campaigns.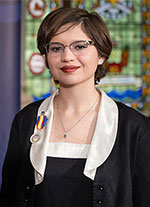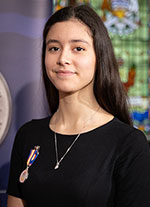 Year Awarded: 2019
City: Victoria
Region: Vancouver Island/Coast
---
Daniel Brown
Daniel Brown was honoured with the medal for his service to Campbell River and his countless hours of volunteerism.
Daniel uses his passion for history and his experience from 39 years of working in the forest industry to educate and entertain people of all ages. At the museum in Campbell River, Daniel gives public school students lively presentations on pioneer, fishing and logging history. When the museum's 1930 Hayes-Anderson logging truck appears in parades and at local events, it is because Daniel has taken on its care and maintenance.
The narrator for historical boat tours, Daniel has produced several presentations on the local history of the area. These presentations are given at the museum, Elder College and around town and it is his voice narrating an episode of Canada Over the Edge about the Ripple Rock explosion on the Knowledge Network. Local senior groups have been enthralled by his presentation of the Yorke Island West Coast defence site (1939-45) that he created for the Year of the Veteran.
Daniel has been a steadfast member of the Knights of Columbus since 1963, serving as financial secretary and on its Community Christmas Hamper Project Committee. He organizes ushers for special celebrations and co-ordinates student bursaries and participates in fundraisers that help the less fortunate. He is also assembling a 50th-year historical book that to tell the story of the Campbell River Knights of Columbus.
Daniel is active in other community groups including the St. Patrick's Parish, Employee and Family Assistance Program (now known as the Upper Island Assessment and Referral Service), the City of Campbell River Parks and Recreation, the Age-Friendly Committee and the Multicultural and Immigration Services Association.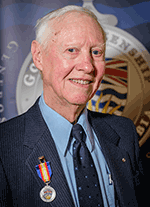 Year Awarded: 2017
City: Campbell River
Region: Vancouver Island/Coast
---
W.A. "Sandy" Burpee
Sandy Burpee was honoured with the medal for his tireless work done on behalf of those in need in the Tri-Cities of Port Moody, Coquitlam and Port Coquitlam. Among his many contributions, Burpee has been instrumental on initiatives that have a lasting impact to the community and organizations he supports.
Sandy founded the Tri-City Area "Together Against Violence" committee and chaired the committee from 1994 to 1998. TAV was a non-partisan group dedicated to facilitating the development of proactive solutions to violence in the Tri-City area through an annual violence prevention month. He subsequently chaired a steering committee to implement a restorative justice approach to youth wrongdoing in the Tri-Cities and New Westminster and was the founding chair of the resulting Fraser-Burrard Community Justice Society, now known as the CERA Society.
As the founding chair of the Tri-Cities Housing Coalition, Sandy has advanced the cause of affordable housing in the region. He joined the Tri-Cities Homelessness Task Group as chair in 2006 and subsequently amalgamated the two organizations.
His efforts saw the creation of temporary shelter space and emergency cold weather shelters. He has been instrumental in the creation of a permanent shelter located in Coquitlam which opened in December 2015. The permanent shelter took ongoing collaboration with levels of government and non-profit organizations, all the while overcoming contentious opposition during the public-consultation process. Sandy continues to support the operation of the shelter, a low barrier facility, as a volunteer and to promote the facility in the community at every opportunity.
As a housing advocate, Sandy has served continuously since 2003 on housing task forces and committees in the Tri-Cities and across the Metro Vancouver region. Most recently in 2015, Sandy was nominated interim chair of the Metro Vancouver Regional Steering Committee on Homelessness, and subsequently has been working with others on the creation of a collaborative regional approach to homelessness in Metro Vancouver.
In 2004, SHARE Family and Community Services Society added a Food Bank Depot in Coquitlam. Sandy took on the role of volunteer co-ordinator until 2014, organizing, staffing and managing the new depot. He supervised the weekly distribution of food, developing the operating procedures that are still used today. His role also included organizing space to allow for efficient processing of the SHARE Christmas Hamper program.
In 2006, Sandy joined Coquitlam Search and Rescue, the fifth-busiest SAR team in the province. With an average of 40 tasks a year, Burpee, who retired from the team in January 2017, has been a reliable team member, deploying into the field on most tasks and taking many training courses to become a proficient SAR member. He has served on the Coquitlam Search and Rescue Society's executive as treasurer, establishing better accounting practices and leading the team's funding and grant application program.
Sandy led the SAR team in a partnership with Coquitlam Alternate Basic Education (CABE) high school in an innovative outdoor education program motivating students to pursue high school graduation. Most recently, Sandy has taken a leadership role in fundraising over $400,000 and helping to plan the construction of a new mobile command vehicle. Recognizing the need to retire the existing command vehicle, the new state-of-the-art command vehicle will serve as the hub of team search activities for the next quarter century.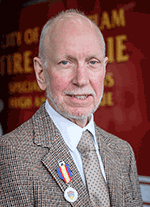 Year Awarded: 2017
City: Coquitlam
Region: Mainland/Southwest
---
C
John Cameron
John Cameron is a community leader and activist who has devoted the last 40 years of his life to addressing the needs of individuals with AIDS, hepatitis and substance abuse problems.
From 1980 to 1994, while working full-time, he volunteered to help his peers during the emerging AIDS crisis. In 1994 he was diagnosed with full-blown AIDS and was unable to work due to chronic and episodic AIDS-related illnesses, aggravated by a hepatitis B infection incurred in a car accident in 1969.
Cameron is known as a results-oriented renegade. Using logistical and organizational skills, acquired from his engineering and forestry background, he has brought people together to establish AIDS and harm reduction infrastructure and programs.
His endeavours include: co-founding the Downtown Eastside HIV/IDU Consumers' Board (Canada's only entirely peer-operated needle exchange); founding and facilitating the Carnegie AIDS Support Group organizing Canada's largest community-driven World AIDS Day event organizing Canada's first (and subsequent) World Hepatitis Day event; spearheading major changes to Vancouver's disabled parking bylaws; organizing and assisting with countless AIDS, hepatitis and harm reduction events, forums and workshops; and sitting on numerous boards and committees.
In his hometown of Richmond, Cameron was the first person to come out publicly as being gay and having AIDS. He started a local AIDS support group that brought together others infected with and affected by AIDS, which served as a springboard for the establishment of AIDS services in Richmond.
As a recovering alcoholic and someone who resided in Vancouver's Downtown Eastside during his drinking years, Cameron has used his street smarts to assist his peers at the street-level.
His efforts include assisting with paperwork such as income tax, disability, housing and community grant applications, transportation to medical appointments, hospital visitations, feeding people and weekly delivery of Cobs bread to AIDS Vancouver and the Downtown Eastside.
Year Awarded: 2019
City: Richmond
Region: Mainland/Southwest
---
Clayton Cassidy
Clayton Cassidy was honored with the medal for his extensive community leadership and his dedicated service helping Cache Creek residents stay safe and return to their homes following the devastating flood in May of 2015. Whether it was performing back-breaking rock and mud shoveling or assisting with the overall co-ordination of clean up and recovery, Cassidy was there for the community and its citizens.
A member of the Cache Creek Volunteer Fire Department for more than three decades, Clayton took on leadership roles in the essential service organization including Fire Chief for 10 years, from 1992 to 2002. Under his leadership the department achieved significant milestones including building a new fire hall, purchasing a new fire truck, installing a breathing air compressor, and having 10 members receive their volunteer fire fighting certificate.
His service to community and countless hours of volunteering included coaching minor hockey, soccer and minor softball, and serving on a myriad of community committees including the Cache Creek Elementary School Parent Advisory Committee, and the Cache Creek Graffiti Days Committee.
Tragically, he lost his life in 2017 after being swept away by flood waters. Chief Cassidy was commemorated at the 5th annual Canadian Fallen Firefighters Foundation memorial ceremony in Ottawa.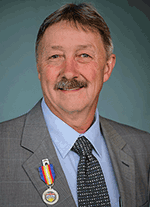 Year Awarded: 2016
City: Cache Creek
Region: Thompson/Okanagan
---
---
Neil Cook
Neil Cook has been a driving force in his community of Cranbrook and the East Kootenay. During the 26+ years he has lived in Cranbrook he has chosen to volunteer his time with many organizations and projects, all with the goal of helping people and improving his community.
Over the years, Cook has shared his knowledge and experience by serving on the boards of the local Canadian Mental Health Association, the Cranbrook Family Centre, Cranbrook Society for Community Living and the Cranbrook United Way.
Cook was instrumental in founding the Cranbrook and District Community Foundation in 2003. Now known as the Community Foundation of the Kootenay Rockies, this successful organization currently holds $2.5 million across 37 permanently invested endowment funds, and supports many community services and organizations.
Serving as president and then director of the Community Foundation of the Kootenay Rockies over 17 years, Cook contributed a great deal to the organization's success and its vision of supporting local communities to be better places to live, work and play.
Volunteering much of his time with non-profit organizations, Cook served for seven years as the volunteer Chair of the East Kootenay Homeless Coalition. During this time he has worked tirelessly to build a 24/7 homeless shelter in Cranbrook. That work is ongoing.
Known throughout the community as someone who is kind, inclusive and generous, Cook and his wife Marilynne have welcomed 24 foster children into their hearts and home over the years.
Cook's service work extends to local services clubs. He has been a member of Cranbrook Sunrise Rotary, the Cranbrook Rotary and Kinsmen.
Cook's other volunteer contributions in his community include 22 years of volunteering with the Cranbrook Community Christmas Dinner as a fundraiser and chef, and a ten-year member of the Church Committee at Christ Church Anglican.
With many other interests Cook continues to play a key role in supporting community fundraisers and events from SPCA to the Cranbrook Children's Festival, to the Canadian Cancer Society and Juvenile Diabetes.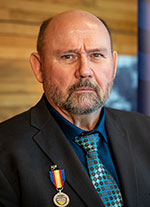 Year Awarded: 2019
City: Cranbrook
Region: Kootenay
---
Bruce Curtis
Bruce Curtis has been a community leader and volunteer in several fields for over 50 years. Since 1996 he has been a central volunteer and leader of the Community Justice Centre for the Comox Valley. Curtis served on the steering committee that founded the centre, as a volunteer facilitator and, for the past 13 years as its chief administrator.
Over the years, he has inspired and supported volunteers to resolve up to 150 referred cases annually, which provides them opportunities to develop their restorative justice skills.
Curtis has also built important relationships on the Comox Valley's Community Justice Centre's behalf and deepened the application of restorative justice in his community. He has expanded the Community Justice Centre's referral sources, dramatically increasing the impact of restorative justice throughout the community.
Curtis is the originator of the Community Justice Centre's flagship public education venture, the Campagnolo Lectures in Restorative Justice. The lectures attract 300–500 residents each year. Started in 2011, the Campagnolo Lectures have attracted many stellar lecturers, including former Governor General Adrienne Clarkson and Chief Justice Beverley McLachlin.
From 2007–18, Curtis developed and led over 30 Community Justice Centre projects related to combating racism, hatred and homophobia.
Curtis has provided leadership and voluntary service in water safety/lifesaving, trade unionism, the hospitality sector, humanitarian aid, restorative justice and community-based action around human rights and combating racism, hatred and homophobia. While the range of issues has been broad, Curtis' dedication has not flagged. The impact of his service work is evident in Ontario, Alberta and British Columbia.
Curtis has written over 90 papers and provincial and national speeches on labour relations, humanitarianism, volunteerism and restorative justice over the past 40 years and was invited to address the Canadian Association of Statutory Human Rights Officers.
Curtis has been recognized for his extraordinary service to his community over the years, including:
Dr. Liz Elliott Restorative Justice Memorial Award
Hummingbird Award (Simon Fraser University), Centre for Restorative Justice
Queen Elizabeth ll Jubilee Medal
125th Anniversary of the Confederation of Canada Medal
Order of the Red Cross
Distinguished Service, Canadian Red Cross
Medal of Recognition, Royal Life Saving Society Commonwealth Council
Year Awarded: 2019
City: Courtenay
Region: Vancouver Island/Coast
---
D
Kamal Dhillon
Kamal Dhillon, a survivor of severe domestic violence, was honoured with the medal for her courage to transcend her suffering from domestic violence to bring a powerful message to the public about domestic violence, offer hope to other victims, and advocate for changes in laws.
Her service to community and countless hours of volunteering include support to victims of domestic violence and willingness to travel to conferences and communities where she brings awareness of the devastation exacted by domestic violence to classrooms, police departments, business and community organizations, and churches. Whether speaking to officials at the World Bank, The International Monetary Fund, or a local group of educators, her inspirational message brings understanding to the complex issue, and hope to victims of domestic violence.
Although Kamal still has residual suffering from her injuries, she remains a tireless advocate for changes in laws, better services for victims, and training for police, social workers, educators and others who may see evidence of someone being abused. In particular, she lobbied for the federal government to bring in the Zero Tolerance for Barbaric Cultural Practices Act and today would still like those laws to be toughened. Her personal story, told in her book Black and Blue Sari, has raised the issue on the international front and helped those on the front line to better recognize domestic abuse and provide victims with the support they need.
Year Awarded: 2016
City: Langley
Region: Mainland/Southwest
---
Edward Dickins
Ed Dickins epitomizes the definition of volunteer on behalf of his fellow citizens. From the day he volunteered for service with the British Columbia Dragoons (BCDs) in July 1940 to his continued service to the citizens of BC at the Okanagan Military Museum in July 2016. Ed served Canada as part of the Royal Canadian Armoured Corps in England, Italy and Northwest Europe including being wounded during World War II. Upon his return to Canada, he continued his service with the Army Reserves until his final retirement in 1975.
Ed has volunteered and served as: Commanding Officer with the Royal Canadian Army Cadets, President of Branch 26 Royal Canadian Legion, President of the BCD Regimental Association (Whizzbangs), President and founder of the Kelowna Veendam Sister City Association, Provincial President of Junior Chamber of Commerce, Co-Chair of the Kelowna Cenotaph Improvement Project, and founding Director of the Okanagan Military Museum Society (OMMS).
In addition to his leadership roles in all of the above organizations, he was a volunteer veteran representative at Remembrance services at 20 Senior's Homes for 16 years, spoke to numerous schools about his military service, spoke at multiple Citizenship Ceremonies with respect to understanding the history of Canada, and assisted in 2016 (at age 93) in the Okanagan Military Museum Society's refurbishment of a historic World War I Field Gun. It is only in very recent years that Ed has been unable to act as a docent at the Military Museum but he does continue to work on mailing newsletters for the Whizzbang Association in spite of his near blindness.
Ed defines good citizenship. He has spent the last eight decades of his life doing good deeds on behalf of the citizens of this country and this province. Ed's hard work, entailing thousands of hours of volunteer time, is demonstrated by results such as: the Veendam Walk in Kelowna City Park, a new inclusive Cenotaph to recognize those locals who paid the ultimate sacrifice, the Okanagan Military Museum, the BCD Mural at the Military Museum and generations of Canadians that value those who have served their country honourably.
Dickins continues to exemplify good citizenship even in his advanced age. Our British Columbia is a better place because of the compassion, dedication and tireless commitment of Ed Dickins.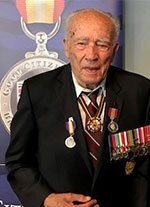 Year Awarded: 2018
City: Kelowna
Region: Thompson/Okanagan
---
Dave Dickson
Dave Dickson was honoured with the medal for his wide-ranging volunteer contributions made in the Williams Lake and Chilcotin Cariboo region, many of which have helped to make the community safer, reduced crime, and ensured those who are in need or vulnerable are taken care of.
His service to the community and countless hours of volunteering have benefited the Williams Lake Community Policing unit, Canadian Red Cross, Williams Lake Rotary Club, Northern BC Mobile Support Team with the Provincial Emergency Program, the local emergency support services team and the Canadian Cancer Society.
Among his many other contributions, Dave was also instrumental in establishing several programs including the Mounted Citizens on Patrol, a first-of-its-kind program that sees local citizens ride horseback to patrol areas that are difficult to observe; Wandering program for those at risk of going missing; and the Positive Ticketing Program which rewards children for being positive citizens. He has been a member of the Cops for Cancer Tour de North team for a number of years, is a multiple Paul Harris Fellow and has been involved in several international projects.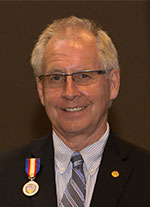 Year Awarded: 2016
City: Williams Lake
Region: Cariboo
---
E
Kevin England
Kevin England was honoured with the British Columbia Medal of Good Citizenship for his leadership and volunteerism for many non-profit and worthwhile initiatives in Vancouver and around British Columbia. Some of these include the B.C. Women's Hospital Newborn Intensive Care Campaign, Collingwood School, The Dalai Lama Centre for Peace and Education, Tibetan Nun Project, various recovery fellowships. He has also provided direct support to individuals and their families in recovery.
Kevin's support and fundraising efforts have especially helped people struggling with addiction. His support helped establish the therapeutic community model of treatment in British Columbia. Specifically, he is the co-founder and president of the British Columbia New Hope Recovery Society which in 2007 established Baldy Hughes Therapeutic Community, a 65-bed, residential recovery centre located 30 kilometres southwest of Prince George. Baldy Hughes offers a long-term, abstinence-based, community-as-treatment recovery program in a remote farm setting. The program provides men recovering from addiction a unique opportunity to regain their physical, emotional and spiritual well-being, and remove barriers to their long-term health.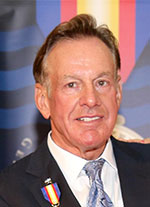 Year Awarded: 2016
City: Vancouver
Region: Mainland/Southwest
---
F
Chad Farquharson & Wayne McGill
Chad Farquharson and Wayne McGill were honoured with the medal for being unrelenting advocates for B.C. families who have children with medical needs, and have provided hundreds of families with healthy snacks while they care for their hospitalized children.
Their life-changing journey began when their newly adopted son Grayson was diagnosed with an extremely rare metabolic disorder. After spending time in the intensive care unit and on the ward, Chad and Wayne became passionate advocates, doing countless hours of public speaking and engagements in support of B.C. Children's Hospital, The Rare Disease Foundation, and Canadian PKU and Allied Disorders.
But their commitment to others doesn't stop there. Having spent time in ICU with Grayson, they know that eating properly, or at all, takes a backseat when your child is critically ill and needs you. So, they started a program called "From Our Family to Yours" and for more than a year, twice per week, they have been dropping off food baskets of healthy snacks to the B.C. Children's Hospital ICU and the BC Women's Hospital NICU for families to help themselves to while they are caring for their child.
They provide much of the funds themselves but have also reached out to others through a GoFundMe page to allow other families and individuals to help support the food basket program.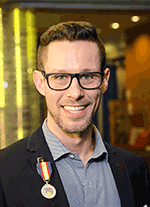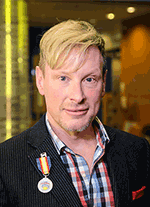 Year Awarded: 2017
City: Surrey
Region: Mainland/Southwest
---
Edwin Findlater
Edwin Findlater was honoured with the medal for his dedication to the needs of veterans, persons facing special hardships, and the elderly.
Since taking up residence in the Southern Okanagan Valley over 32 years ago, Edwin has served his community and the province in numerous voluntary and leadership positions, including president of the Penticton Red Cross, chair of the Okanagan Falls Legacy Fund, president of Branch 227 Canadian Legion for six years, chairman of the South Okanagan/Similkameen Legion Zone, chairman of the BC Yukon Legion Command for 15 years, chairman of Okanagan Falls Helping Hands, chairman and board trustee of Okanagan Falls United Church, past superintendent of St. John's Ambulance, director for BC Summer Games in Penticton, and the security chief for BC Winter and Summer Games.
In addition, he has been a member of the RCMP Auxiliary for over 10 years, volunteer for Iron Man Canada for 23+ years, coach for Special Olympics, founder of Citizens on Patrol in Okanagan Falls and Penticton, an Air Cadet instructor, volunteer with Okanagan Falls Visitors Centre, and an organizer for Okanagan Falls Community Policing.
Among his many other contributions, Edwin was also instrumental in establishing the South Skaha Housing Society with the goal of developing affordable housing for seniors living in Okanagan Falls, and because of his vision and leadership, the project is becoming a real possibility.
Arising from his 35 years of service in the Canadian Armed Forces, and subsequently with the Royal Canadian Legion, Edwin has received the Minister of Veteran's Affairs Commendation and the Governor General's Caring Canadian Award.
Year Awarded: 2017
City: Okanagan Falls
Region: Thompson/Okanagan
---
Stephanie Fischer
Stephanie Fischer has been integral in establishing Nelson and area as a cultural hub in British Columbia and was the project manager and visionary behind Nelson's newest cultural cornerstone, Touchstones Nelson Museum of Art and History.
Stephanie was an early champion and founding director of the City of Nelson's Cultural Development Committee, which has helped develop long term cultural plans and policies for the city. She has been a steadfast volunteer on numerous boards and steering committees including: the Columbia Basin Trust, Columbia Kootenay Cultural Alliance, Nelson and Area Economic Development Partnership, Selkirk College, Oxygen Art Centre, Nelson Artwalk and the Social Planning Action Network.
For Stephanie, the value of culture and its contribution to the vibrancy and strength of a community is fundamental. Her enthusiasm has inspired countless individuals to become active in the arts alongside her. Her contributions have created a culture of accessibility within the arts in the region while encouraging and celebrating excellence.
A student of architecture in Germany, Stephanie completed an internship in the former East German city of Dessau and is credited as key in the planning of a new culture centre for Dessau, that went on to win the Alfred-Toepfer Foundation Award for innovation and initiative of cultural development.
Of note is Stephanie's involvement in projects around reconciliation with Indigenous Peoples through partnerships and cultural programming. Her goal is to provide opportunities for our community to learn and appreciate Indigenous culture through artistic expression. For example, an Indigenous dance event offered a learning opportunity for the greater community to build relationships with Indigenous Peoples in the region.
As executive director of the Capitol Theatre, Stephanie helped raise over a quarter -million dollars to renew the systems and equipment. The 30-year-old institution is now thriving, with increased patron and season package memberships, a steady increase in audience attendance of a broad spectrum of live theatre events, and the provision of space to serve as a performing arts resource and referral facility for the community.
In recognition of her contributions, Fischer received a special citation from the City of Nelson, and the Community Futures and CIEL Community Innovation Entrepreneur Award. She also received the BC Touring Council award for Presenter of the Year in 2019.
Year Awarded: 2018
City: Nelson
Region: Kootenay
---
Fran Fowler
Fran Fowler has dedicated many years of volunteer service in her community in a variety of areas including: health care governance, multiple all-age sports activities, the arts, and programs specifically for youth and seniors.
Her service to community and countless hours of volunteering include significant involvement with the Haida Gwaii Arts Council, Balance Rock Community Justice Program, an RCMP restorative youth justice program, Queen Charlotte Seniors Club, Queen Charlotte Community Club, Literacy Haida Gwaii, Willows Golf Club, and the Queen Charlotte Hospital Day Organizing Committee.
Since moving to Haida Gwaii in the 1960s Fran has thrown her passion and energy into supporting a myriad of community activities from literary and musical events, outdoor hiking, golf, geocaching, and food foraging. Her inspired leadership and can-do approach to helping community organizations has strengthened the social fabric of the islands.
Concerned that the islands' historical past is being lost, Fran has fostered a project, Saving and Sharing Our Stories, aimed at collecting and preserving for the future, the stories of Queen Charlotte on the seniors' website. Another project, Aging on the Islands, is focused on collecting stories to advocate for improved services for seniors on the Islands.
Among her many other contributions, Fran has also been an instrumental force in a group of citizens calling themselves Operation Refugee Haida Gwaii who have sponsored a family of eight Syrian refugees and continue to support them as they settle into their new life in British Columbia.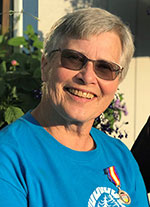 Year Awarded: 2018
City: Queen Charlotte
Region: Northern BC
---
Joyce Fraser
Joyce Fraser is a visionary leader who has worked within the communities of Princeton, Coalmont, Tulameen and Heldley to enhance services for seniors and people with disabilities.
Beginning in 1972 she spearheaded the formation of the Princeton and District Community Services Society (PDCSS) and has now led the not-for-profit agency for 32 years, developing more services and programs to support the vulnerable along the way.
Today the society operates low-cost housing for seniors and families with children, and seniors assisted living. Its New Beginnings Day Program for adults and youth with intellectual disabilities offers respite services, self help skills, residential services and employment development. Joyce has also found innovative ways to ensure that the community has trained employees to support the needs of PDCSS clients.
With Joyce as its administrator, the PDCSS converted the former Mine Rescue building into a drop-in centre and workshop. Over time the site became the Mini-Chef Restaurant where people with disabilities get job skills training. A popular enterprise, with many repeat customers, it provides the society with a reliable source of income to meet its goals.
To create housing for persons with disabilities, Joyce led an initiative to purchase and renovate a three-storey apartment building and an additional six units were constructed in a partnership with BC Housing. Another partnership with BC Housing, the Interior Health Authority and the Town for Princeton resulted in the development of Vermilion Court in 1997 with 18 housing units for seniors and vulnerable adults - the first assisted living facility in the Province.
Recognizing that PDCSS clients need trained support, Joyce organized a community-based social services certificate to be instructed locally. She also worked with Okanagan College to bring a care aid course to Princeton, enabling many local residents to be trained locally and ultimately helping seniors remain at home as long and as safely as possible.
Joyce also germinated transportation services for those who are vulnerable first by using her family vehicle to transport residents to medical appointments and to the grocery store. When demand exceeded her capabilities, she spearheaded a drive to raise money for a wheel-chair accessible van that operates as a partnership between the Village of Princeton, BC Transit, the Regional District of Okanagan-Similkameen and the PDCSS.
Joyce has been recognized with a British Columbia Community Achievement Award and the Queen's Diamond Jubilee Medal.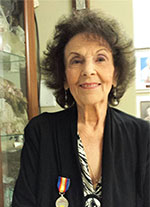 Year Awarded: 2018
City: Princeton
Region:
Thompson/Okanagan
---
G
Joann Gabriel
Joann Gabriel, a retired public-school teacher, was honoured with the medal for volunteer service spanning 56 years to the community of Princeton.
Her service to community and countless hours of volunteering include serving on the board of the Princeton and District Community Services (PDCSS), a non-profit organization, to meet the needs of the elderly and mentally challenged. Joining in 1979, Joann has been treasurer for eleven years and chair for 24 years, under the administration of three executive directors. She is committed to the work the society does under its twelve programs, which include home care, meals-on-wheels, transportation, housing for the elderly and developmentally disabled, an adult day center, and an activity center with employment opportunities for mentally challenged in the community.
Among her many other contributions, Joann was also instrumental in developing the programs run by the Princeton and District Community Services, demonstrating a passion for making sure that those less fortunate in her community are visible and function in a way that incorporates them into their community as productive members.
Besides PDCSS, Joann has also volunteered and served the executives of the Princeton Curling Club, Royal Purple, Kinettes, Princeton Library, Kokanee Summer Swim Club, Princeton Recreation Commission, Vermilion Forks Field Naturalist Club, Princeton Arts Council and St. Paul's United Church Board and Women's Group over the past 56 years.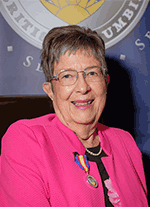 Year Awarded: 2017
City: Princeton
Region: Thompson/Okanagan
---
Abbe Gates
Abbe Gates was honoured with the medal for spearheading initiatives aimed at improving life experiences and inclusion for children, teens and young adults with developmental and physical disabilities. Through her fundraising efforts and ability to bring a community together, Abbe founded a soccer sporting team and has created social experiences that have empowered people with special needs all over the Lower Mainland and nearby communities.
Her service to community and countless hours of volunteering have been focused on gathering the support, monies and resources required for hundreds of players with a variety of developmental and other disabilities, aged four years and up, to play soccer. Nine years later, the Blazin' Soccer Dogs and Pups, along with the Rain City Wolves, have provided enriching, inclusive and confidence-boosting experiences for participants.
Abbe has also served on the Down Syndrome Research Foundation board and was an effective fundraiser for the organization. More recently, she is an active volunteer helping to promote autism awareness and the creation of the Pacific Autism Family Centre.
Among her many other contributions, Abbe annually mounts The Night to Remember Gala, which provides an annual dance and red-carpet experience to more than 150 young people, aged 15 to 35 years, with development disabilities. As well, she helped establish a social group for teens through the Vancouver Parks board, called Friday Friends. She is now collectively working on establishing the same kind of program for all these young people who are now adults.
Year Awarded: 2016
City: Vancouver
Region: Mainland/Southwest
---
Lorna Gibbs
Lorna Gibbs is a dedicated community volunteer and vocal advocate for improving the programs, services and facilities of Vancouver South. She has participated in numerous community development issues, committees and agencies, focusing especially on seniors' needs.
In addition to her service on a range of boards and committees, Lorna is a founding member and president of the Southeast Vancouver Seniors' Centre Society. In this capacity she is a leading voice to reach out and capture the needs of thousands of seniors through her advocacy for a new senior's recreation centre in Southeast Vancouver. Through her work on a variety of seniors' programs, services and issues, Lorna has changed the lives of many seniors and has inspired many more to contribute to their community. In 2014, Lorna was rewarded for her efforts to bring all three levels of government together when funding was secured to build a Seniors' Activity Centre in South Vancouver.
A resident of Vancouver for more than 30 years, Lorna has also brought seniors from diverse ethnic backgrounds together to gather stories, including translation and editing, which has resulted in two published books: Stories of Southeast Vancouver, and Meals and Memories, an illustrated cookbook. This work brought happiness and greater understanding and friendship to the hundreds of seniors who were involved.
Other volunteer services given by Lorna include:
Board director of Champlain Heights Community Association and the Killarney Community Centre Association
Chair and president of Southvan Neighbourhood House
Member of the Citizen Advisory Committee – Victoria Fraserview Killarney, East Fraserlands Committee, and the Everett Crowley Parks Committee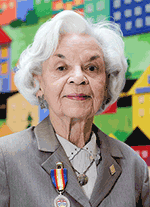 Year Awarded: 2017
City: Vancouver
Region: Mainland/Southwest
---
Shirley Gratton
Shirley Gratton's deep pride in her heritage and selfless contributions to her community have contributed greatly to the growth and development of Prince George and the North Central region over the past 70 years.
Gratton's contributions embody the characteristics of good neighbour and citizen. Her interest in helping others, along with a willingness to work for the betterment of families and community, is reflected in the many awards and recognition she has received.
Gratton's connection to Prince George and area goes back to her pioneering parents who settled in Salmon Valley in 1933. A desire to share her talents for the benefits of others, along with a strong interest in her family's heritage, led to her work with the Prince George Heritage Commission where she helped document and ensure the legacy of many historic buildings and sites.
A steadfast champion for heritage promotion, education and awareness, Gratton has dedicated countless hours to develop and promote interpretive signs for local heritage sites and compile an inventory of heritage trees.
Gratton's compilation of recollections and history in Saga of a Pioneer's Dream, which tells the stories of settlers to the Salmon Valley region in the early 1900s, has helped create a permanent record of the Cariboo region's vast history.
Gratton served on the Prince George City Council for 13 years. She was a founding member and president of the Prince George Fibre Arts Guild, a founding member of the Prince George Sports Hall of Fame, a founding member of the PG Hydro Power Pioneers and a founding member of the Parish Pastoral Council that established Christ Our Saviour Church.
In 2004, Gratton chaired Prince George's Communities in Bloom committee. She is still involved in the Civic Pride Action Group, which conducts an annual litter clean up, as well as the Adopt-a-Block Program where volunteers work to keep the community litter-free.
Gratton's fundraising efforts have helped build a tennis court at Kelly Road Secondary School, the Hart Highlands Ski Hill and the Nechako Babe Ruth Heather Road Complex. She also donated an 18th century log loom to the Huble Homestead/Giscome Portage Heritage Society.
Gratton has received the following awards in recognition of her many contributions:
Mother of the Year from Kelly Road Home & School
Eagles Mother of the Year
Inductee to both the BC Babe Ruth Sports Hall of Fame and the Prince George Sports Hall of Fame
Jeanne Clark Memorial Local History Award
Queen Elizabeth II Jubilee Commemorative Medal
Queen Elizabeth II Diamond Jubilee Medal
2004 Citizen of the Year
2011 Outstanding Volunteer
Freedom of the City of Prince George
Year Awarded: 2019
City: Prince George
Region: Cariboo
---
Ronald Greene
For five decades, Ron Greene has demonstrated the ideals of good citizenship through the generous sharing of his time as a volunteer and leader of various organizations. These include coaching youth volleyball, leading local and provincial historical societies, contributing administrative and research expertise to the field of numismatics (the study and collection of coins and paper currency), and supporting community heritage activities.
Ron's involvement with volleyball began in the late 1960s as a coach at Victoria's YWCA. His girls teams competed successfully provincially and nationally. He has also assisted the coaches of the men's volleyball teams at UVIC and Camosun College. He contributed to the administration of the British Columbia Volleyball Association (BCVA), occasionally serving as President. For many years, he volunteered as a referee and trained over 500 new referees. In 1987, Ron was awarded an Honorary Life Membership in the BCVA.
Ron has also been inducted into the BC Volleyball Hall of Fame in the Co-Builder category.
A great interest of Ron's is the study of BC's historical coins and paper currency. He has been a member of the Royal Canadian Numismatic Association (RCNA) since 1956. Providing a British Columbia perspective, he has organized conferences, edited books, established special interest groups, and served as an executive. In 1986, Ron received the highest award in Canadian Numismatics, the J. Douglas Ferguson Medal; in 2015, he was deemed a RCNA Fellow.
Ron's interests in supporting the history of Victoria and British Columbia are outstanding. For example, in 2012 and 2013, he organized symposia on the 150th anniversary of the incorporation of the City of Victoria and the 170th anniversary of the founding of the HBC's Fort Victoria. This involved countless hours of recruiting volunteers and speakers, organizing field trips, and hosting visitors. He has served the Victoria Historical Society and the British Columbia Historical Foundation as either their President or Treasurer.
An accomplished researcher, in 2015 he published the award winning book, Carlo Gentile, Gold Rush Photographer, 1863-1866. Ron is fully aware that archives and museums need support, whether through volunteer or financial aid. At the Provincial Archives, he helped create the Friends of British Columbia Archives, for which he has raised money in support of research collections, organized lectures, and arranged and led special events of the Archives.
The Greene family's business, Capital Iron, is located on Victoria's historic waterfront. Ron restored the company's buildings, earning Capital Iron a Heritage Canada Regional Award in 1982. Subsequently, through talks and freely-given advice, he has inspired others to conserve Victoria's built heritage by sitting on the City of Victoria's Heritage Advisory Committee and later serving as a Board Member of the Victoria Civic Heritage Trust, acting as Chair for two years.
For over five decades, Ron Greene has made outstanding contributions to various organizations. His selfless volunteer work and many leadership positions have supported thousands of young volleyball players and hundreds of historical enthusiasts, enabling them to participate in well-run and highly-appreciated community activities. Not least, Ron is widely respected by his peers. This is demonstrated by the citations and awards bestowed upon him that honour both his volunteerism and leadership.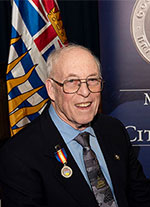 Year Awarded: 2018
City: Victoria
Region: Vancouver Island/Coast
---
H
Dave Holmberg
Dave Holmberg received the medal for his ongoing volunteer and philanthropic contributions to the city. Dave has been actively involved in dozens of community projects and services including the building of the 10 km Discovery Trail in Abbotsford. He has worked tirelessly for countless fundraising drives, many of which have resulted in bursaries and major equipment and building projects for organizations such as the Salvation Army, Big Brothers and Big Sisters of the Fraser Valley, Ledgeview Golf and Country Club and the 4-H Club.

Dave's efforts have resulted in the building of the first free-standing hospice facility in Abbotsford on the Campus of Care. He and his wife, Lee, spearheaded the fundraising activities and contributed significantly through their personal donations after they tragically lost a son to illness in 2011.

Holmberg House, named in memory of Dave Holmberg Jr. is a gift to the city of Abbotsford and was built by the donations and gifts-in-kind from many generous volunteers, staff, civic and provincial governments and community members – but it would not have been possible without Holmberg.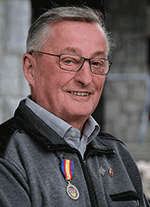 Year Awarded: 2016
City: Abbotsford
Region: Mainland/Southwest
---
Patricia Housty
A pillar for the community, Patricia Housty was honoured with the medal for being a generous volunteer, role model and community caretaker within the Heiltsuk First Nation and all of Bella Bella. Patricia has offered many quiet acts of kindness ensuring impoverished families have food and is a powerful mentor and champion for the community's youth.
After the loss of the community's grocery store in a fire, Patricia took the lead in having an interim location set up at the United Church building. Thanks to her quick thinking and resourcefulness, the store was back up and running in two days and the residents of Bella Bella were able to shop for food and supplies.
Her service to community and countless hours of volunteering include mentoring youth; serving as a Heiltsuk Tribal Councillor; fundraising for the local basketball team, now the pride of the Heiltsuk First Nation; and facilitating food service for important community gatherings including weddings, funerals and potlatches. Patricia was the first Indigenous person to receive the honour.
Year Awarded: 2016
City: Bella Bella
Region: Northern BC
---
Jack Hutton
Jack Hutton has dedicated 48 years to serving disadvantaged and often marginalized people, while pioneering services for them in the area between Victoria and Nanaimo on Vancouver Island. The lives of thousands of mentally challenged individuals and troubled youth have been improved because of his work in the Cowichan Valley.
Jack served as the first director of the Duncan Mental Health Centre and had a hand in developing many of the non-profit societies, primarily around youth and mental health support, that have evolved. His greatest legacy has been the establishment of Providence Farm, which uses horticulture as therapy for those with mental health issues.
Under his leadership, the Vancouver Island Providence Community Association has re-built the farm to provide community-based programs for the disadvantaged, including a seniors' program, alternate school, community college classes and a therapeutic riding centre which sends riders to the Special Olympics.
Providence Farm attracts delegate tours from across Canada and Japan, China, Korea and Europe. In 2009 the Sisters of Saint Ann, who had owned the land since 1864, transferred stewardship of the 400-acre parcel of land to the Vancouver Island Providence Community in trust that its mission: to serve disadvantaged and disabled persons, who are not served elsewhere in the community, will continue in perpetuity.
Jack is now working with a group to develop a village at Providence Farm that will have inclusive, multifaceted housing for an integrated community.
Jack's contributions to society have been recognized with many awards, including:
Dr. Phillip Long Cup Award from the Vancouver Mental Health Support Society
Cowichan Valley Black-Tie Service Award
City of Duncan Scroll of Honour and the Heritage Days award for his commitment to rescuing and restoring buildings at St. Ann's School and Providence Farm
Queen Elizabeth ll Diamond Jubilee Medal
Rotary Club Service Award for exemplary service
In 2019 the Vancouver Island Providence Community Association received the B.C. & North region Canada Volunteer Award for Social Innovation
Year Awarded: 2019
City: Duncan
Region: Vancouver Island/Coast
---
L
Michael O. Langridge
Michael Langridge is an adult with an intellectual disability, born in BC and currently residing in Victoria. I have known Michael for 12 years. He has successfully overcome many challenges to become an active and successful member of his community.
Michael's early community involvement began as a Navy Cadet. He proved to be an eager volunteer in all fundraising activities, most notably the annual Poppy Drive. Michael reached the rank of Petty Officer 2, a significant achievement for someone with with limited spoken and written communication skills. Michael received the Commander's Cup, a prestigious award given to cadets who best exemplify the values and standards of the Navy Cadet program.
Michael's affiliation with the military came also through his brother's service in the Canadian Forces. Unfortunately, his brother suffered PTSD and took his own life. In the face of great loss, Michael channeled his emotions and is supportive of efforts by the Royal Canadian Legion to raise awareness of issues surrounding PTSD. Michael recently needed to downsize. Through the Military Family Resource Centre, he donated many items including his most precious possession, the big screen TV his brother had bought on his return from Afghanistan. Each year, Michael stands proudly at the Cenotaph on Remembrance Day and helps his 'Silver Cross' mother lay the wreath that honours his brother and all those who have served their country.
From 2007 to 2012, Michael was a Director on the board of People First of Canada, a national non-profit organization for people with intellectual disabilities who support each other to claim their right to be recognized as full citizens. Michael volunteered for the organization for over six years.
Michael's leadership and dedication led him to join the advisory board of Community Living British Columbia (South Island Community Council) from 2009 to 2016. The group's mission is to encourage, inspire, lead and support inclusion of people with developmental disabilities in all aspects of the community. Michael was a role model to young people transitioning out of the system, showing them how to become involved in their community. Finally he served as Vice-Chair of the Community Council and was being nominated for Chair of Council but his term was ending.
Michael joined the Special Olympics 15 years ago. The organization provides sports programs for people with intellectual disabilities so they can develop physical fitness, life skills and friendships. Michael gives back to Special Olympics by volunteering for its fundraising activities such as "Free the Fuzz", "Staples Give a Toonie" and "Torch Run", and is frequently the DJ at Special Olympics dances.
Michael's sport performance won him a place on Team Canada where he represented British Columbia and Canada at the 2017 International Special Olympics Games in Austria. He is extremely proud that he wore the Canada flag, just as his brother did overseas. He won two Gold medals for Canada. That fall Michael travelled to Parliament Hill where he was honoured along with the Team by the Prime Minister and the Minister of Sports and Persons with Disabilities.
In 2018 Michael was the proud recipient of the provincial Athletic Achievement Award from Special Olympics B.C. He was described as; "A great teammate and an inspiring leader."
Year Awarded: 2018
City: Victoria
Region: Vancouver Island/Coast
---
The Laur Family (Darren, Beth and Brandon)
For over ten years, Darren, Beth and Brandon Laur, known as "The White Hatters", have visited more than 350 schools throughout B.C. and Canada, and just about 100 schools in the U.S.A. (connecting with just over 430,000 students in total), to share their pro-active message of social media safety and digital literacy with students, principals, teachers, school counsellors, parents and law enforcement officials.
Even though the Laur family run a for- profit company, they spend hundreds of voluntary hours every year assisting schools, tweens, teens, parents and law enforcement with information and guidance when it comes to everything and anything to do with safety, security and privacy as it relates to the digital world.
Never did the Laur family expect their company to become a digital outreach to those who they present to, but it has. To date, the Laur family have been directly involved in 183 successful interventions of teens who have connected with them with cyberbullying or sexting gone wrong challenges, and who were considering, or in the process of self-harming or suicide.
All this outreach has been done free of any financial or material gain. Every year a portion of the Laur family business profits are given back to the community, to help financially support two not-for-profit organizations that are dedicated to helping youth in need when it comes to bullying and suicide prevention – Need2 and Bullying Ends Here. The Laur family believe they are a for profit company, striving to do well, by doing good things for others in their community.
The Laur family makes the following promise in all their presentations at schools, "If there is any student or young adult in the audience who is online and needs help, and you don't know who to connect with, you can connect with us and we will help, and if we can't, we know someone who can." This is why the Laur family will take phone calls, emails and text messages anytime day or night, and all this is done on their own time and at no cost. The Laur family also dedicates hundreds of hours every year to students who would like help in securing their social networks. To date thousands of students, and even teachers and parents from across British Columbia have taken Darren, Beth and Brandon up on this offer.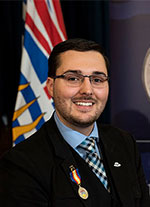 Year Awarded: 2018
City: Langford
Region: Vancouver Island/Coast
---
Peter Lawless
Peter Lawless was honoured with the medal for being a passionate advocate for sport as a means to transform community and his leadership and dedication has been vital to numerous initiatives becoming reality.
While his accomplishments are many, SoldierOn is one program where he has made a specific and notable difference. When hearing about this Canadian Forces program that assists ill and or injured members in their recovery, rehabilitation and reintegration through sport, Peter, the vice president of the Canadian Olympic Committee, used his sports experience and connections, as well as the facilities in the Victoria area, to create a meaningful sport experience for these military members.
Peter set up a multisport camp that hosted over 30 athletes from across the country. He connected the military athletes with high-performance coaches from the Paralympic Team and arranged for fully funded access to Victoria's high-performance training centre with financial assistance from PacificSport Victoria.
He next volunteered to coach for the 2016 lnvictus Games in Florida. He facilitated free access to the new high-performance training centre in Toronto and arranged for various Olympic Champions to give motivational talks and coaching to the Canadian lnvictus team.
Upon his return from lnvictus Games in 2016, he arranged for every single B.C.-based athlete to receive a Bravo Zulu commendation from the admiral in command of Maritime Forces Pacific. His passion, enthusiasm and success further resulted in him being asked to be the head coach for the entire 2017 Canadian team.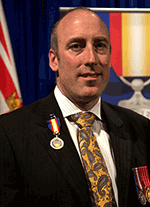 Year Awarded: 2017
City: Victoria
Region: Vancouver Island/Coast
---
Peggy Lee
Peggy Lee is a humanitarian and role model who broke both gender and race barriers. Despite the societal obstacles that lay in her path, she remained patriotic and went on to help make Canada and British Columbia a better place.
Her volunteer spirit showed itself early when, during the Second World War, she volunteered with the Women's Ambulance Corp (St. John Ambulance Women's Corp in Canada). At the age of 19 she was the youngest member of the only all-Chinese Women Platoon in Canada. Her war efforts have in recent times served as examples of the diversity that helped win the war. In 2008 she was a panelist along with Major Harjit Sajjan, now Canada's Minister of National Defence, in a veteran's multicultural event called Unity within Diversity at the Vancouver Public Library.
But more significantly for Canadians, war contributions like those of Peggy and other Chinese Canadian veterans, helped change attitudes and ultimately gain Chinese Canadians their full citizenship rights with the passing of the 1947 Canadian Citizenship Act.
Raising four children, including triplets, starting her first salon at age 17, and growing a hairdressing and beauty business to four salons in Vancouver, charity remained close to her heart. She devoted hours to organizations like Variety-The Children's Charity, Canuck Place and helped raise money for the African Pikin Foundation to promote education and build schools in Sierra Leone. She co-founded the Vancouver Chinese Canadian Activity Centre Society, which over the course of her 36-year involvement, went on to build a daycare and seniors' residence serving Chinese Canadians. For 28 years she volunteered first as one of the original directors and then sat on the Board of the Chishaun Housing Society, which operates Oakridge House, a high quality residence for low income seniors. She is a founding member and active fundraiser for the Chinese Canadian Military Museum Society, the only museum in Canada devoted to Chinese Canadian Veterans' history.
Her contributions have been featured in books and documentaries that highlight the contributions of Chinese Canadians during the Second World War, including The Power and the Grace: WWII, Heroes Remembered, The Memory Project, Chinatown: Then and Now; and Celebration: Chinese Canadian Legacies in British Columbia. She was also one of the veterans photographed in the travelling exhibit One War. Two Victories shown in the War Museum in Ottawa, Ontario and the Royal British Columbia Museum in Victoria, BC.
An abbreviated list of awards and recognitions given to Mrs. Lee include: the Variety Telethon fundraising trophy for Canuck Place; Variety Clubs International Life patron trophy; and a recognition certificate from Prime Minister Stephen Harper for her selfless acts of service and sacrifice during the Second World War in defence of Canada and our shared values of freedom, democracy and the rule of law.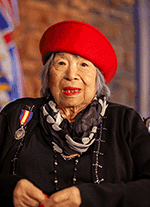 Year Awarded: 2018
City: North Vancouver
Region: Mainland/Southwest
---
Joan LeMoine
Joan LeMoine was honoured with the medal for her contribution to many Parksville organizations and events touching a range of citizens from young people with special needs to senior citizens living alone, as well as to those looking for family fun.
Her service to community and countless hours of volunteering include working with organizations such as:
The Society of Organized Services (SOS)
Cops for Cancer Tour de Rock fundraising campaign
Branch 49 of the Royal Canadian Legion
Tim Hortons Camp Day fundraising campaign, which helps send children with special needs to camp
Coffee with Council, which provides an opportunity to spend one-on-one time with the Mayor or council members
Through the Oceanside Community Safety Volunteers, she calls seniors living alone to ensure their well-being and offer friendly conversation.
Among her many other contributions, Joan was also instrumental in re-establishing the Parksville Beach Festival Society that now organizes a world-famous sand-sculpting event. She and her late husband helped form the Parksville Beach Festival Society in 1999 and convinced the city that a family-friendly event would be, once again, viable. Last summer, the festival broke all attendance records with more than 104,400 people from all over the world attending.
Joan put in countless hours over her 15 years as volunteer co-ordinator of the society and helped grow its solvency. Today the society diverts a portion of ticket sales to other philanthropic groups and, to date, close to $350,000 has been distributed to other non-profits and community projects.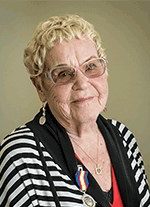 Year Awarded: 2016
City: Parksville
Region: Vancouver Island/Coast
---
Chief M. Jason Louie
Chief Jason Louie was first elected as Chief of the Lower Kootenay Band in 2010. Currently serving his third term as leader of the Ktunaxa people, he is known as a strong leader dedicated to building an economy where his people are self-sufficient, while retaining harmony with Ktunaxa traditions and values.
Born in Creston, Louie has worked collaboratively to build positive relationships with neighbouring communities and the Regional District of Central Kootenay. Through his commitment and persistence, Louie has developed a friendship between the Ktunaxa people and their neighbours.
Louie's welcoming policy invites select individuals to share in the experiences and culture of the Lower Kootenay Band to participate alongside him, his family and the Ktunaxa people–in even the most sacred ceremonies.
For over 30 years, Louie has been involved with the Lower Kootenay Band Annual Pow Wow, one of the few remaining Pow Wows in North America. He also organizes and participates in many Ktunaxa youth initiatives and is passionate about preserving the Ktunaxa language.
Louie is well respected for his openness about his personal struggle with PTSD and depression and is a tireless advocate for mental health awareness. He regularly leads traditional ceremonies for First Nation people living with mental illness and addictions.
Louie is known for his open and respectful dialogue between the Lower Kootenay Band, the Town of Creston, the Regional District of Central Kootenay, the RCMP, Canadian and US Border Services and a wide variety of volunteer groups and community service organizations in the Creston Valley.
Louie served his country in the Canadian Armed Forces, Army Reserve, from 2004–2012. In honour of his many contributions and achievements, Louie received the Queen's Diamond Jubilee Medal, and in 2013 was a recipient of a British Columbia Community Achievement Award.
Under Louie's leadership the Lower Kootenay Band has made some important acquisitions. In 2015, the Band acquired Ainsworth Hot Springs Resort, bringing traditional lands back into the community and providing local jobs. Through an Incremental Treaty Agreement, the Band has also acquired 475 acres of lakefront property on Kootenay Lake.
Other positive developments under Louie's leadership include a $1.5 million water system for the Band; construction of a $1.5 million addition to the Yaqan Nukiy school, over $300,000 in renovations to Lower Kootenay Band housing units, construction of a traditional Round House in the Ktunaxa community and a farming program to raise and produce beef for community food stores.
Louie has also been a driving force in the development of a health facilities building and an alcohol and drug treatment centre to serve the Lower Kootenay Band.
Above all, Chief Louie is passionate about creating a future in which the Lower Kootenay Band become equal citizens, in a province and country that includes and recognizes First Nations Peoples as autonomous neighbours, within the traditional lands that we all call home.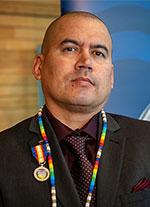 Year Awarded: 2019
City: Creston
Region: Kootenay
---
M
---
Stan McCarthy
Stan McCarthy is a great community-minded citizen, dedicating many years to the protection of his community. When Williams Lake and 150 Mile House were hit by wildfires in 2017, McCarthy went above and beyond what was required to help anywhere and in any way he could to protect citizens, homes and local structures.
McCarthy is the fire chief for the 150 Mile House Volunteer Fire Department. He's been a pillar of the 150 Mile community since the 1970s. He was one of the founding members of the fire department and has been the fire department's chief since the 1990s.
During this time, McCarthy helped create a vibrant fire department focused on community service and constant improvement. He advocated for and led the department through professional training and certification for members. This ensured their safety and at the same time, provided a professionally trained core of volunteers ready to respond to the community.
Training now includes the National Fire Protection Agency's 1001 accredited training standard, an accomplishment that many volunteer fire departments do not achieve. McCarthy was also one of the first leaders to see the need to add medical aid for the community and started the fire department's medical first responder program.
McCarthy has also organized social activities. He helped create a skating rink at the fire hall that the community has enjoyed for two decades, and he plows the rink after every snowfall so members of the community can take full advantage of it. Since 1982, McCarthy has led the fire department in the annual Halloween event. It has now grown into a large community-focused celebration where McCarthy runs the BBQ and serves hot dogs to residents and provides treats for the children.
McCarthy was one of the responding members who travelled to Kelowna to assist the province in the emergency response during the 2003 firestorm. In 2017, he once again faced a firestorm, this time for five weeks in his own community. He led the department through this challenging time ensuring all fire department members' needs were met while protecting citizens of the community, along with their homes.
McCarthy reached out to the community and offered extra help wherever possible ensuring the little things were looked after while managing the huge responsibilities that came with the fire response efforts. Notably, he initiated efforts to help the community's animal population left behind during the evacuation by arranging for food and water to be delivered by fire department members.
McCarthy's ability to see the big picture and ensure the fire department's high level of training and professionalism saved the community in its darkest hours. Its members were able to use their training to respond and indeed excel, during the long weeks of fire response that summer. Because of McCarthy's foresight and vision, the fire department was able to thrive during the fire event and keep the community safe.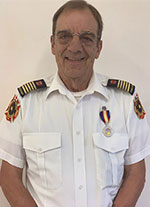 Year Awarded: 2018
City: 150 Mile House
Region: Cariboo
---
---
Adrienne Montani
Adrienne Montani's work over 35 years has focused on women's and children's rights, cross-cultural awareness and racism, and the impacts of social exclusion on children and youth due to poverty and inequality.
Montani Adrienne has worked in many capacities, from grass-roots community activism in the not-for-profit sector to ensuring adequate resources for the most vulnerable children, as a locally elected school board trustee, to advancing public policy solutions through research and policy.
Since 1976, Montani's Adrienne's advocacy on child poverty, inequality, early childhood development, child care and public education, among other issues, has played an important role in the development of policy and legislation that has improved the quality of life for children and youth in B.C.
Her determination and collaborative leadership has resulted in positive changes to provincial public policy, including support for single parents on social assistance. Recently, the B.C. government announced a new child tax benefit–a measure for which Montani Adrienne has advanced and organized support over many years.
Montani Adrienne joined First Call: BC Child and Youth Advocacy Coalition in 2000, she became the Provincial Coordinator in 2005 and has guided its advocacy work ever since.
Under Montani's Adrienne's leadership, the First Call Coalition has grown to over 100 organizational members. Her reasoned and respectful style demands attention to important issues and is always mindful that true beneficiaries of positive change are our children and their families.
Prior to working with First Call, Montani Adrienne served as the Child and Youth Advocate for the City of Vancouver and as the chair of the Vancouver School Board for three of her six years as an elected school trustee.
Some of her earlier leadership positions included serving as the executive director of Surrey Delta Immigrant Services Society for 11 years and as the executive director of Big Sisters of BC Lower Mainland for six years. She has also served on the boards of the Canadian Coalition for the Rights of Children, The Society for Children and Youth of BC, and the Canadian Cancer Society BC and Yukon, as well as on the advisory committees of several projects and programs focusing on women and youth.
Over the past decade Montani Adrienne stewarded the Living Wage for Families Campaign as a First Call hosted project that has now certified dozens of private sector employers and a growing number of municipalities as living wage employers.
For her tireless advocacy for women, children, youth and their families, Montani Adrienne has received recognition and awards, including:
The Bill McFarland Award for Excellence in the Advancement of Child Welfare from Parent Support Services Society in 2018
The Above and Beyond Award from the Federation of BC Youth in Care Networks in 2012
The MOSAIC Human Rights Award in 2010
The United Way's Excellence in Action for Early Childhood Development Award in 2009
Federation of Community Social Services' Award of Excellence in 2008
In addition to her work at First Call, Montani Adrienne currently serves on the board of the Community Legal Assistance Society and the Institute for Public Education BC. She is also a key partner in Campaign 2000, a national anti-child poverty initiative.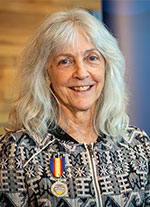 Year Awarded: 2019
City: Vancouver
Region: Mainland/Southwest
---
N
Dr. Lois Nahirney
Lois Nahirney is a pragmatic visionary and tenacious activist for gender equality and the economic advancement of women. Her work has accelerated the pace of change and impacted thousands of women and girls to be champions of equity for themselves and others. As a lifelong volunteer and community leader, Lois has founded and/or chaired numerous organizations dedicated to advancing women including the Women's Executive Network, Premier's Women's Economic Council, WE for SHE and Women in Technology to promote, educate, implement and accelerate systemic change for women.
In addition to her extensive volunteer work, Lois is a trail-blazing senior female executive in male-dominated industries including forestry, shipping and technology, pioneering change within the workplace. She saw the importance of developing champions, sponsors and advisors to elevate women's careers and has been an activist in this area for 20 years. Now, as the CEO/Founder of a DNA company, dnaPower Inc., she employs a team of women scientists and managers in the rapidly changing biotech world to apply personal genetics in the areas of diet, fitness and wellness to help people live healthier lives.
Lois is best known as the active chair of the Women's Executive Network in BC for 15 years, as the innovative inaugural Chair of the Premier's Women's Economic Council, a founding member of the WEB Alliance and the visionary co-founder and co-chair of WE for SHE, bringing the focus of women and gender equity to the forefront in BC. She has changed companies, advised government and inspired thousands of women in advancing their place in the economy.
As the co-creator of WE for SHE, Lois led an unprecedented collaboration of over 25 women's organizations, representing 10,000 women across the province, to create groundbreaking annual forums and action plans for government, business and individuals focused on advancing senior women, entrepreneurs and women in non-traditional and emerging sectors. This annual forum brings together 1400 people -- high school girls along with business leaders to inspire both young and senior women to be bold in their careers. It has spawned other events and mentoring programs around the province and has drawn in corporate, government and community partnerships to collectively take action.
Wherever Lois goes, she selflessly and tirelessly contributes to her community in many ways. She was a volunteer and director with Junior Achievement for over 10 years, Chair of the Vancouver Economic Development Commission for five years and is part of a family charity, Vietnam Education Society, that supports children in Vietnam and has built over 10 rural schools, sends hundreds of at-risk girls to camp each summer and provides 50 scholarships to girls each year. She is also proud to be a transgender advocate in support of her son. Lois loves travel, hiking the BC forests and living in North Vancouver together with her husband, Tom and twin teen children Levi and Kailyn.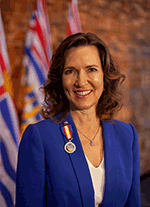 Year Awarded: 2018
City: North Vancouver
Region: Mainland/Southwest
---
Shawna Narayan
Shawna Narayan created Empower The Future (ETF), a non-profit organization that connects inner-city students with post-secondary students to encourage personal and academic growth. She recognized that many inner-city students like her do not have the support, knowledge, or resources needed to continue their learning whether it is through full-time careers, volunteering, or higher education. She wanted to provide these students with the same opportunity that other students have. She connected with the Surrey School District to make a difference in Surrey students' lives. Being a young woman from a diverse city, she showcases what the next generation is capable of by helping inner-city students with similar difficulties that she overcame.
She organized the Life After High School Project where students are mentored on five main topics: dealing with financial stress; finding credible information about post-secondary education; preparing to enter the workforce; searching for quality volunteer opportunities; and caring for yourself. Her Life After High School Project gained the support of the University of British Columbia through a $10,000 Innovation Grant. Other supporters of the Life After High School Project include the Vancouver Foundation and the Government of Canada. This year, over 300 students have participated in the Life After High School workshop. She also launched a Women in STEM project to encourage more inner-city females to pursue Science, Technology, Engineering, and Mathematics fields which was supported by a Natural Science and Engineering Research Council of Canada (NSERC) grant.
Shawna has volunteered over 4000 hours for ETF and other initiatives while attending UBC for full-time studies for a Bachelor of Science in Physics.
She has consistently demonstrated exemplary volunteer work, academic excellence, and a strong commitment to helping others and making a difference in the community around her.
Year Awarded: 2018
City: Surrey
Region: Mainland/Southwest
---
Dr. Peter Newbery
Dr. Peter Newbery is a long-time, much respected physician who serves in the northwestern area of British Columbia.
During his lifetime he has worked with kids at risk on the streets of downtown Toronto, served as a minister and physician for the United Church in small central-coastal communities in B.C., provided management support to five hospitals and eight clinics in rural and isolated communities in B.C., Alberta and Newfoundland, and served as a physician at Wrinch Memorial Hospital in Hazelton.
Through his connection with UBC and the medical school there, Newbery influenced the formation of the University of Northern British Columbia. He subsequently worked with Dr. Charles Jago to establish the Northern Medical Program which now provides doctors, nurses and other health care providers to many northern communities.
Newbery is a man who exemplifies integrity, openness, compassion and creative leadership in a way that has inspired health care workers throughout this province and much of Canada.
For his contributions to society and his community Newbery has already received many awards including:
The Order of Canada
The Order of British Columbia
The Queen's Golden Jubilee Medal
UBC Faculty of Medicine Golden Jubilee Medal
Doctor of Divinity from the Vancouver School of Theology
About seven years ago, in the early years of his retirement, Newbery was invited to work with the Upper Skeena community as chair of the fundraising committee for a new, much needed recreation centre.
Newbery accepted the role and was instrumental in raising over $5 million in community and philanthropic contributions. That resulted in a federal and provincial grant of $12 million towards the new $20 million recreation centre.
Thanks to Newbery's tenacity and leadership the centre is now open. It includes a professional-sized indoor ice rink with seating for 500 spectators, a multi-purpose gym, fitness centre, meeting and social areas, and a kitchen.
The Upper Skeena Recreation Centre, also known as the Heart of the Hazelton's, will serve as the region's centre for sport and cultural activities. The facility will provide programs and services for all ages and abilities to address the educational, health and social needs of the surrounding communities.
Newbery's community has nominated him for the 2019 Medal of Good Citizenship as a way of expressing their gratitude, and to pay special tribute for his many contributions that support individuals and families in the Northwest region.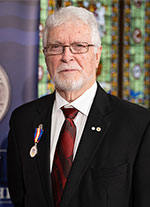 Year Awarded: 2019
City: New Hazelton
Region: Northern BC
---
Paul & Terry Nichols
Paul and Terry Nichols devote themselves to bringing awareness to the difficulties Canadian soldiers can face when they transition back into civilian life. They also have developed a program to help returning veterans overcome operational stress injuries and post-traumatic stress disorder (PTSD) incurred from military deployments.
When Paul returned home from serving with the Canadian military on a United Nations Peacekeeping mission in the former Yugoslavia, he came home to a wife, family and community who had little understanding of his experience as a contemporary veteran. There was also little understanding of PTSD and the important role that community plays in the wellness of their veterans.
During a chance meeting with a survivor of the siege of Sarajevo, Paul heard for the first time that his own contribution in the Balkans made a difference and was thanked for his part in a Canadian mission that had saved countless lives. Through this discussion he realized the power of a shared story.
Paul and Terry understood that their struggles and their story are very similar to hundreds of others across Canada. They believed they had the skills and experience to make a difference.
Paul and Terry operate a farm in the Quesnel area where Paul found therapy while taking long, solitary rides on his beloved horse Zoe. Terry, a therapeutic riding instructor, used horses for her own rehabilitation after a traumatic injury left her wheelchair bound for many months. Together they know first hand the healing power of horses. Knowing that thousands of soldiers return from combat zones with physical and mental injuries, they began to see a vision to bring awareness to the difficulties facing returning soldiers as they re-enter our communities.
In 2014, Paul and Terry formed the Communities for Veterans Foundation and set a plan into motion that would see Paul ride across Canada on horseback to collect and share stories and to raise awareness. On April 15, 2015, they started out from the Parliament Buildings in Victoria with a seven-person crew, eight horses and a route from British Columbia to Newfoundland. Along this route, after successfully completing an in-depth riding lesson with Terry, Canadian veterans were invited to join Paul on the ride through their own communities.
During the ride veterans interacted with the public and were encouraged to share their own stories and thoughts as they discussed the challenges that our veterans face. Eleven thousand kilometres and 211 days later, 363 veterans had ridden with Paul and hundreds more had taken part in Terry's program. Thousands of veterans and tens of thousands of Canadians came out in support of the Nichols' mission.
Back home, their veteran program operating on the farm gives veterans from across Canada tools to deal with PTSD while helping to build stronger relationships and families. The Nichols have reached out and invited the community to assist in running the program, as they believe that for our veterans to find support in communities, a societal shift in understanding and appreciation must happen; an investment in veterans will lead to stronger veterans and stronger communities.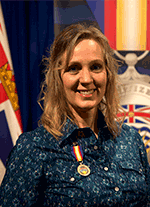 Year Awarded: 2017
City: Quesnel
Region: Northern BC
---
P
Sylvie "Silvakantie" Pather
In 1973, Sylvie Pather and her family left South Africa and emigrated to Canada due to the Apartheid Regime in the country. She experienced firsthand the poverty that the black population endured. Working as a nurse she also developed a love, caring and empathy for people marginalized in the community. On arrival to Canada, Sylvie worked at Lionsgate Hospital in nursing for 30 years. During that time she participated in various social activities at the hospital including the organization of retirement, Christmas and farewell staff parties. She has worked with various organizations dedicating almost 40 years of her life to serving the community.
Her volunteerism has included working with the Franciscan Sisters Benevolent Society for over 23 Years. She donated eggs and cold meats to the society, which was a luxury to the clients, and participated in weekly preparation of sandwiches for the homeless and those in need in the Downtown East side community. She also helped to serve dinners during the Christmas season.
Sylvie volunteered for the North Shore Crisis Services Society (NSCSS), (formerly known as Emily Murphy House), where she volunteered for four years and later became their Public Relations person for 10 years. She campaigned with United Way (affiliated with NSCSS) for funding and took her booths to social events to make women aware of NSCSS and all relevant information they needed. She also took part in campaigning and fundraising for a new and safe transition house on the North Shore, where women in crisis can be safe leaving their abusive situation.
For 15 years Sylvie organized the Diwali Celebration also known as The Festival of Lights. This event encouraged much of the South-Asian community to come together with those of other cultures in celebration.
She volunteered for five years donating food to support the work of Harvest Project on the North Shore. The Harvest Project is an organization that helps people through difficult transitional periods in their lives such as job loss, divorce, illness or injury. At Harvest Project, she volunteered as an ambassador to the community, where she helped support the food-drive program with schools and other groups by giving presentations on the North Shore. At the grocery depot, she helped create a welcoming and inclusive space for clients. Her work has helped transform the lives of hundreds of North Shore residents such as single parents, new residents and other people who are transitioning through serious crises in their lives. The contributions made by her enabled individuals and families to reconnect and become more productive members of the community.
Presently with North Shore Neighborhood House, Sylvie continues to demonstrate tremendous dedication in her volunteer work and commitment to their service program. She continues to faithfully volunteer her time with St. Andrew's Church in the community kitchen making sandwiches and distributing them to people as part of their meal program which has just been discontinued.
Sylvie also continues her volunteering efforts with the Highland's United Church Saturday Lunch Program where she helps in the kitchen serving soup to people. Her warm personality exudes hospitality to the guests, among them being the unsheltered homeless. Her friendliness and compassion has touched many people's lives. Every year she contributes to the food hampers assembled for guests.
At the Greater Vancouver Food Bank, Sylvie volunteers as an ambassador and greeter and helps transform a potentially stigmatizing space into a welcoming, non-judgmental environment where people are treated with dignity and respect. She demonstrates a considerable amount of competency when engaging with people who have experienced a number of different life difficulties, along with the food insecurity and poverty that bring them there. The food bank has an edible food garden where clients can purchase vegetables at a nominal price and if they do not have any money, Sylvie will cover the cost of the food. She has shown great amounts of empathy for people who are living with various challenges in their lives.
Sylvie believes that the satisfaction of volunteering outweighs every other job that you can do. "It is just so satisfying."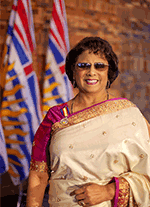 Year Awarded: 2018
City: North Vancouver
Region:
Mainland/Southwest
---
Kris Patterson
Kris Patterson has helped raise more than $1 million for literacy programs in the Alberni Valley. He has published eight books and donated the proceeds towards various community organizations including the local museum, community arts council, and Compassionate Friends Society.
Kris has a passion for local history. He writes a weekly historical column for the local newspaper and spent 500 hours digitizing radio interviews that his late father conducted about the history and growth of the area. He donated the interviews and a collection of historical photos to the Alberni Valley Museum. Kris received the 2013 Heritage Award for his commitment to the preservation of cultural heritage.
For more than 25 years, Kris has been a long-standing volunteer with several Port Alberni organizations including:
The Raise a Reader Campaign
Canada Day celebrations
Junior A hockey
Port Alberni Non-Profit Housing
Compassionate Friends Organization
Alberni Valley Museum
Chamber of Commerce
Dragon Boat Society
Community Arts Council
Young Professionals
Alberni Clayquot Regional District Solid Waste Planning Committee
Alberni Valley Hospice Society
Kris transformed the pain and loss of losing his child into a grief and loss book, which was welcomed by the Compassionate Friends Organization and the library at BC Children's Hospital. He also personally donated a child heart monitor to Children's Hospital.
Patterson has a reputation for serving his community to the fullest. He has been recognized as a "Top 20 under 40" finalist three years in a row.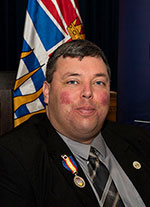 Year Awarded: 2018
City: Port Alberni
Region: Vancouver Island/Coast
---
John Phare
John Phare, a Roberts Creek tree faller, was the first recipient of the Medal of Good Citizenship.
John, who was honoured posthumously, spent his entire working life in the logging industry and worked as a faller, felling danger trees on the Old Sechelt Mine fire during the unusually busy 2015 fire season. The 60-year-old father of three died while fighting the Old Sechelt Mine fire on July 5, 2015.
Year Awarded: 2015
City: Roberts Creek
Region: Mainland/Southwest
---
R
Joseph Roberts
As a homeless youth trapped in drug addiction and living on the streets of East Vancouver in the 1980s, Joseph Roberts made two promises: (1) if he was ever able to escape his fate, he would do something to turn his life around, and (2) he would pay it forward.
In 1991 Roberts entered recovery and by 1996 made the Dean's List as an Honour Roll Graduate at Loyalist College in Belleville, Ontario. He graduated with a 3.94 grade point average and earned two business diplomas.
As fate would have it, Roberts became a successful entrepreneur by 2000, and made his first million in sales before he turned 35.
Since his own recovery, Roberts has inspired hundreds and thousands of Canadians with his personal story of transformation. He has written several books including Don't Buy the Lie About Getting High (for school students), Fred the Cat (a cartoon of Roberts' story) and his best-seller: 7 Secrets to Profit from Adversity.
Roberts left the corporate world in 2003 to pursue his passion for public speaking. His words have filled people with hope and inspiration: Despite what adversity you find yourself in, you have it within yourself to overcome.
In 2016/17, to pay it forward Roberts pushed a shopping cart across Canada over 17 months in a campaign called The Push for Change. His goal was to raise funds and awareness to prevent youth homelessness.
In preparing for his 17-month walk across Canada, Roberts volunteered for over three years to build the campaign – it was 100% funded by sponsors before the launch.
Roberts walked 24 kilometres per-day for 517 days. During this time, he engaged thousands of Canadians with his personal story and message: Prevention is the key to ending youth homelessness.
The walk raised $570,000 which was donated to charitable partners like Raising the Roof.
For his achievements and contributions to youth homelessness, Roberts has received many awards, including:
The Governor General of Canada's Meritorious Service Medal in 2018
Senate 150 Anniversary Medal in 2017
OPP Highest Civilian Honour in 2017
OPP Honorary Doctorate from Laurentian University in 2016
Ontario Premier's Award in 2004
Courage to Come Back Award in 2003
In 2003, Roberts was nominated by Maclean's Magazine as one of 10 Canadians that make a difference. His story was also included in the Lieutenant Governor of Ontario's 150 stories published for Canada's 150 Anniversary. He received Business in Vancouver's 40 under 40 in 1999 and Zoomer Magazine's 45 over 45 in 2012.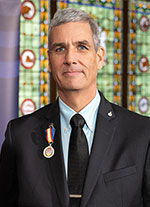 Year Awarded: 2019
City: Langley
Region: Mainland/Southwest
---
Dr. Patricia Roy
Dr. Patricia E. Roy is a pioneering scholar. She has published eight books, three edited volumes and 47 journal articles and book chapters about the history of British Columbia's politics, economy, and the causes and effects of racism encountered by its Chinese and Japanese communities. Roy was among the first scholars to write extensively about Asian immigration to B.C.
During her 40-year career as an educator at the University of Victoria, Roy helped British Columbians better understand themselves and their institutions. She has continued that work in retirement by publishing the biography of Richard McBride, premier 1903-1915, and a commissioned official history of the Royal British Columbia Museum and Archives.
Roy's research and service have been recognized in Japan and by B.C.'s Japanese Canadian and Chinese Canadian communities. Her scholarship has also worked its way into the common knowledge of British Columbians through grade-school textbooks.
Roy's contribution to the province extends beyond her academic career to her remarkable voluntary service in promoting public interest in B.C.'s history. She has served as president of the Victoria Historical Society, is a past president of the Friends of the BC Archives, and is a past president and past honorary president of the BC Historical Federation. Through the University of Victoria Speakers' Bureau, she has given many talks on historical subjects to local seniors' groups and service clubs.
Roy has served on the boards of the Chinese Canadian Historical Association, the Canadian Historical Association, the Organisation for History in Canada, the Canadian Studies Association, and the Canadian Museum of Civilization.
In recognition of her expertise, she has been invited to advise Parks Canada and the Canadian Museum of Civilization. She has served, and continues to serve, on the editorial boards of BC Studies, and Historical Studies, a publication of the Canadian Catholic Historical Association.
Roy has improved our understanding of B.C.'s past and continues to contribute to the understanding of modern B.C. through her scholarship, teaching and service.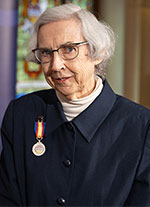 Year Awarded: 2019
City: Victoria
Region: Vancouver Island/Coast
---
Marilyn Rushton
Marilyn Rushton was honoured with the medal for her inspirational life of service to the visually impaired community, her contributions to families with blind and visually impaired children, and her energetic support for the musical community.
Blind since birth, Marilyn is a powerful role model, teacher, and gifted musician. She has volunteered countless hours with the Maple Leaf Singers; and is the director and accompanist for The Tempos, a choir for blind and partially-sighted children, youth and adults. Marilyn is the president of the BC Vision Teacher's Association and this year served as chairperson for the Canadian Vision Teachers' Conference entitled Seeing Beyond the Horizon. She serves on the board of Blind Beginnings, a non-profit that supports B.C. families with blind/partially-sighted children.
Among her many other contributions, Marilyn was co-director and accompanist for the Burnaby Children's Choir, has been a governor on the Douglas College board, and a board member for the Burnaby Hospice Society. In the 1990s she was a Burnaby school trustee and effectively used the role to advocate for diversity and equity in public education. Her contributions in education are recognized through her membership in DKG International, an honorary society of women educators; and PEO, a North America-wide organization which provides educational opportunities for women.
Year Awarded: 2016
City: Burnaby
Region: Mainland/Southwest
---
Ken & Lou Ryan
Ken and Lou Ryan were a dynamic North Burnaby couple that for decades stepped up to either organize or volunteer for a myriad of events and services in the community. Ken passed away in 2017 but the community legacy created by him and his wife Lou will continue.
For the past 23 years they were the engine behind the Burnaby North Community Fair in Kensington Park, which promotes businesses and organizations and gives families a chance to come together in the summer time, ride the midway and listen to live music. Every year the couple ran a Christmas Holiday hamper program, approaching local businesses and community members for donations to fill gift hampers with non-perishable food items and other everyday essentials for low-income families.
The couple regularly rolled up their sleeves to help at food banks, school hotdog days, and at the Lochdale Community School Christmas pancake breakfast. In the course of serving during Homelessness Action Week, they met a homeless man who made such an impact on them that they invited him to live in their home and join them in their community volunteer activities.
That man, Wes Thompson, passed away this year as a loved member of the Ryan family, no longer homeless and no longer isolated.
In the 1990s Ken created Comshare, a North Burnaby Community Association summer camp program that provides six weeks of camp experiences and outdoor adventure for children in Grades K to 6. He also served over the years as the acting treasurer of the BNCA, president of Burnaby Optimists, as well as Block Watch Captain, working closely with the local RCMP.
Under the auspices of the Optimists, Ken and Lou organized Burnaby's Got Talent performances which helps fund bursaries for deserving children within Burnaby, as well as the Optimist Communication Contest, a scholarship for deaf and hard of hearing students.
Together Ken and Lou were very active with Volunteer Burnaby and the Lochdale Community Association.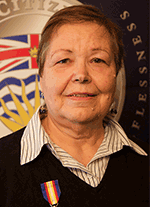 Year Awarded: 2017
City: Burnaby
Region: Mainland/Southwest
---
S
Lita Salanski
Lita Salanski passed away in September 2015 and her legacy to her community will continue for future generations. The posthumous honour, accepted by her family, recognizes the impact she had on Grasmere, its ranching and farming community, educational infrastructure and spiritual foundation through her involvement with the Triangle Women's Institute (TWI), the B.C. Cattlemen's Association, Canadian Council of Cattlemen, East Kootenay College Board and Grasmere United Church.
At the same time Lita was adjusting to married life, raising a family and building and running a business, she became involved in the many projects of the TWI. Her leadership skills along with her enthusiasm played a major role in TWI's success in bringing a modern highway, electric power and telephone to the isolated community of Grasmere. She spent countless hours writing letters, lobbying the government, knocking on doors and selling the idea that the residents of Grasmere were part of British Columbia and needed to have the amenities others took for granted.
She was passionate about the need for education and became a local school board trustee and later became the chairman of the board. Lita was a founding member of the East Kootenay Community College board and later an honorary member of its board. She worked to improve the economy of the area through her involvements in local farming organizations, leading her to become the first female president of the B.C. Cattlemen's Association. She also served on the Canadian Council of Cattlemen board.
Her service to her community extended to many other organizations like 4-H and the Grasmere United Church and she was instrumental in ensuring the congregation established a place of worship within the community.
Year Awarded: 2016
City: Grasmere
Region: Kootenay
---
Marion Sallenbach
Marion Sallenbach, a resident of Winfield, was honoured for her many years of volunteerism within the community, her selfless actions having a tremendous impact on countless families in the Okanagan.
An active volunteer in the community for over 50 years, Marion began volunteering with the Hospital Auxiliary in Winfield in the late 60's, her efforts helping to raise thousands of dollars for the Kelowna General Hospital. Ten years later, she helped bring the Red Cross Health Equipment Loan Program (HELP) to Winfield and over the next four decades the impact of the BC HELP program grew, loaning 170,000 pieces of equipment – such as crutches, canes, walkers and wheelchairs – to 94,000 British Columbians in 2014-15 alone.
In addition to her work for the hospital, Marion has also volunteered with the Winfield Community Church, the Red Cross, and the Independent Order of Foresters, through which she has donated her time and expertise in a myriad of ways, which includes helping with the 'Wheels to Meals' for seniors, bookkeeping services, and assisting the 'Adopt‐a‐Road' initiative.
Now in her ninth decade, Marion continues to dedicate her time to the community, her volunteer work also complimented by the assistance of her two daughters, Joanne Galigan and Sharyn Fiwchuk, making her contributions a family affair.
Year Awarded: 2016
City: Winfield
Region: Thompson/Okanagan
---
John Scott
John Scott was honoured with the medal for his wide-ranging and selfless contributions to the community of Prince George, enriching the lives of youth, comforting those through illness and trauma, focusing well-deserved attention on the sacrifices veterans have made for Canada, and helping to revitalize the local branch of the Canadian Legion and neighbourhood commemorating veterans.
His service to community and countless hours of volunteering include support for a myriad of organizations including the Royal Canadian Legion Branch 43, 2618 Canadian Army Cadets, and chairman of the Cadet League for Cariboo North, former district commissioner of the Nechako Scout district and Scout trainer II and the Legion's Connaught Youth Centre. He is also president of the Prince George and Northern BC Chapter of the Canadian Association of Veterans in United Nations Peacekeeping.
The veteran peacekeeper has been instrumental in helping revitalize Prince George's Veterans' Land Act neighbourhood and galvanizing support for new facilities for the Royal Canadian Legion Branch 43. John also helped steer the Connaught Youth Centre to becoming a non-profit society that now supports a range of youth programs in the city. He is currently serving the Royal Canadian legion as a vice-president of BC/Yukon Command.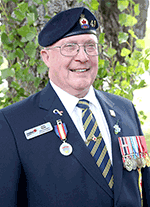 Year Awarded: 2016
City: Prince George
Region: Cariboo
---
Patricia Shields
Patricia Shields is a former teacher and principal who is well-respected in the education community for her leadership in advancing public education and pioneering innovative programs that benefit children within and beyond the school system.
In her 30-year career with the Vancouver School Board, Shields went above and beyond to develop various education programs within the public-school system and for the community at large.
Shields is known for implementing Welcome to Kindergarten TM, a province wide program designed to support the transition of families into the public-school system. This program engages children, parents, caregivers, school staff and communities, and equips parents with resources to make early learning a priority at home. The program has touched 22,000 vulnerable families in British Columbia.
Shields has also shown her deep commitment to children through her work with various non-profit organizations. She set up the YMCA's Education Advisory Committee and was involved in the creation of their after-school programs: Welcome to My Life and Boys 4 Real.
Shields currently serves as the chair of the Vancouver Symphony Orchestra Education Advisory Committee. She chaired the committee to establish the Vancouver Symphony Orchestra School of Music and recently timed off that Board. She served on the Vancouver Symphony Orchestra for several terms and assisted in developing VSO Connects, an elementary and secondary school-based program involving the Maestro, UBC music students and members of the orchestra.
She was the driving force behind the Vancouver Opera Society's Music! Words! Opera! an education program available to lower mainland school districts. Shields is also a member of Telus Vancouver Community Board's education sub-committee which supports youth through grants to local charities.
For the past 20 years Shields has been a champion of Big Sisters of BC Lower Mainland. She created the group's Education Advisory Committee and co-developed their Study Buddy program which helps at-risk youth from low-income households receive the tutoring support they need to excel in school and beyond.
Since its inception in 2002, Study Buddy has served over 2000 at-risk youth, and continues to benefit many more. Some participants have reported they would not have gone on to apply for post-secondary education without the confidence and skills they gained through the support of their Study Buddy.
Shields' vision, commitment and dedication to the well-being of children has enriched the lives of countless at-risk youth, their families and communities. She continues to contribute to the Big Sisters of BC Lower Mainland chapter as an Honorary Advisory Committee member.
Shields is passionate about the well-being of children and making sure they have every opportunity to succeed in school. Without her leadership, commitment and passion to bettering the lives of youth through education, many at-risk children would lack the opportunity to overcome their struggles.
Year Awarded: 2019
City: Vancouver
Region: Mainland/Southwest
---
John Simpson
John Simpson was honoured with the medal for his pioneering services that he offered free to people with acquired brain injuries (ABI). For more than three decades John devoted thousands of hours of service and emerged as an influential advocate in the field that resulted in the formation of local and provincial supporting organizations.
It has been estimated that John has provided more than 16,000 hours of free support to individuals with acquired brain injuries and their families since the 1980s. Many of the people he helped had no funding and no one else to help them.
He set out to educate the community and professionals about ABI, establishing the first annual brain injury conference in 1982, which ran for 25 years. John was also instrumental in establishing what is now the BC Brain Injury Association, which has the first Lower Mainland drop-in centre for people with ABI and now bears his name.
In 1997, he founded the Fraser Valley Brain Injury Association and he is still active with the group that serves more than 150 clients each year in five cities.
In 2014, under his leadership, the Brain Injury Alliance was formed, to better serve the estimated 22,000 British Columbians who have ABI. Through his advocacy, the Province contributed $3 million for services provided by community-based brain injury associations. The alliance also received a $1 million endowment fund for education, employment and training for people with ABI.
Year Awarded: 2016
City: Chilliwack
Region: Mainland/Southwest
---
Dr. Michal Smialowski
Dr. Michal (Mike) Smialowski is a rural B.C. Family Physician (CCFP), GP Anesthetist (GPA) and Sport Medicine Physician (Diploma Sport Medicine) who lives in a remote area of the West Chilcotin called the Tatlayoko Valley. For the past decade he has been dedicated to providing medical care to residents of this area who otherwise would have to endure the six hour round trip to Williams Lake to consult a physician.
He and his wife Leslie moved to the Tatlayoko Valley because of their love of the mountains, the lakes and the wilderness. They have stayed because of the strong sense of community. Initially practising from an office in his home, he soon expanded to the West Chilcotin Health Centre in Tatla Lake where he joined the RN (Ruth Kuehl-Venn) to form a two-person medical team.
As a rural doctor, he was essentially on-call 24/7, 365 days a year. He was British Columbia's first volunteer Community Response Doctor with the BC Ambulance Service and was dispatched to many emergencies over the years ranging from home deliveries to critical injuries and urgent medical complications.
Although now retired, Dr. Smialowski has become an advocate for improving medical care along the Highway 20 corridor (500km Williams Lake to Bella Coola) a region which, in his estimation, has traditionally been neglected by the relevant Health Authorities. This advocacy has been facilitated through the West Chilcotin Health Care Society (WCHCS) which has raised over $90,000 (including a Health Ministry grant) to purchase much needed medical equipment for the West Chilcotin Health Centre. In addition, the Society successfully petitioned the Interior Health Authority (IHA) to place Tatla Lake on their physician manpower plan thus making it a permanent position.
Before retiring, Dr. Smialowski and the WCHCS successfully recruited a replacement physician (Dr. Rob Coetzee) who has now served the community for nearly three years. Monthly meetings now occur in collaboration with local Health Care Providers (RN, NP and MD) the Interior Health Authority (IHA) and First Nations Health Authority (FNHA) to develop an effective Medical Emergency Response Plan (MERP) for the Highway 20 corridor. A good portion of this effort is aimed at ensuring basic standards of care as well as baseline needs of emergency equipment and ongoing training.
Year Awarded: 2017
City: Tatlayoko
Region: Cariboo
---
Tom Smithwick
Tom Smithwick is a retired lawyer living in Kelowna. Throughout his life, Smithwick has demonstrated concern, compassion and leadership to those who need emotional, financial and often physical support to thrive in society.
Smithwick's Tom's philosophy has been: There is always a way to get things done, a way to raise money and a way to help people. In the face of adversity, and often when others gave up, Smithwick Tom has persevered and succeeded–always to the benefit of his fellow citizens.
The creation of The Resurrection Recovery Resource Society is a reflection of Smithwick's Tom's determination to provide housing, counselling and support for men suffering from addiction and other mental health issues.
Now known as Freedom's Door, this organization owns the largest group of recovery homes in B.C. Currently it can provide services for 67 men in seven purchased duplex homes. Many of theses men have come from life on the streets or jail.
Since retiring from his legal practice Smithwick Tom volunteers at Freedom's Door and oversees fundraising and public relations for the organization, which offers free treatment. He continues to be a mentor to the residents; through counselling and support many go on to become contributing members of society.
In 1981, as founder and chairman of the Kelowna Boat People Refugee Committee, Smithwick Tom was instrumental in bringing the highest per-capita number of refugees in Canada to Kelowna. The personal success of many refugees and their families is directly related to Smithwick's Tom's leadership and compassion.
Smithwick Tom was also a founding director of the Kelowna Terminally ill Children's Holiday Society. This organization was eventually replaced with the Make-A-Wish Organization, which continues in the area.
Over the years Smithwick Tom has worked tirelessly to build relationships within the community through founding, participating in or raising funds for many community organizations.
Smithwick Tom was a director and fundraiser of the Mission Creek Greenway project which raised money for improvements to the public walkways along Mission Creek. He was also a founding member of the Share Depot, a community resource selling used goods at a low price for community members who require assistance.
Smithwick's Tom's top priority has always been the welfare of others. Over the years he has received many awards in recognition of his service work, including:
Caring Canadian Award by the Governor General of Canada in 2005
Kelowna Man of the Year Award in 2000
125 Anniversary Medal by the Governor General of Canada in 1992
Year Awarded: 2019
City: Kelowna
Region: Thompson/Okanagan
T
Sahib Thind
Sahib Thind was honoured with the medal for his unwavering dedication to human rights.
For almost a quarter century he had been the driving force for a formal Parliamentary apology for the 1914 Komagata Maru incident in which hundreds of passengers from India who sought refuge in the country and province were denied entry to Canada and turned away without benefit of the fair and impartial treatment benefitting a society where people of all cultures are welcomed and accepted.
His foundation, the Professor Mohan Singh Memorial Foundation, criss-crossed Canada, and travelled abroad to bring attention to the cause and lobby for an official Parliamentary apology in various legislative assemblies, including those in B.C. and in the Indian State of Punjab. All the travel costs were personally paid for by Sahib.
The Professor Mohan Singh Memorial Foundation lobbied the B.C. provincial government for an apology for its role in this tragedy. After 94 years, the B.C. legislature unanimously passed a motion on May 23, 2008, apologizing for the Komagata Maru incident. "This house deeply regrets that the passengers who sought refuge were turned away," said Liberal House Leader Mike de Jong.
In May 2016 the federal government apologized for the Komagata Maru incident and for his part in this struggle, Sahib and his organization have been recognized in the Punjab State legislature in India, and in the Canadian Parliament.
With the official Komagata Maru apology in hand, Sahib is continuing his efforts and expanding his actions to include issues faced by many other communities by working to establish diverse curricula in all Canadian provinces.
The non-partisan, non-denominational, human rights foundation hosts the Mela Gadri Babiyan Da in Bear Creek Park in Surrey, with Sahib leading all organizational efforts. The festival, which invites South Asian performers from around the world, is attended by 70,000-100,000 festival-goers. It is all put on by volunteers, and the foundation charges no admission.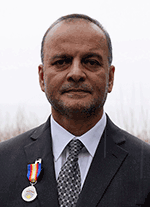 Year Awarded: 2017
City: Surrey
Region: Mainland/Southwest
---
Louis Thomas
Louis Thomas is a Secwepemc Knowledge-Keeper from the Neskonlith First Nation. He has been walking a path of reconciliation, relationship building and teaching in the Shuswap for over 40 years.
Thomas' compassionate nature has been the bridge to help span Indigenous and settler culture groups in his community. His determination to share Secwepemc knowledge and culture with children throughout the region has helped shape school curriculum, art gallery exhibitions, library programs and writers festivals.
The son of Dr. Mary Thomas, the famed Neskonlith elder and ethnobotanist, Thomas continues his mother's legacy by staying involved with all aspects of life in the Shuswap region. His efforts to preserve traditional Secwepemc food plants were the centerpiece of a recent exhibition exploring food sovereignty, security and sustainability.
As a community leader Thomas believes that all facets of community: housing, safe walking routes, food security, community building, restoration of the Salmon River delta, respect for the land and economic improvement are all connected. He works to cross-reference his efforts in each of these areas with groups who might be focused on only one thing.
Thomas is also a relationship builder. By targeting positive leaders and teaching through story, traditional knowledge, humour, persistence and gentle persuasion, he has created legacy organizations that are changing minds and relationships in both the Indigenous and non-Indigenous communities of the Shuswap.
Thomas was one of the trail stewards in a Salmon Arm Arts Centre exhibition and trail exploration project from 2014 to 2016. His impact was immense. He became a leader and helped the Arts Centre navigate the project with a respect for traditional wisdom, language, and story-telling.
Thomas has also founded several other local organizations, including the Salmon River Watershed Council, the Switzmalph Cultural Society, the Shuswap Trail Alliance and the Shuswap Regional Trails Roundtable. He continues to help advance the national mandate to reconcile Indigenous and settler culture relations.
His work to support basic nutrition of his people includes outings to traditional food harvesting areas. These trips always include two or three people of Indigenous or non-Indigenous heritage, to whom he will impart his incredible knowledge of the land and its gifts.
Thomas strives to ensure this knowledge will continue to be passed down throughout the generations.
Year Awarded: 2019
City: Salmon Arm
Region: Thompson/Okanagan
---
---
Vivian Tsang
Vivian Tsang is a medical student at the University of British Columbia, where she is recognized as a National Schulich Scholar, and Major Entrance Scholarship winner. The impetus for her medical pursuits is her vision for the future of healthcare: one that is inclusive and accessible to all Canadians, no matter their past or current circumstances.
To bring this to reality, Tsang Vivian is dedicating her life to improving healthcare accessibility and reducing social inequalities for vulnerable population groups.
She founded and serves as the Director of The Humanitarian Organization for Providing Empowerment (HOPE) Initiative Foundation, a non-profit organization that empowers students to work alongside marginalized local and international community groups through mutual aid and interpersonal humanitarianism.
Tsang Vivian dedicates her time to organizing various events for Vancouver's homeless community and has created Warmth of Winter Portfolios to highlight the perspectives of clients in various stages of homelessness. She also organizes the HOPE for Success program in the Lower Mainland which annually helps over 3,000 students with their transition into post-secondary education. Tsang Vivian also serves as a peer academic coach initiating city-wide workshops for girls coming from inner-city schools.
For her work, Tsang Vivian has been awarded the City of Vancouver's Award of Excellence, UBC's Premier and Wesbrook Scholarship, and was nominated as a YWCA Young Woman of Distinction.
Vivian is also heavily involved in pediatric patient advocacy through her positions as National Director of the National KidsCan Initiative and on the Board of Directors on the International Children's Advisory Network–an advisory group that collaborates with researchers and clinicians around the world to improve pediatric research.
Since starting medical school, Vivian has taken the lead as Co-Chair of the Medical Undergraduate Society's Political Development Committee and recently represented the Faculty of Medicine in advocating for improved youth mental health with the Minister of Health in B.C. Along with her role on Vancouver City Council's Children, Youth and Families Advisory Committee, Tsang Vivian is working on advocating for improvements to mental health resources for B.C. youth.
Between her years in medical school, Tsang Vivian worked in South Africa and Zimbabwe to learn about HIV/AIDS infection prevention for populations living in low-resource settings. She supplemented this field work with an internship in Switzerland at the World Health Organization working in Tropical Diseases Research to implement tuberculosis protocols in Zambia.
With any spare time, she Vivian loves mentoring the next generation of leaders. In particular, she serves as a mentor with UBC Women in Science Club, and with the YWCA in Vancouver out of her passion for the empowerment of young women in pursuit of science.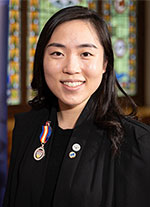 Year Awarded: 2019
City: Vancouver
Region: Mainland/Southwest
---
V
---
Dylan Van Rooyen
Dylan Van Rooyen, who works as a firefighter in Surrey where he was raised, was honoured with the medal for inspirational leadership demonstrated in his involvement with many organizations and events centered on helping Surrey youth and families.
His service to community includes countless hours volunteering at organizations like the Child Development Foundation of British Columbia, Tong Louie Family YMCA, Surrey Fire Fighters' Charitable Society as a director and committee member of its charity golf tournament and Leave a Legacy group.
Through his leadership, participation and fundraising doubled for the Child Development Foundation's Run, Walk & Roll for our Kids event, resulting in additional help for children with special needs. In nine years with the Tong Louie Family YMCA, he has led numerous charity campaigns to help families, individuals and children who do not have the means to participate in the YMCA's services such as camps and swimming lessons, in addition to gym and facility access.
Among his many other contributions, Dylan volunteers as a delivery driver for the Snack Program, which operates in Surrey schools and brings food to children who arrive at school with no breakfast.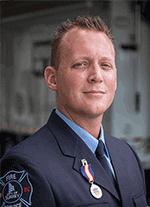 Year Awarded: 2016
City: Surrey
Region: Mainland/Southwest
---
W
Larry White
Larry White was honoured with the medal for the leadership and volunteer hours he has contributed to a wide range of civic, cultural, historical, outdoors, and youth organizations and activities in the Northern B.C. community.
Since moving to Tumbler Ridge with his wife Crys in 2001 his service to community and countless hours of volunteering include:
Serving as vice-president on the Wolverine Nordic and Mountain Society, White also helps develop and maintain the ski cabin as well as hiking and cross-country trails. He led the partnership with BC Parks in Monkman Provincial Park to build backcountry trails and campsites and runs Itchy Feet, the group's armchair travel club
An active volunteer and director of the Tumbler Ridge Museum Foundation, White attended training at the Royal Tyrrell Museum to voluntarily participate in B.C.'s first dinosaur excavation and he assists his wife to run the Tumbler Ridge Archives
For years he has been the race supervisor of the Emperor's Challenge on Mount Babcock and the biggest off-road running event in B.C.
A member of the Grizzly Valley Saddle Club board of director, he volunteers with trail construction and maintenance and arena maintenance and has an assistant donkey handler for many events
He volunteers for the Tumbler Ridge Community Garden and is the president of its Board of Directors
He volunteers for the Tumbler Ridge Community Forest and Emergency Social Services (ESS) and has been president of the library board
The community can better serve youth through many of his efforts including fundraising for and the construction of the community skate park, obtaining the climbing wall for the teen centre, travelling to the Yukon to bring it to Tumbler Ridge and then helping train volunteers to operate the equipment and belaying of climbers, and coaching baseball and coaching and refereeing minor hockey
In addition to these contributions, Larry was involved from the onset of the drive to develop the Tumbler Ridge Aspiring Geopark, which in 2014 was designated the Tumbler Ridge UNESCO Global Geopark, the second Global geopark in North America. As well as being a director and past vice president of the organization, he is the Geopark's representative on the Canadian National Committee for Geoparks and attends UNESCO Global Geoparks conferences.
While Larry is being nominated for his volunteer contributions, his professional and political careers were also spent in the service of others. He served in the Royal Canadian Navy from 1970 to 1996, qualifying as an engineer, serving in the Persian Gulf, and rising to the rank of Lieutenant Commander. He served for three years as councillor in Tumbler Ridge, followed by three years as mayor, and served on the Board of the Peace River Regional District.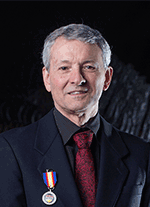 Year Awarded: 2017
City: Tumbler Ridge
Region: Northern BC
---
Michelle Renee Wilson
Since her eldest child Tru, came out as transgender at the age of nine, Michelle Renee Wilson has been an avid advocate for trans rights and a champion for queer kids.
When Tru's school refused to accommodate or support her transition, Ms. Wilson and her family filed a human rights complaint against the school, and the Catholic Independent Schools of the Vancouver Archdiocese, for not supporting her gender identity.
In response, and after two years of mediation, in 2014 the Catholic School Board became one of the first in North America to develop a policy to support gender expression. It paved the way for other denomination-based independent schools in B.C. and across Canada to create such policies.
This opened the door to learning environments that are more inclusive to diverse sexual orientations and gender identities. It also happened before the B.C. government required public schools and districts to have such policies.
Since then, Wilson spends countless volunteer hours speaking at conferences and supporting other families going through their own struggles.
She has provided numerous interviews on TV and radio, and been asked to speak at events and fundraisers in support of SOGI 1 2 3 and Out In Schools, gender conferences such as Gender Odyssey in Seattle and Proud2Be in Vancouver, teacher training sessions at UBC, and social events such as Grace Club where she shares her story of love and acceptance, reinforcing the importance of supporting queer kids.
Wilson is a board member of G_Day for Girls and Out On Screen. At every chance she encourages young people to be who they are, and parents to simply love and accept their kids. and She teaches them all that by spreading acceptance and love we can make the world better.
By setting a path toward acceptance, Wilson has been a force for the rights of transgender youth and their families.
Year Awarded: 2019
City: Delta
Region: Mainland/Southwest
---
Y
Terry Yung
Terry Yung was honoured with the medal for his devotion to an organization that helps create a world of multicultural harmony and helping newcomers to Canada integrate into society and fulfill their professional aspirations for success.
As one of the largest non-profit social service agencies in British Columbia, S.U.C.C.E.S.S. has a mission to build bridges and foster integration through services in settlement, senior's care, and affordable housing. Terry has been a strong supporter of S.U.C.C.E.S.S. for twenty years: first as a volunteer, then as an instructor for youth employment training and seniors' safety programs, and most recently completing a six-year term as a board director where he chaired the Governance, Human Resources and Nominations Committees, as well as serving as vice chair.
As a dedicated individual who is committed to youth leadership development and employment training, Terry has helped youth and newcomers find employment so they could fulfill professional aspirations in their new country and become contributing Canadians.
His service to community and countless hours of volunteering include developing new and effective solutions for process improvement. As an example, he led the review of the society bylaws with the goal of increasing efficiency at the board level. In addition, during his tenure as the chair of the Governance Committee, Terry not only led recruitment for new board members based on the skill sets required, but also ensured succession planning is in place for board continuity and sustainability.
In addition to his community service to S.U.C.C.E.S.S., Terry served on the board of Big Brothers of Greater Vancouver for 13 years, and as president of the Vancouver Cambie Lions Club. Terry also volunteers on organizing committees for community events such as the annual Chinese New Year Parade. He currently sits on the Community Security Committee of the Jewish Federation of Greater Vancouver to build safer and more connected neighbourhoods.
Terry is a member of the Vancouver Police Department.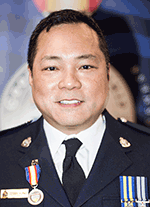 Year Awarded: 2017
City: Vancouver
Region: Mainland/Southwest