B.C. Innovation Commissioner
Staying competitive in an ever-changing world requires focussed attention.
Alan Winter was appointed as B.C.'s first Innovation Commissioner in February 2018. As the Province's tech ambassador, Winter's role includes developing relationships, encouraging investment and promoting innovation, and the application of technology across all sectors of the economy.
The Innovation Commissioner reports to the Minister of Jobs, Trade and Technology and works closely with the ministry's Crown agency, Innovate BC.
Research undertaken by the Office, and other organizations related to innovation, can be found here.
B.C. Innovation Commissioner's mandate
The Innovation Commissioner has six areas of focus:
To seek and maintain strategic partnerships with federal government representatives;
To advocate for B.C.'s share of federal innovation-related program funding;
To champion B.C.'s technology sector in Ottawa and abroad;
To promote B.C. as an

attractive

investment location;
To connect B.C. technology companies with national and international partners to expand market opportunities; and
To support the implementation of innovation and technology-related mandates and priorities of the provincial government.
The Innovation Commissioner is also an ex-officio member of Innovate BC's board of directors and the Emerging Economy Task Force.
B.C. Innovation Commissioner's Biography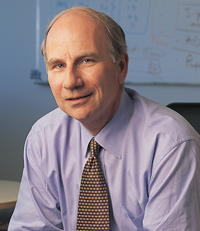 Alan Winter was appointed British Columbia's first Innovation Commissioner in February 2018. He has a breadth of experience at senior levels in the technology sector and in government, including such roles as the president and CEO of Genome B.C. from 2001 to 2016.
He was the founding president and CEO of the New Media Innovation Centre in Vancouver, the president of the ComDev Space Group in Ontario and the president and CEO of MPR Teltech Ltd. in Vancouver. During his tenure as CEO, six companies were spun out of MPR, including PMC-Sierra and Sierra Wireless.
Prior to MPR, Winter worked for Telesat Canada and the federal Communications Research Centre in Ottawa, where he was responsible for the satellite-aided search and rescue project (Sarsat). The international Cospas-Sarsat system continues to be instrumental in saving many lives.
Winter is a director of the Victoria Hospitals Foundation, Ontario Genomics and Geoscience BC, an adjunct professor at the University of Victoria's Peter B. Gustavson school of business and a member of the University of British Columbia's Research and Innovation Council.
In 2007, he received a Leadership Award from LifeSciences BC, and in 2017 he received its Don Rix Award for Lifetime Achievement. In 2017, Winter was presented with Bill Thompson Lifetime Achievement Award from the BC Tech Association.
He has served as a director of more than 30 organizations, including the Business Council of British Columbia and Alberta Innovates.
On the federal side, he was chair of the board of the Communications Research Centre Canada, deputy chair of the Council of Science and Technology Advisors, and a member of the Expert Panel on Science Performance and Research Funding, Council of Canadian Academies.
Winter is a fellow of the Canadian Academy of Engineering and a fellow of the American Association for the Advancement of Science. He is also a fellow of the Canadian Astronautics and Space Institute and received its inaugural Alouette team Award. He received his PhD from Queen's University in Kingston, Ont. and was recognized by the Queen's alumni Legacy of Achievement.