Fish Processing Plant Sector Compliance Audit
The purpose of this project is to audit current effluent discharge authorizations within the fish processing plant industry. The audit will assess them for compliance against the requirements in those authorizations, as well as the general provisions of the Environment Management Act (EMA) to not cause pollution.
The project will also assess the effectiveness of the current framework by:
Reviewing fish processing industry best practices (locally and world-wide);
Assessing the effluent being discharged and the adequacy of current pollution control technologies to treat the effluent appropriately; and
Making recommendations to incorporate new requirements into existing authorizations to ensure the environment is protected.
Background
Currently there are 30 fish processing plants authorized to discharge waste within B.C. The processing of fish creates waste that the fish processing plants discharge as effluent to the environment. This effluent may contain constituents and have properties which have the potential to cause harm when released into the environment. The Ministry of Environment and Climate Change Strategy (ENV), requires site-specific permits to authorize this discharge. Permits are issued by a statutory decision maker and they set various terms and conditions for protection of the environment.
Environmental and human health protection concerns associated with discharges from fish processing plants result from the presence of many parameters including settleable solids, total suspended solids, biological oxygen demand, oil and grease, pH, residual chlorine, phosphorus, nitrogen and coliforms bacteria. Recent media attention has focused on viruses which have been found in both farmed and wild salmon processing plant discharges. The audit will consider viruses in the context of the likelihood of their presence in the effluent that is being discharged to the environment.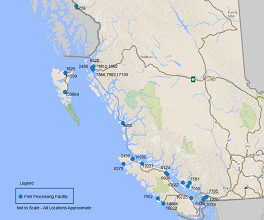 *Click the image to enlarge. Distribution of Fish Processing Plants operating with an EMA permit.
Objectives
Determine if current permit holders are in compliance;
Determine if current effluent discharge is potentially causing pollution as defined in Section 6(4) of EMA;
Determine if current permits contain consistent foundational environmental protection provisions;
Determine what is best achievable technology (BAT) in the treatment of effluent including barriers to industry achievement;
Provide recommendations for potential future permit amendments; and
Identify overlaps and linkages between ENV legislation and enforcement, and that of other agencies/jurisdictions (eg acute toxicity as regulated by the Federal Government).
Timeline for Completion
The completion of the audit will take place in four phases as outlined below:
Phase 1 – Preparation - COMPLETE
Phase 2 – Inspections - IN PROGRESS
Phase 3 – Data Compilation and Analysis
Phase 4 – Audit Report Release
A report of audit activities will be produced by the end of Spring 2018. Information in the report will be used to inform next steps for this sector.
Inspections
The Inspection Phase will consist of a combination of on-site and office review inspections of 30 fish processing facilities along the British Columbia coastline. The inspections will consist of an assessment of each facility's Permit requirements. Sampling will be conducted at facilities that are discharging at time of inspection. Some of the facilities will not be operating at the time of the inspection due to seasonal or operational constraints. Inspection reports and sampling results will be posted as available.
Inspections
Sample Results
Inspections
Sample Results