Invasive Alien Plant Program (IAPP) database and map display
On this page:
About IAPP
The invasive plant map and database are central information sharing and repositories that can be used by any agency or non-government organization to develop and deliver effective invasive plant management programs throughout B.C. The IAPP database contains invasive plant surveys, treatments, and activity plans for the entire province of B.C. The comprehensive data in IAPP is entered by a wide variety of user groups (ministries, regional districts, weed committees, forest licensees, utilities, conservation groups, federal departments and others) on an on-going basis. The data can be queried on a large number of criteria, using one or more of the 11 queries. In addition, data managers may run and print any of five activity summary reports.
IAPP release 1.17.00
A new release of IAPP, on November 5th, solved many issue we were having with the previous version. Fixes included the IAPP tools in the IAPP mapping application, and the geolocation function for the IAPP mapping application. New features added include a new herbicide (R/T 540) and plant species (Bur buttercup). Updates were made to the PMP descriptions in the PMP confirmation number drop down menu.
A new mechanical method was added called 'Foam'. 'Foam' is short for FoamStream which is not a herbicide but a plant-based product which kills plants when applied at a high temperature.
IAPP updates
Note: Please be aware that it is mandatory to update the jurisdiction for existing IAPP sites that have "IAPP Conversion - Jurisdiction not recorded" for any site you intend on adding new surveys or treatments to this year.
July 8th, 2019. The jurisdiction 'Ministry of Environment - except Provincial Parks' is now obsolete for creating new sites. Please use 'Ministry of Forests, Lands and Natural Resource Operations' as an equivalent. You will still find 'Ministry of Environment - except Provincial Parks' in the drop down in IAPP when creating a site, and it is still functional, but from now on it shouldn't be used for creating new sites.
July 2nd, 2019. Two new Site Specific Use options, under Site Details, have been added to IAPP - 'Within PFZ well' and 'Within PFZ water body'. These are to replace the old 'Within PFZ' option in the drop down, which at this time cannot be deleted. So please be aware that although the old 'Within PFZ' option is still functional from now on it shouldn't be used.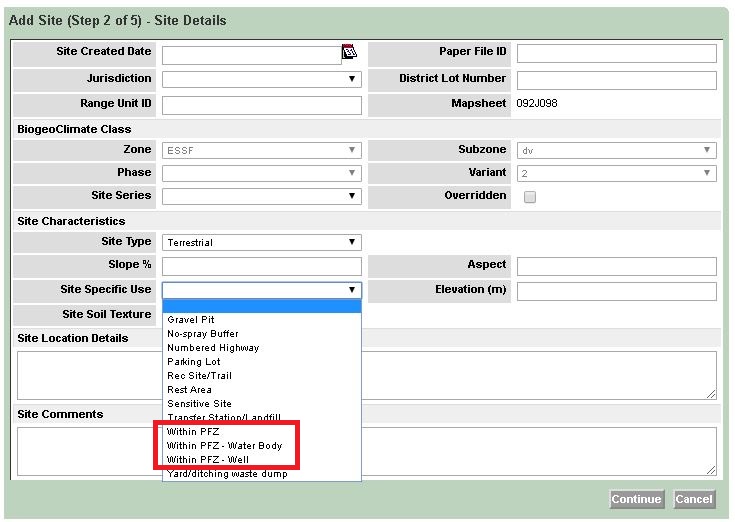 Getting access
Access to the data in IAPP is password-restricted to authorized users and requires a B.C. Public Service staff IDIR or a business BCeID.
Please note that the Business Accounts and/or Profile Manager (BAM) for the company needs to set the Business Preference for each user and should select "Share my business details with any e-Service in government" in the Information Sharing with Government e-Service section of their settings. They may contact the BCeID helpdesk for assistance at: 1-888-356-2741.
To access to the database, once you have an IDIR or BCeID:
Apply by emailing: Invasive.Plants@gov.bc.ca

Please include your first and last name, BCeID or IDIR username, the access level required in IAPP (viewer, data entry, or program manager), the agency you are working under, and a short description of the reason why you require IAPP access

Login to the Invasive Alien Plant Program (IAPP) Database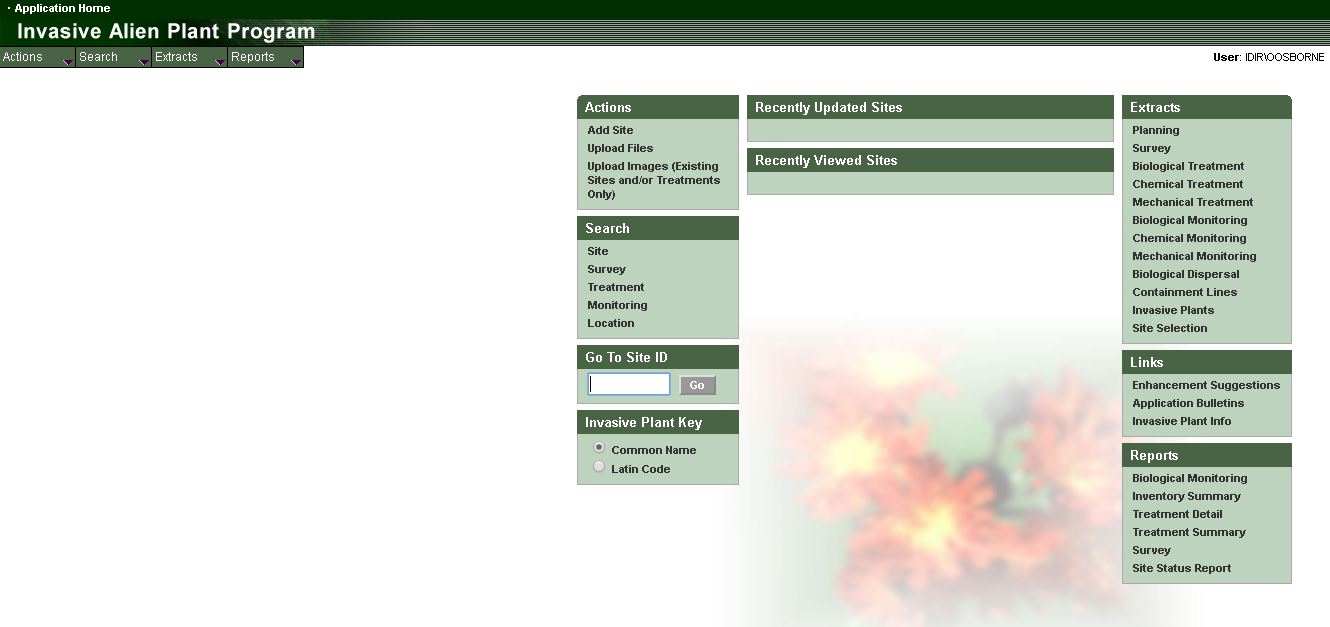 IAPP map display
Invasive plant data such as surveys and mechanical, chemical, and biological treatments can be viewed on the invasive plant map. Map tools highlight specific species and treatment locations. The map display is updated every 24 hours to give users access to the most current data available.
Access to the invasive plant map is free and unrestricted.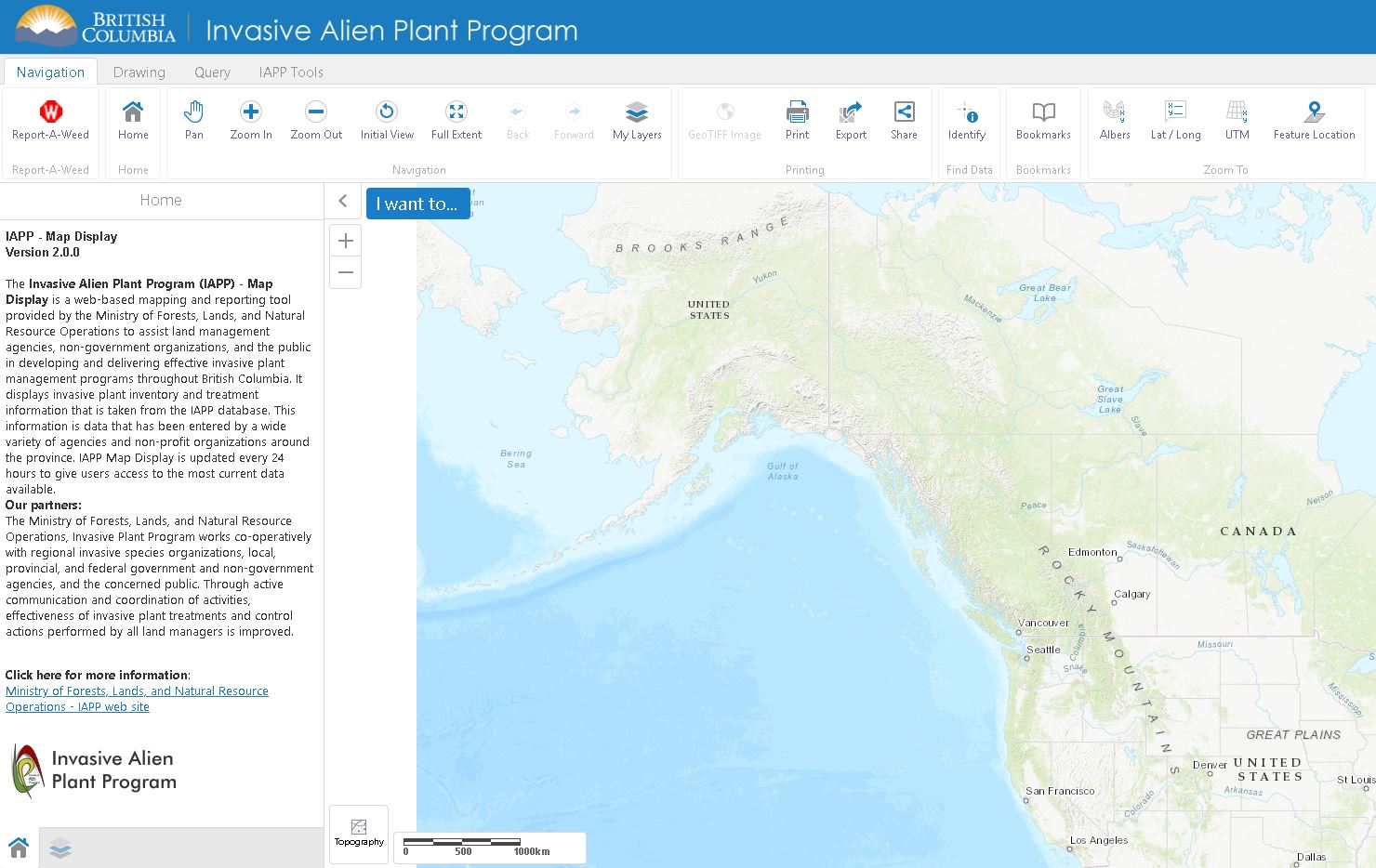 For access to more mapping applications and spatial data visit the iMap BC and the BC Data Catalogue.
IAPP resources​