Invasive Alien Plant Program (IAPP) Database & Map Display
The Report-a-Weed tool in IAPP map display is not working at present. We have alerted the I.T. department who will be working on fixing the problem. Thank you for you patience. Please use the online or mobile Report a Weed form to make your reports.
About IAPP
The invasive plant map and database are central information sharing and repositories that can be used by any agency or non-government organization to develop and deliver effective invasive plant management programs throughout B.C. The IAPP database contains invasive plant surveys, treatments, and activity plans for the entire province of B.C. The comprehensive data in IAPP is entered by a wide variety of user groups (ministries, regional districts, weed committees, forest licensees, utilities, conservation groups, federal departments and others) on an on-going basis. The data can be queried on a large number of criteria, using one or more of the 11 queries. In addition, data managers may run and print any of five activity summary reports.
IAPP release 1.17.00
A new release of IAPP, on November 5th, solved many issue we were having with the previous version. Fixes included the IAPP tools in the IAPP mapping application, and the geolocation function for the IAPP mapping application. New features added include a new herbicide (R/T 540) and plant species (Bur buttercup). Updates were made to the PMP descriptions in the PMP confirmation number drop down menu.
A new mechanical method was added called 'Foam'. 'Foam' is short for FoamStream which is not a herbicide but a plant-based product which kills plants when applied at a high temperature.
IAPP Updates
NOTE: Please be aware that it is mandatory to update the jurisdiction for existing IAPP sites that have "IAPP Conversion - Jurisdiction not recorded" for any site you intend on adding new surveys or treatments to this year.
July 8th, 2019. The jurisdiction 'Ministry of Environment - except Provincial Parks' is now obsolete for creating new sites. Please use 'Ministry of Forests, Lands and Natural Resource Operations' as an equivalent. You will still find 'Ministry of Environment - except Provincial Parks' in the drop down in IAPP when creating a site, and it is still functional, but from now on it shouldn't be used for creating new sites.
July 2nd, 2019. Two new Site Specific Use options, under Site Details, have been added to IAPP - 'Within PFZ well' and 'Within PFZ water body'. These are to replace the old 'Within PFZ' option in the drop down, which at this time cannot be deleted. So please be aware that although the old 'Within PFZ' option is still functional from now on it shouldn't be used.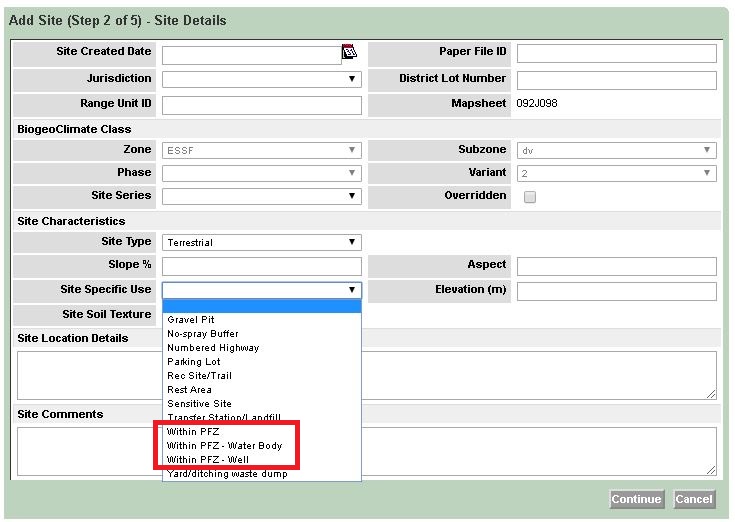 Getting Access
Access to the data in IAPP is password-restricted to authorized users and requires a B.C. Public Service staff IDIR or a business BCeID.
Please note that the Business Accounts and/or Profile Manager (BAM) for the company needs to set the Business Preference for each user and should select "Share my business details with any e-Service in government" in the Information Sharing with Government e-Service section of their settings. He/she may contact the BCeID helpdesk for assistance at: 1 888 356-2741.
To access to the database, once you have an IDIR or BCeID:
Apply by emailing: Invasive.Plants@gov.bc.ca

Please include your first and last name, BCeID or IDIR username, the access level required in IAPP (viewer, data entry, or program manager), the agency you are working under, and a short description of the reason why you require IAPP access.

Login to the

Invasive Alien Plant Program (IAPP) Database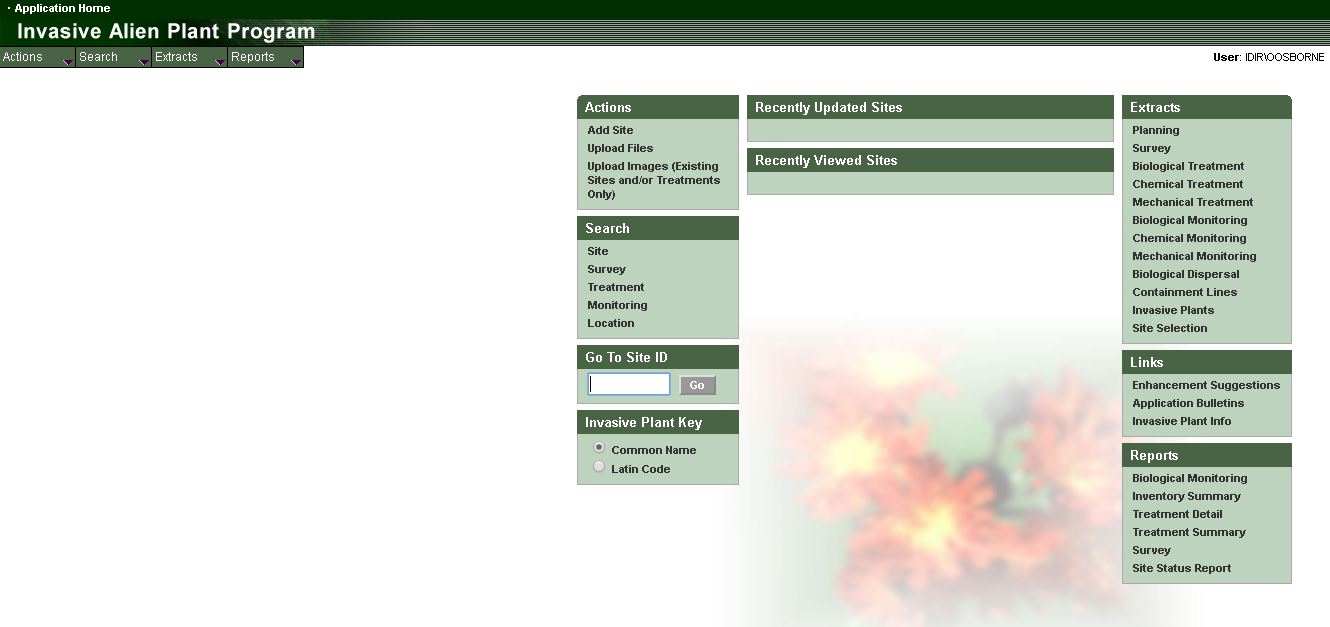 IAPP Map display
Invasive plant data such as surveys and mechanical, chemical, and biological treatments can be viewed on the invasive plant map. Map tools highlight specific species and treatment locations. The map display is updated every 24 hours to give users access to the most current data available.
Access to the invasive plant map is free and unrestricted.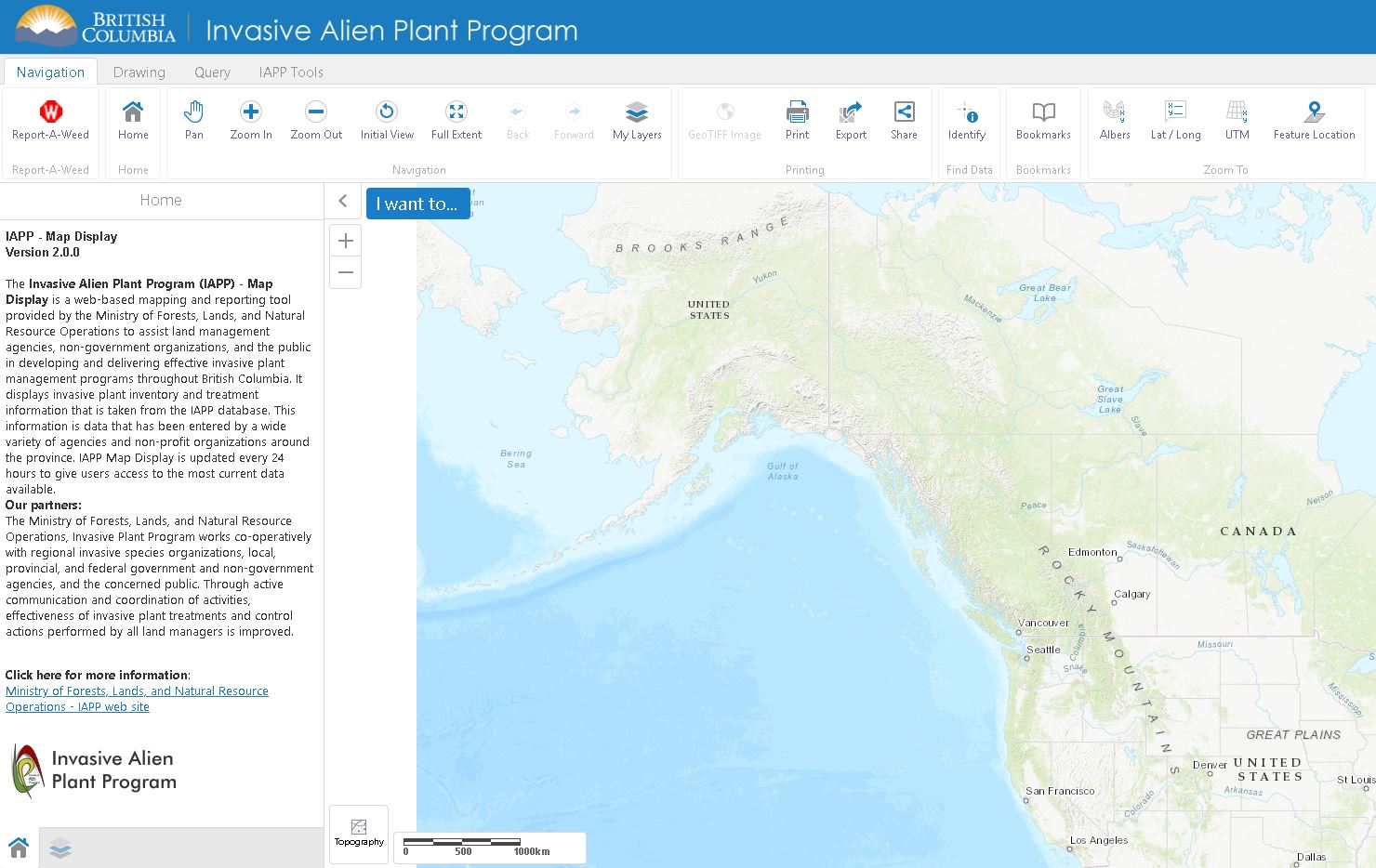 For access to more mapping applications and spatial data visit the iMap BC and the BC Data Catalogue.
IAPP Resources​
Part 1: Understanding the business of invasive plant management (PDF, 2.5MB)
Part 2: Using the Invasive Alien Plant Program (IAPP) application Data Entry module (PDF, 3.6MB)
Part 3: Using the IAPP application Map Display module (PDF, 2.7MB)
Part 4: Appendices
This tool lets users load multiple site, survey, and treatment records simultaneously via the use of upload schemas and images. Visit the Batch Loader page for more information.
For users who use paper field forms we have created a set of default forms which may be downloaded and printed.
Use of the forms listed below is described in detail in the Part 1 Reference guide (PDF, 2.5MB)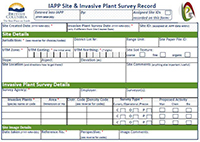 Request an invasive plant addition to IAPP
To request the addition of an invasive alien plant species to the IAPP Application, the requestor must confirm the species is non-native to British Columbia and supply the following to the IAPP Administrator at Invasive.Plants@gov.bc.ca :
1) Common and Latin name of species proposed for inclusion;
2) Reason for the request;
3) a) information on the invasiveness of the species in BC; or if not available, b) information on the invasiveness of the species in adjoining jurisdictions.
Your request will be reviewed by the IAPP Administrator and forwarded to the Inter-Ministry Invasive Species Working Group for consideration. You will be informed of their decision.
The Ministry of Forests, Lands and Natural Resource Operations and Rural Development continues to offer free, one-day workshops that focus on:
correctly gathering data in the field,
correctly entering data for various activity record types,
returning the desired information to you by running the right extracts,
gaining optimum benefit from using the IAPP Map Display
If a plant identification section is desired, and someone is available locally to provide this, that can be included into the agenda.
To qualify for a free workshop, a minimum of 10 participants must be registered; in order to receive quality training with adequate attention for everyone, these sessions are limited to a maximum of 20 participants.
If you wish to organize or attend an IAPP training session email the Ministry of Forests, Land, Natural Resource Operations and Rural Development trainer directly to inquire about available times in your area.