Report an Environmental Concern
The Province of B.C. relies on the public to report activity that causes pollution to the environment. By reporting pollution you are helping us act promptly to minimize harm to the environment and public health.
The RAPP program is a toll-free tip line and online service that also allows you to report known or suspected violations of fisheries, wildlife, or environmental protection laws anonymously and without risk of confronting the offender.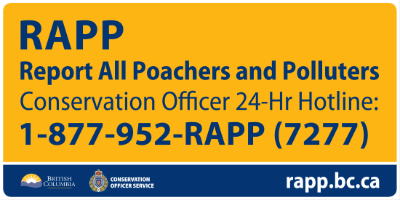 Dial 1 877 952-7277 (RAPP) or #7277 to report environmental violations of an immediate nature.
When a spill occurs, or there is the risk of one occurring, it must be reported immediately by calling 1-800-663-3456.
Find an Agency for Air, Land, Water or Pesticide Concerns
If you have a specific concern regarding pesticides or an impact to air, land or water and are wondering who to contact, below is a list of applicable agencies: