How Compliance Is Assessed
When an authorization holder is out of compliance, the province's response is based on the level of environmental, human health or safety impacts (actual or potential) and the likelihood of compliance. Responses are also based on history, willingness and capacity to comply.
A risk-based non-compliance decision matrix is used to determine which tools to apply to restore compliance quickly and to encourage future compliance.
Figures 1 to 3 describes the non-compliance decision matrix. Figure 1: Non-Compliance Decision Matrix. To be used in conjunction with Figures 2 and 3
Compliance Brochure (PDF, 1.6 MB)
Click to enlarge: Figure 1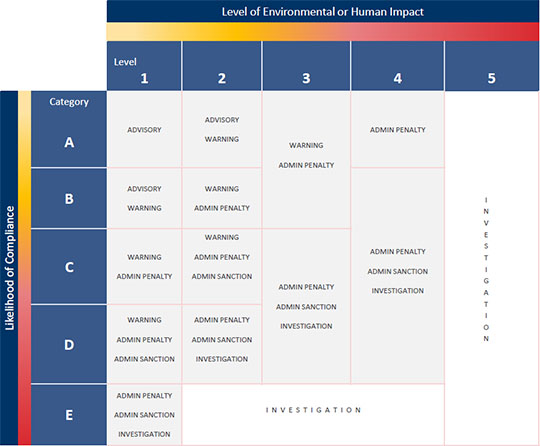 Compliance Tools
There are a variety of compliance tools available under the Environmental Management Act (EMA) to address non-compliance. Tools used by our inspectors are explained below. All compliance data is publicly reported quarterly and includes company names and inspection results.
Inspection Response Tools
Notice: written record advising that no non-compliances were noted during an inspection
Advisory: written record advising of current occurrences of non-compliance found during an inspection
Warning: in addition to advising of current occurrences of non-compliance this written record also warns of possible escalating enforcement action if non-compliance continues
Order: creates new requirements to prevent or remedy pollution
Administrative Monetary Penalty: financial penalties up to $75,000
Administrative Sanction: suspension or cancellation of a permit or approval
Detailed information on all compliance responses available under EMA is found in the Compliance and Enforcement Policy and Procedures (PDF).
The Conservation Officer Service uses additional compliance tools to address non-compliances. These tools are generally more prosecutorial in nature and include but are not limited to, violation tickets, court convictions and restorative justice.