Environmental Assessment Revitalization
The Premier has directed the Minister of Environment and Climate Change Strategy to revitalize the Environmental Assessment (EA) process "to ensure the legal right of First Nations are respected, and the public's expectation of a strong transparent process is met."
Changes to B.C.'s environmental assessment process are focused on:
Enhancing public confidence by ensuring impacted First Nations, local communities and governments and the broader public can meaningfully participate in all stages of environmental assessment through a process that is robust, transparent, timely and predictable;
Advancing reconciliation with First Nations; and
Protecting the environment while offering clear pathways to sustainable project approvals by providing certainty of process and clarity of regulatory considerations including opportunities for early indications of the likelihood of success.
The New Environmental Assessment Act
Bill 51 - The Environmental Assessment Act passed in the legislature; however, there are still a number of policies and regulations that must be developed before the bill comes into force (anticipated in late 2019).
An outline of changes to B.C.'s Environmental Assessment Act in Bill 51 - can be read in the Intentions Paper (PDF 1.2MB).
Public comments on the proposed changes as outlined in the Discussion Paper (PDF 5MB) were accepted from June 18th to July 30th, and the What we Heard Report (PDF 5MB) outlines submissions received from the public, Indigenous nations and stakeholders. To see how the new Act addresses concerns in the What We Heard report, please see the What We Heard Response Table (PDF 6MB).
The Path to Revitalization and Next Steps
The graphic below illustrates the path the province is taking to revitalize B.C.'s environmental assessment process: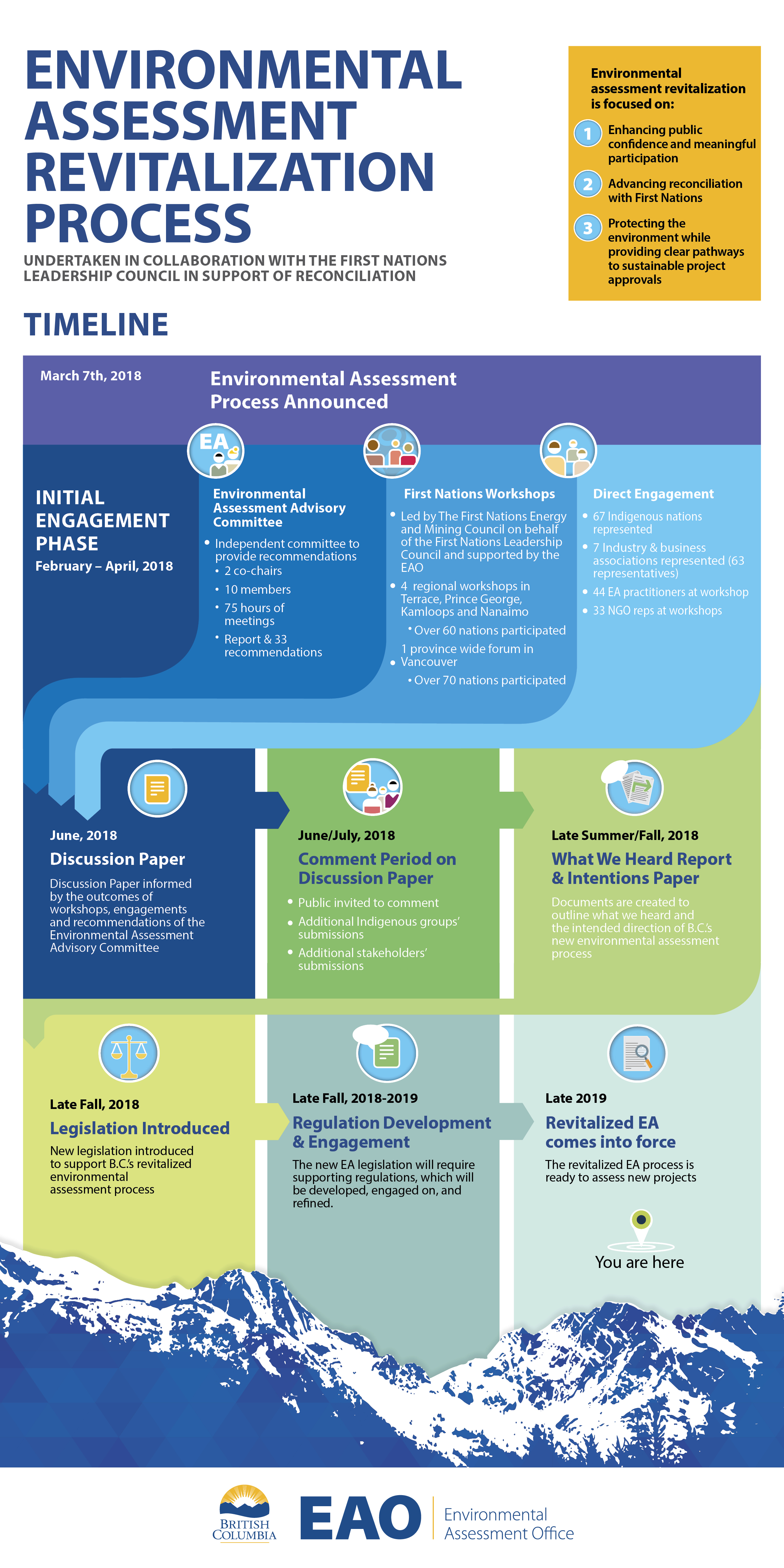 Engagement Throughout the Process
The Environmental Assessment Office is working with Indigenous groups at every step of the revitalization process to ensure that this work contributes to achieving government's commitment to fully implement the United Nations Declaration on the Rights of Indigenous Peoples. Building trust and partnerships where all parties can participate in a revitalization process to make decisions that are responsible, effective and efficient is a key priority.
Non-Governmental Organizations (including environmental groups), academics, industry, local governments, stakeholders and the public are also being heavily engaged throughout the revitalization process. The process graphic above details the timelines for various engagements.
For more details on the various engagements throughout this process, please see the left navigation.
Impacts to Existing Projects
Environmental Assessments that are already underway will continue under the current process with practical transition provisions. Additional details can be found on page 24 of the Intentions Paper (PDF 1.2MB).