Municipalities and approving officers
The Environmental Management Act (EMA) and Contaminated Sites Regulation (CSR) assign the following administrative duties to municipalities and approving officers in relation to site disclosure statements. A municipality or approving officer must complete their assessment, forwarding and notification duties within 15 days of receiving a site disclosure statement.
Process overview
Click the image below to expand.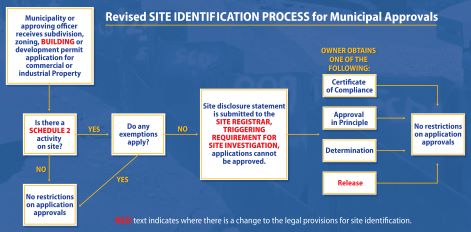 Immunity
Section 61 of EMA provides broad immunity for municipalities and their corporations when they administer site disclosure statements or other functions delegated to them under the legislation – even against negligence. It does not protect against willful misconduct.
Municipalities cannot be held liable for any costs arising from their reliance on a Determination, Approval in Principle or Certificate of Compliance issued by a director. If the document is valid for the proposed land use at a site, the municipality may approve any outstanding applications.
Municipalities as property owners
Like any landowner, a municipality could be held liable for remediation of a contaminated site that they own or previously owned. However, the Act recognizes that there are some circumstances where a municipality should not be held liable for site remediation:
sites they acquired involuntarily – for example, through a property tax default
contaminated easements, highways or rights-of-way for underground utilities, unless they caused the contamination
if contamination was caused by tenants or lessees that the municipal site owner had no knowledge of
if they unknowingly purchased a contaminated site after making appropriate inquiries prior to the acquisition, and they did not contribute to the contamination
Visit the Remediation liability page for more information.
The information on this webpage does not replace the legislative requirements in the Environmental Management Act or its regulations. It does not list all provisions for contaminated site services. If there are differences between this information and the Act, Regulation, or Protocols, the Act, Regulation and Protocols apply.