The new online learning model
Last updated: March 18, 2022
On this page
---
Why the change to online learning
Education in B.C. continues to grow and evolve to support student success by introducing a new approach to K to 12 online learning. The goal is to provide the best learning experience possible for students, no matter where they live.
Local and independent online learning schools will continue to offer flexible education options and be responsible for providing quality education.
Regardless of whether they're in the classroom or learning remotely, all students will:
Have equitable and consistent access to curriculum
Have opportunities to form personal connections with educators
Use flexible timetable and course options to meet their needs
Learn in a way that best meets their personal learning needs
Work on the new online learning model has been underway for years. Get an overview of work done so far.
---
How online learning will work
Online learning will gradually change over the next few years.
---
In 2023/24
Students will be able to sign up for online learning with their local online learning school or a provincial online learning school.
Depending on where they're currently enrolled, some students taking online learning programs or courses may need to make a change. More information will be made available throughout this school year as soon as it's available.
Other changes include:
A new online learning policy and procedures guide will be developed for public and independent schools
A single provincial online learning platform (learning management system or LMS)
Launch the new accountability and quality assurance process applicable to all provincial online learning schools
---
How decisions about online learning were made
Conversations about changes to online learning have been underway for the past few years. Here's an overview of how the new online learning model was developed.
The Online Learning Working Group (OLWG):
Made up of public education sector stakeholders
Assessed B.C.'s current online learning programs and courses
Reviewed online learning research and best practices globally
Reviewed data on course completion to find what's working well and identify areas for improvement
Considered 3 potential service models for online learning
They identified challenges in the current delivery model compared to in-person learning, including:
Inequity of access
Variability in service delivery
Quality and availability of infrastructure
Lack of clarity in enrollment and reporting requirements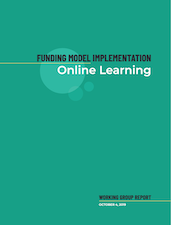 ---
Provincial online learning schools can cross enrol or out-of-district enrol student
In the 2023/24 school year, school districts that do not operate provincial online learning schools:

Will no longer need an agreement from the minister to offer online learning to their local students
Cannot cross enrol or out-of-district enrol students for online learning

In the 2023/24 school year, independent online learning schools who do not become provincial online learning schools will operate under the requirements of the new online learning policy. The new policy is currently in development and will specify cross-enrolment procedures for independent schools.
---
Your feedback matters
We continue to connect with B.C. education stakeholders and Indigenous rightsholders to shape the future of online learning.
Share your thoughts and ideas at EDUC.OLFeedback@gov.bc.ca.
In October 2021, the ministry hosted parent forums to share updates and listen to feedback. Participants were selected by the following organizations:
Find out what parents said and how we plan to use their feedback: Read the "What We Heard Report" (PDF, 599KB).
Consolidated online learning polices and procedures are being co-developed with education stakeholders and Indigenous rightsholders, focusing on student needs and outcomes.
The new online learning policies for school districts and independent authorities will come into effect on July 1, 2023. In the meantime, the interim online learning policies will be in effect until June 30, 2023.
Collaborating with the Online Learning Sector Advisory Committee
The committee will provide feedback and advice on the new approach to online learning. It includes membership and representation from the following stakeholders and Indigenous rightsholders:
We want to hear from you! Share your thoughts or ideas about the online learning experience. This will help us continue to grow and shape the future of online learning. Get in touch by email: EDUC.OLFeedback@gov.bc.ca