Issue 20-47: Price of New Housing
The cost of new housing in B.C. went up by 0.4% between January and February. Prices in Kelowna fell 0.2% in the month, while prices in Vancouver (+0.4%) and Victoria (+1.0%) increased compared to the previous month.
Relative to the same month of 2019, the cost of new housing in B.C. fell in February, decreasing by 1.4%, one of the four provinces registering a decrease in this period. Vancouver (-1.8%) reported the only price decrease among British Columbia's surveyed census metropolitan areas, with the price of buildings (‑3.9%) more than offsetting an increase in the price of land (+1.5%). In Victoria, prices remained unchanged compared to the same month the previous year, while Kelowna saw prices climb by 0.6% in the same period.
Nationally, new housing prices were 0.6% higher in February than in the same month of 2019, led by Ottawa-Gatineau (Ontario part) growing at 9.5% and Montréal (+7.5%).The increase was widespread, as new housing prices were up in nineteen of the reported census metropolitan areas. Regina (‑4.0%) posted the largest decrease among census metropolitan areas.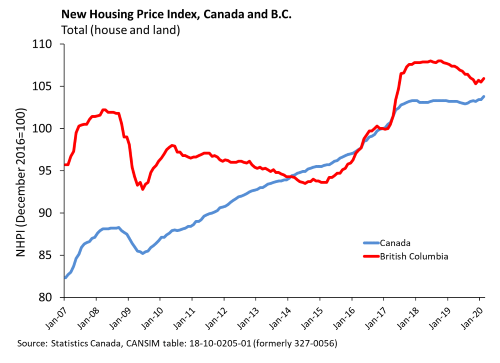 Source: Statistics Canada