Issue 18-58 Quarterly Population Highlights
B.C. Highlights
The population of B.C. was estimated at 4,849,442 as of January 1, 2018, growing by 8,364 persons in the fourth quarter of 2017 (up 0.17% from October 1, 2017).
Combined net in-migration from all sources (inter-provincial and international) totalled 7,174 persons during the fourth quarter of 2017, higher than the same quarter in 2016. Broken down, net interprovincial in-migration contributed 854 persons to population growth while net international in-migration added 6,320 persons, mainly due to the number immigrants. Rounding out the fourth quarter growth was a natural increase (births minus deaths) of 1,190 persons.
The Last Twelve Months
B.C.'s total population grew by 65,981 persons (+1.38%) over the twelve months ending December 31, 2017, mostly attributed to international and interprovincial migration. On an annual basis, births (+44,375) and interprovincial arrivals (+60,452) were the largest sources of population growth for the province. Net interprovincial migration accounted for a gain of 10,202 and net international migration 49,590 persons from January 1, 2017 to December 31, 2017. More than nine in every ten persons added since January 1, 2017 could be attributed to total net migration (+59,792). The remainder was due to natural increase (+6,189).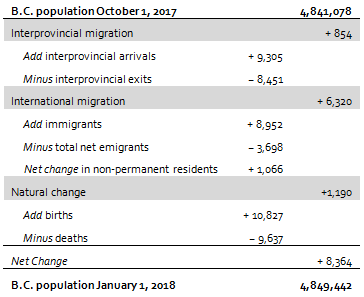 National Overview
The population of Canada grew by an estimated 78,805 persons (+0.21%) to 36,963,854 during the fourth quarter of 2017, a slighly higher growth than in the same quarter of 2016. Leading the growth at the provincial and territorial level were Yukon Territory (+0.40%), Alberta (+0.30%), and Ontario (+0.28%). British Columbia ranked fifth when compared to other jurisdictions. Manitoba, Quebec and Saskatchewan also observed population increases during the fourth quarter. All remaining jurisdictions showed population declines in the fourth quarter.
Fourth Quarter International Migration
Net international in-migration to British Columbia (immigrants plus the net change in NPRs plus returning emigrants less emigrants and persons temporarily abroad) resulted in a gain of 6,320 in the fourth quarter. This compares to a net loss of 107 in the fourth quarter of 2016. The total number of immigrants arriving in British Columbia from October 1 to December 31 was 8,952. A net gain of 1,066 NPRs further increased net international in-migration. In comparison, a net loss of 3,179 NPRs occurred during the same quarter of 2016. With regard to persons leaving B.C. for international destinations, an estimated 3,357 left on a permanent basis and 1,334 were away temporarily in the fourth quarter of 2017.
Fourth Quarter Interprovincial Migration
British Columbia had the second largest net gain in population from other provinces and territories in the fourth quarter of 2017, behind Ontario. In B.C., an inflow of 9,305 persons was offset by an outflow of 8,451 for a net gain of 854. British Columbia's net exchange with Alberta was positive, with an estimated 769 more persons leaving Alberta for B.C. than those departing for Alberta. In addition, B.C. reported positive net in-migration from Manitoba (+415), Saskatchewan (+339) and Northwest Territories (+78) as well as small gains from Quebec, Prince Edward Island and Nunavut. British Columbia's exchange with the remaining jurisdictions was negative in the fourth quarter. Ontario was the highest net recipient of interprovincial migration in the fourth quarter of 2017 with a gain of 4,376.
B.C. Net Interprovincial Migration by Quarter, Q1 1998 to Q4 2017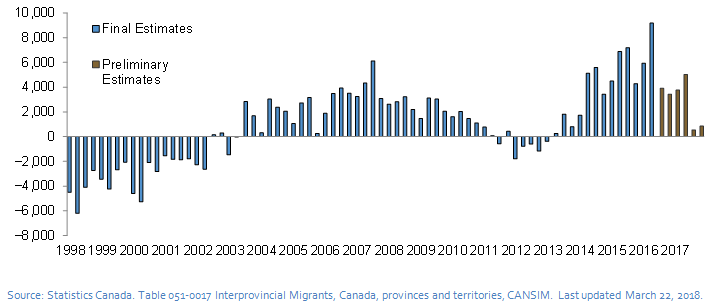 Visit the Population page on the BC Stats website for more information.