Issue 18-215 Quarterly Population Highlights
B.C. Highlights
The population of B.C. was estimated at 5,016,322 as of October 1, 2018, growing by 24,635 persons in the third quarter of 2018 (up 0.49% from July 1, 2018).
Combined net in-migration from all sources (inter-provincial and international) totaled 22,205 persons during the third quarter of 2018, 8% higher than the same quarter in 2017. Most of the population growth in the third quarter was due to international immigration. Broken down, net international in-migration contributed 23,422 persons to population growth, offset by a net interprovincial migration loss of 1,217. Rounding out the third quarter growth was a natural increase (births minus deaths) of 2,430 persons.
The Last Twelve Months
B.C.'s total population grew by 70,763 persons (+1.43%) over the twelve months ending September 30, 2018, mostly due to international migration. On an annual basis, net international migration accounted for a gain of 59,466 while net interprovincial migration contributed 5,474 persons from October 1, 2017 to September 30, 2018. Natural increase added another 5,823 people during the last twelve months.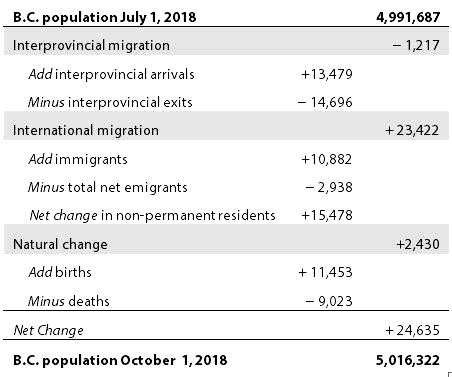 National Overview
The population of Canada grew by an estimated 183,715 persons (+0.50%) to 37,242,571 during the third quarter of 2018, a higher growth than in the same quarter of 2017. Leading the growth at the provincial and territorial level were Prince Edward Island (+0.98%), Nunavut (+0.66%), Ontario (+0.62%), Alberta (+0.54%), Nova Scotia (+0.49%), British Columbia (+0.49%). All remaining jurisdictions with the exception of Newfoundland, Northwest Territories and Yukon also observed population increases in the third quarter.
Third Quarter International Migration
Net international in-migration to British Columbia (immigrants plus the net change in non-permanent residents (NPRs) plus returning emigrants less emigrants and persons temporarily abroad) resulted in a gain of 23,422 in the third quarter. This compares to a net gain of 19,413 in the third quarter of 2017. The total number of immigrants arriving in British Columbia from July 1 to September 30 was 10,882. A net NPR gain of 15,478 further increased net international in-migration. This compares to a net gain of 13,617 NPRs observed in the same quarter of 2017. In regards to persons exiting B.C. for international destinations, an estimated 4,283 left on a permanent basis and 1,620 were away temporarily in the third quarter of 2018.
Third Quarter Interprovincial Migration
British Columbia experienced a net population loss due to interprovincial migration in the third quarter of 2018. An inflow to B.C. of 13,479 was offset by an outflow of 14,696, for a net loss of 1,217. British Columbia's net exchange with Alberta was negative, with an estimated net loss of 871 people from B.C. to Alberta. B.C. also reported net migration losses to Ontario (−793), Nova Scotia (−392), PEI (−120) and smaller losses to four other jurisdictions. B.C. reported positive net migration from only four jurisdictions in the third quarter - Manitoba (+558), Saskatchewan (+444), Northwest Territories (+44) and Newfoundland (+36).
Visit the Population page on the BC Stats website for more information.