Issue 18-202 Average Weekly Earnings
Average weekly earnings (including overtime) of payroll employees in British Columbia slipped 2.2% in September to $978.10 (seasonally adjusted, current dollars). This was the first decline after four consecutive months of growth. Compared with a year earlier, average weekly earnings were up 2.6% in the province.
Earnings were up in British Columbia's goods-producing industries (+0.2%) but were offset by a drop in the service sector (-0.4%), including a 1.8% decrease in retail services, the sector with the largest number of employees.
The number of payroll employees grew 0.5% in September to 2.3 million.
Nationally, average weekly earnings stood at $1,004, little changed from August but up 1.8% from September 2017. There were 16,336,759 payroll employees, an increase of 0.2%.
Statistics Canada reports that "In the 12 months to September, average weekly earnings grew across most provinces, led by Prince Edward Island and British Columbia. At the same time, earnings were little changed in Saskatchewan, Alberta and Newfoundland and Labrador."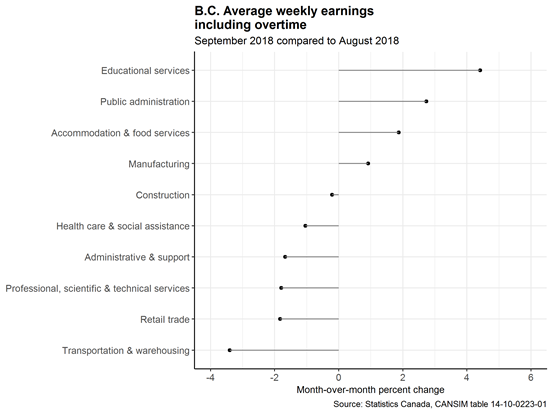 Data Source: Statistics Canada