Issue 18-156 Exports
By Destination
Through the first seven months of 2018, B.C. origin exports climbed 5.3% compared to the same period in 2017. There were significant increases in shipments to many of B.C.'s major export destinations, including Mainland China (+12.2%), Japan (+4.3%), the European Union (+10.5%), India (+39.0%) and Taiwan (+44.3%). Export growth to B.C.'s largest market, the United States, was fairly weak, edging up only 0.6%, while shipments to South Korea fell 4.0%.
By Commodity
B.C.`s exports of metallic mineral products rose 12.2% year-to-date to July, compared to the same seven-month period a year earlier. While copper ores and concentrates, which comprise around 46% of the category, inched up only 0.3%, there was strong growth in exports of all other major metallic mineral product groups, with the exception of unwrought lead, which dropped 19.3%.
Despite facing U.S. tariffs, B.C. exports of unwrought aluminum continue to trend up.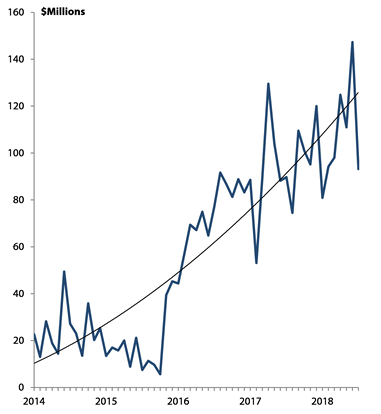 Source: Statistics Canada / Prepared by BC Stats
Shipments of unwrought aluminum (+16.6%), unwrought zinc (+27.0%), and molybdenum ores and concentrates (+34.3%) all recorded double-digit growth, while all other metallic mineral product exports jumped 329.8%.
The value of energy product exports declined 5.9% in the January to July period compared to the first seven months of 2017, despite a 4.9% rise in shipments of coal, which makes up around two-thirds of all B.C.`s energy exports. A 25.8% slump in shipments of natural gas was responsible for much of the decline, although there was also a substantial drop in exports of electricity (-41.9%). In the case of natural gas, lower prices were entirely responsible for the drop, as quantities shipped actually climbed 4.9%.
B.C.`s shipments of solid wood products grew 1.0% year-to-date to July, with significant declines in exports of logs (‑8.2%), selected value added wood products (-4.6%) and cedar shakes and shingles (-20.8%) offsetting much of the growth in softwood lumber (+0.6%), softwood plywood and veneer (+19.2%), other panel products (+7.6%) and other solid wood products (+17.5%).
Elsewhere in the forest sector, pulp and paper exports expanded 25.0%, with a 31.1% jump in exports of pulp, a 5.3% rise in newsprint shipments and a 14.1% increase in exports of other paper and paperboard. Shipments of other pulp and paper products bucked the overall trend, falling 23.6%. The rise in the value of pulp exports was the result of a substantial price increase, as the volume of pulp shipped actually fell 2.4%.
B.C.`s exports of machinery and equipment increased 10.9% year-to-date to July, driven largely by a 78.2% surge in shipments of motor vehicles and parts, as well as a 27.6% rise in exports of aircraft and parts.
There was a 6.0% boost in exports of agricultural and food products, while shipments of fish products rose 5.4%. Exports of fabricated metal products (+12.7%), chemicals and chemical products (+1.4%), and plastics and articles of plastic (+22.3%) also saw growth.
Seasonally Adjusted Exports
Seasonal adjustment provides a means of making month-to-month comparisons by removing the periodic seasonal fluctuations that occur. Variations from normal seasonal patterns are revealed in the seasonally adjusted series.
The value of B.C.'s commodity exports fell 7.4% in July, mainly due to a 45.9% plunge in shipments of metal ores and non-metallic minerals and a 10.2% drop in exports of energy products. Shipments fell both to the United States (‑0.3%) and the rest of the world (-13.9%).
A 3.7% decline in shipments of forestry products and building and packaging materials and a 3.6% slump in exports of energy products were the main factors in the dip in shipments to the U.S., offsetting a 52.5% surge in exports of aircraft and other transportation equipment and parts. The main culprits in the decline in shipments to the rest of the world were metal ores and non-metallic minerals (-48.3%), energy products (-12.9%) and metal and non-metallic mineral products (-36.2%).
Visit the exports and imports page on the BC Stats website.