BC Public Service COVID-19 Approach - Key Stages
The image below describes how the BC Public Service's transition to a new way of operating fits within the context of the four phases of BC's Restart Plan.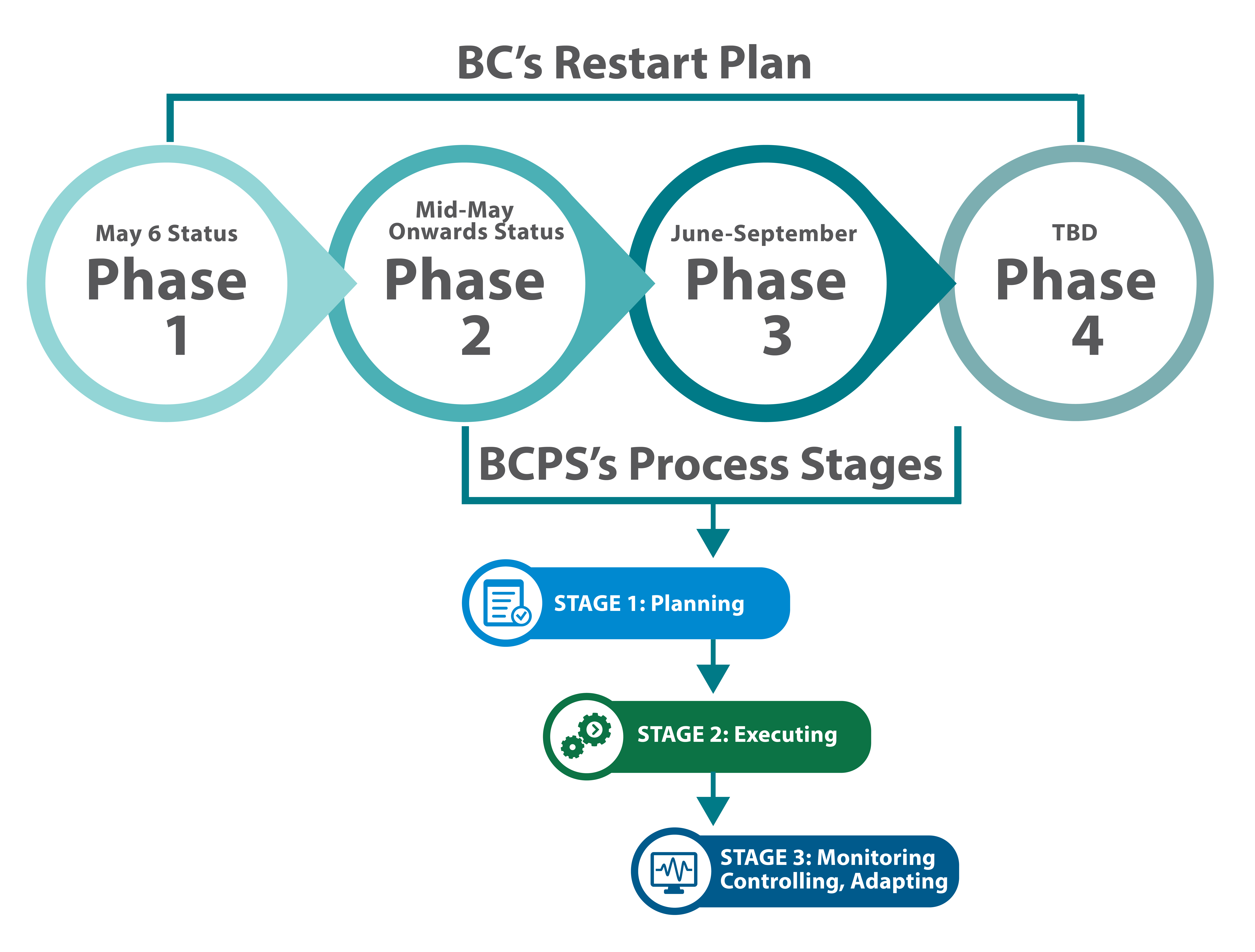 This transition to a new way of operating is intended to be a staged and gradual process. Each ministry will determine its own specific schedules, subject to direction from the Head of the Public Service.
This transition is designed to be a methodical process that allows monitoring of the health of the workforce and the effectiveness of health and safety measures intended to avoid the risk of transmission of COVID-19 in our workplaces.
BC PSA's Process Stages
In taking steps to maintain a safe and healthy workplace during the pandemic, ministries should work through three stages:
Stage 1: Planning - flexible duration (Ministry timelines)
Determine critical functions and positions
Perform workplace (and client interactions) risk assessment
Determine new workplace capacity and protocols
Establish client-employee safe interaction protocols
Select and post Safe Work Procedures
Provide orientation and training
Stage 2: Executing - minimum two weeks duration
Initiate gradual move to the new workplace capacity (unless already at that level)
Monitor effectiveness of all measures
Investigate any gaps in measures
Identify and implement improvements to measures
Complete inspections
Stage 3: Monitoring, Controlling and Adapting - in effect for 6 to 18 months
Based on satisfactory inspections, operate up to the new maximum workplace capacity
Ensure returning staff are trained
Monitor effectiveness of all measures
Investigate any gaps in measures
Adapt as required
Maintain records
Several ministries had to maintain staff within workplaces and interacting with the public to provide some essential services which cannot be delivered remotely. As a result, they may have to adopt a slightly different process to confirm the effectiveness of the measures they have already put in place.