Government Communications Job Application Guide
This guide takes applicants through the profile based inventory for Communications Managers, Public Affairs Officers, and Online Editors job postings.
Hiring Process for Communications Roles at Government Communications & Public Engagement (GCPE)
Q: I see a posting I want to apply for. Can I send my resume via email?
A: Emailed resumes won't be added to our system. Please apply through GCPE's online application system.
Q: I have submitted my resume online. Now what?
A: GCPE reviews every application that's submitted through our online application system. If you meet or exceed the required qualifications and experience, you may be contacted to complete a writing test. Writing tests are done via email, and you're given two hours to complete the test.
Q: I completed a writing test. What happens next?
A: Participating in the writing test doesn't guarantee moving to the next steps in our recruitment process, as we test more people than we interview. We follow up candidates about their writing test results and provide feedback when requested.
Q: I have completed a writing test and have been told my writing test was successful. Now what?
A: Congratulations! By passing the writing test, that means you'll be placed into our "prequalified pool" of applicants. The next time we have a vacancy, we'll forward your application, along with others, to the communications director/manager who is recruiting.
Q: How will I be contacted to attend an interview?
A: When we're ready to invite you for an interview, you'll be phoned and/or emailed by GCPE Talent Services. Then, you'll receive a confirmation email with details about the date, time and location of the interview.
Q: Are there any positions available outside of Victoria?
A: The majority of our positions within GCPE are located in Victoria. Very few employment opportunities are posted for Vancouver or other areas of B.C.
Q: Are there options to work from home?
A: Operational requirements often limit the number of telecommuting options. These situations are reviewed on a case-by-case basis.
---
GCPE's Online Application System
Topics in this FAQ
Creating your profile

How to apply

After you apply

The legal stuff
---
Creating Your Profile
Q: When I upload my resume as an attachment, the formatting is lost. How do I keep the formatting of my resume consistent?
A: When you upload your resume, the system makes a copy of it and puts it in the resume text box. Think of this as a "quick review" of your resume's contents. The original file you submit – with formatting intact – is submitted to us as an attachment. You should edit the formatting of your resume in the text box, but this isn't essential.
Q: How do I know which "job stream" to select?
A: Read each position description first. You should select the job stream that most closely matches the inventory you're applying for.
Q: I am a communicator, but I also do marketing. Do I create two separate profiles?
A: Yes, you can create two separate profiles - one highlighting your marketing experience, and the other highlighting your communications experience.
Q: How do I create more than one profile under my username?
A: You can create additional profiles by clicking on "Add Additional Profile" under the "Profile" section. By doing this, you can create a title for your new profile, select a different job stream, and upload a new resume and cover letter. You can then add new core skills and job positions to your profile based on the job stream you select.
Q: What types of documents should go in the "Business Documents" section of my profile?
A: You can include reference letters, samples of writing, samples of past work material (newsletters, spreadsheets, reports), or copies of degrees, awards or certificates.
Q: Will my profile deactivate if I don't log on for an extended period of time?
A: If you haven't logged on for a period of six months, you'll receive a notification email to ask if you would like to keep your profile active. If you don't log on within two weeks of this notice, your profile will be deleted.
---
How to Apply
Q: I have created a profile and uploaded my resume. How do I apply for an open position?
A: Here are the three steps to apply directly to an open position.
Step 1: Click on the link for the position you're interested in. At the top or bottom right of the page, there is an "Apply Online Now" button. Click the button and you'll be prompted to log in with your username and password.
Step 2: After logging in, you can select the resume/profile you would like to submit, attach a cover letter, and fill out the pre-screening questionnaire.
Step 3: Click "Confirm and Submit Application" at the bottom of the page.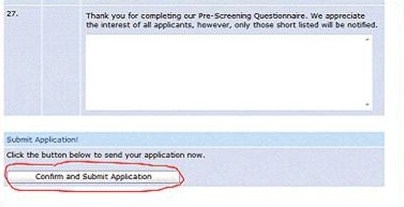 Q: How long does it take to apply?
A: You should set aside 20 minutes to submit your resume and complete the pre-screening questionnaire (PSQ). If you take longer, the system may time you out and you'll have to start the PSQ over again.
---
After You Apply
Q: Once I have applied for a position, can I update the information I submitted?
A: You can change your profile and resume at any time. These changes will be reflected in the application you submitted to a posting.
Q: Once I have applied to an open posting, can I change my answers to the pre-screening questionnaire (PSQ)?
A: No. These answers can't be changed after the fact.
Q: Can I reapply to an open posting?
A: No. Once you've applied to a posting, you can't rescind your application. If you wish to update information in your application, you can make changes directly to your profile and resume. These changes will be reflected in your online application.
---
The Legal Stuff
Q: Why is it mandatory for me to disclose my title in the contact information?
A: It's not. If you don't wish to include a title, select the "none" button.
Q: Who has access to the personal and professional information in my profile?
A: As soon as you create a username and account, GCPE Talent Services staff and hiring directors/managers will have access to the personal and professional information you supply in your profile. This information isn't disclosed to any other parties.
Q: How will my personal and professional information be used?
A: GCPE will use your personal and professional information to review your qualifications, past work experience and skills in order to assess your fit with the position you applied for, whether it's a specific posting or a general resume submission.