Step 3 - Issue Opportunity
Notes
Remember that the new BC Bid differs from the current BC Bid in that there is no 1-hour lag between issuing and publishing to the public portal.
Click to enlarge image
36. Click Ready to Issue.
Note: To delete a draft opportunity, click the Other Actions drop-down button and select Delete RFx. To undelete a draft RFx, contact BC Bid Help Desk. Deleted opportunities are not visible in the Sourcing Projects menu. ​

If the Auto issuing checkbox is selected in the Setup tab, the BC Bid application will automatically post the opportunity at the Issue Date & Time.
​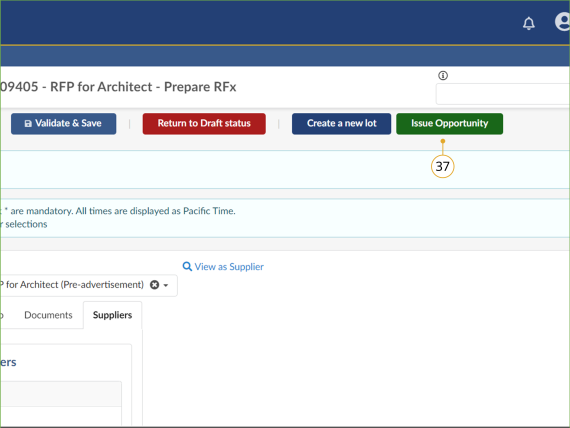 Click to enlarge image
37. Click Issue Opportunity.
Note: Click Return to Draft status to continue drafting the opportunity.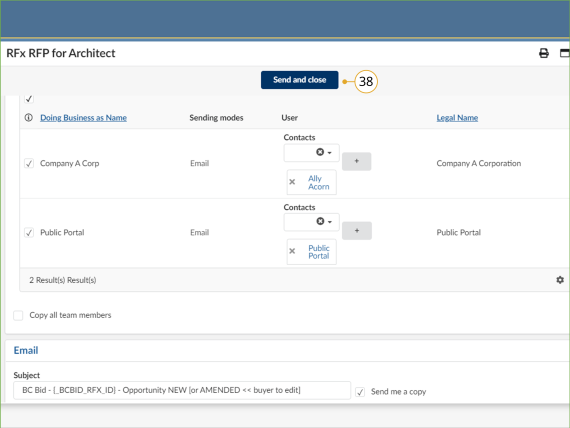 Click to enlarge image
38. In the dialog box, the Public Dashboard and all invited Suppliers will be selected to receive a notification of the opportunity, deselect any that do not apply and then click Send and Close.
Note: After clicking Send and Close, Buyers should review the two messages that display and click OK to issue the opportunity.
To receive a copy of the opportunity by email, Buyers must select the Send me a copy checkbox.​

Buyers should edit the subject and body of the email notification as necessary to ensure that Suppliers know if the opportunity is new or has been amended. Any content contained within curly brackets in the email notification will auto-fill from fields in the BC Bid application. ​
​​