Login and Registration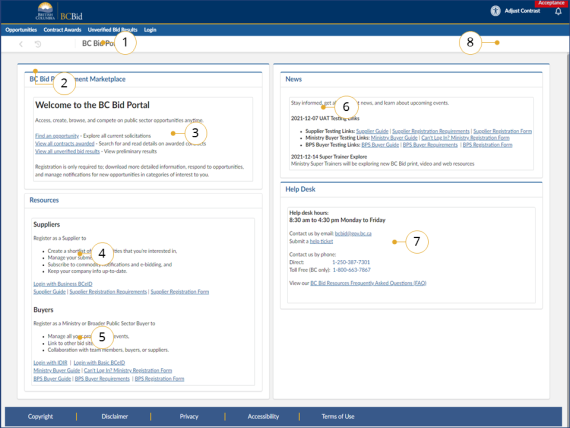 1. Click the BC Bid icon at any time to return to this main page.
2. Main menu has links to Opportunities, Contract Awards, Unverified Bid Results and Login.
3. The Welcome box will display a welcome message and quick links.
4. Supplier Resources are listed. Learn about benefits to registration and follow links to registration form and login.
5. Buyer Resources are listed. Follow links to access buyer resources pages, registration form and login.
6. News and upcoming events will be posted here.
7. Help Desk contact information including a link to the ticket system.
8. Adjust Contrast – Click here to activate a higher contrast dark mode
You can find more information about the Public Portal in the Public Portal Guide.
1. Navigate to BC Bid to see the Log In page.
2. Enter your IDIR Username and Password.
3. Click Continue.
Note: Buyers will be directed to the Buyer Dashboard.

To reset an IDIR password, contact Help Desk at 250-387-7000 or by emailing 77000@gov.bc.ca