Supplier dashboard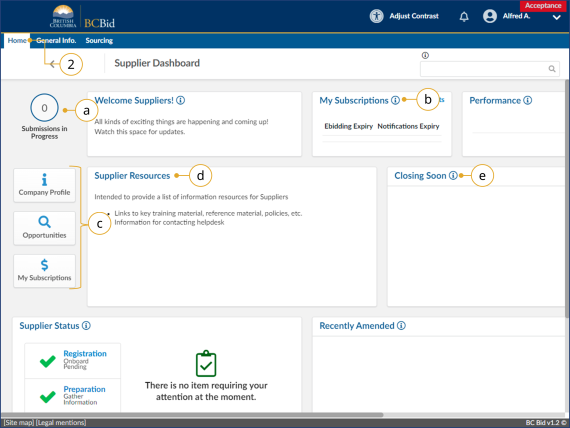 Click to view larger image
1. Log in to BC Bid.
2. Navigate to the Home tab to see the Supplier Dashboard.
a. Click the Submissions in Progress to review all In Progress submissions.
b. Review the My Subscriptions to see the e-Bidding and Notifications expiry dates.
c. Click a Quick Access button to navigate quickly to a particular area of BC Bid.
d. Check the Supplier Resources for important information
e. Review the Closing Soon list to view the opportunities you are interested in that are closing the soonest.

f. Check the Supplier Status area to review any items that may require attention.
g. Review the Recently Amended list view the opportunities that you are interested in that have been recently amended.
h. Optional: Click Adjust Contrast to change the theme for accessibility.