Step 1 - Opportunity overview
Reviewing the opportunity information will help organizations decide if they want to participate in the opportunity.
Pre-Advertisement
Some opportunities may be pre-advertised. This means that they are posted on BC Bid but not available for bidding initially. They have status of pre-advertisement.
Amendments
Amendments reflect substantial changes to a specific lot. If an amendment has been issued, any previously received submissions for that opportunity (in the same lot) are rejected and will need to be resubmitted. For more information see Addenda and Amendments.
Lots
Opportunities that have multiple stages are managed using Lots. An example is running the first Lot to generate a list of qualified suppliers followed by a second Lot with shortlisted suppliers. Lots can also be used to break up large item sets into smaller sets.
When organizations are reviewing an opportunity to determine their interest, they want to review the opportunity information to determine if they can provide the product and/or service that is being requested.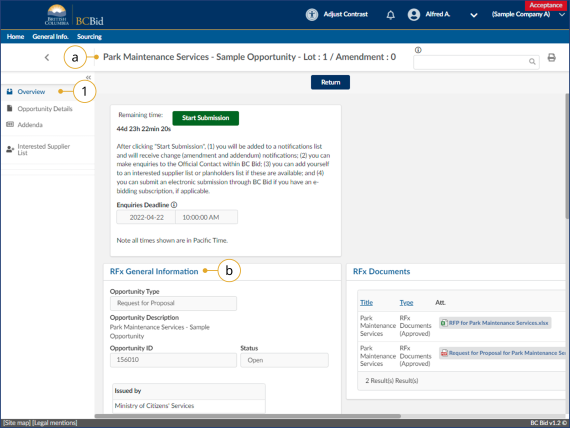 Click to view larger image
1. Once you've selected an opportunity from the search, on the Overview tab, review the RFx General Information and RFx Documents sections.
a. Opportunity Description and Lot/Amendment numbers will be identified.
b. RFx General Information displays Opportunity Type, Opportunity Description, Opportunity ID, Issued by/for organization, Commodity Codes, Amendment History, Issue/Closing dates, Submission Instructions, and Summary Details.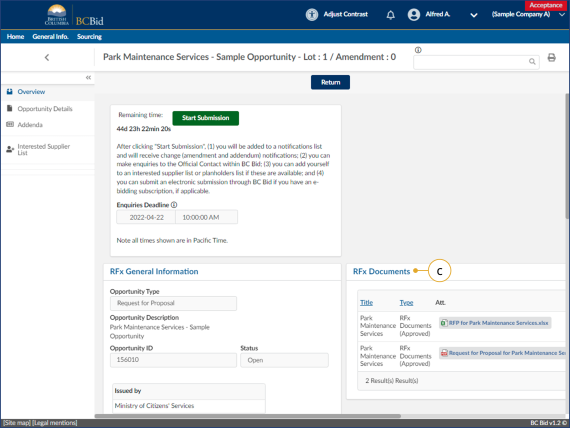 Click to view larger image
c. RFx Documents are the attachments related to the opportunity. The documents may need to be completed and included with the submission.
There may be additional documents provided with any addenda issued. Check the Addenda tab for any additional information and documents.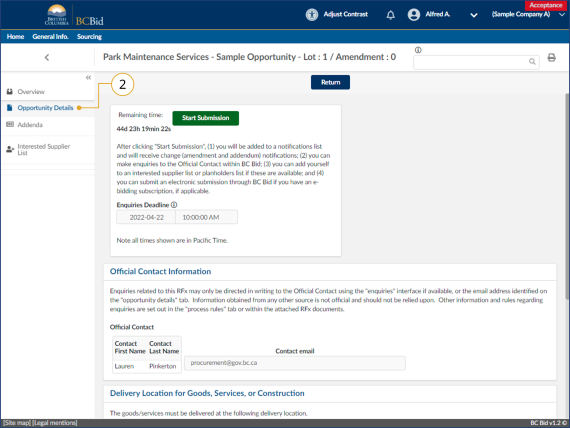 Click to view larger image
2. On the left-hand menu, click Opportunity Details. This screen provides details related to the opportunity such as: Official Contact, Delivery location, Trade Agreements, and Mandatory Criteria.
Note: These options are different for each opportunity type. There may be more or less information depending on the opportunity.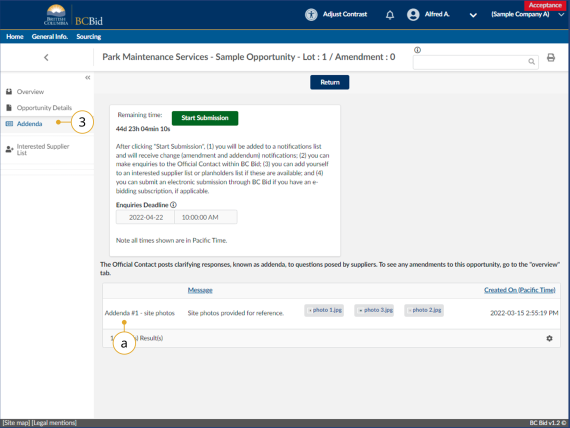 Click to view larger image
3. On the left-hand menu, click Addenda to view any addenda issued.
a. Addenda are minor changes to an opportunity, such as providing clarifying information or a buyer replying to a question. Addenda will not require responses to be resubmitted.
For more information, see the Amendments & Addenda section.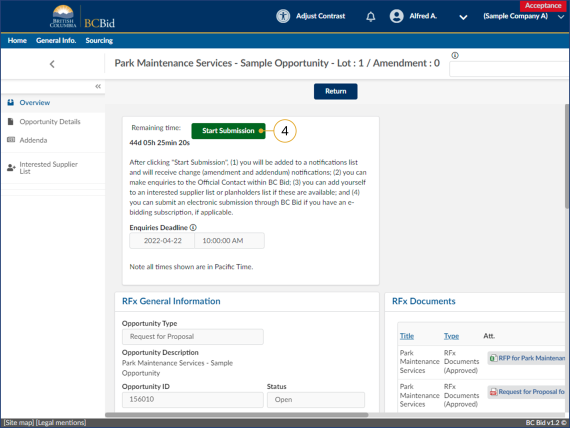 Click to view larger image
4. To proceed in participating in the opportunity, click the Start Submission button.
By clicking Start Submission (or by being added as a known supplier by the buyer), the supplier will:
Receive notifications of addenda and amendments.
Easily access the project on the Manage Submissions list.
Begin drafting the opportunity in the application (for e-bidding or offline submission).
Submit Enquiries to the Official Contact within the application.
The buyer will see a list of suppliers who are interested in the opportunity based on the Start Submission button being selected.
Click to view larger image
5. Once the Start Submission button has been clicked, there will be a notification displayed.
6. The Start Submission button will not be visible once it has been selected. If the buyer added the supplier as a interested supplier, the Start Submission button will not be visible.