Building Patient Care
The government of British Columbia is continuing to invest billions of dollars in new hospitals, upgrades, equipment and renovations.
Since 2001, about $12 billion has been spent on health sector capital projects in British Columbia. Over the next three years, British Columbia will benefit from investments such as new medical equipment and modernized health facilities as part of an approximately $2.7-billion health sector capital plan.
Visit the links below to find out how our government is ensuring B.C. provides world class health care today, tomorrow and for future generations.
Patient Care
Investment in health-care infrastructure benefits the health of all British Columbians, and helps to create thousands of jobs in communities around the province.
See below for examples of health sector capital projects across B.C., as part of approximately $12 billion in government spending since 2001.
A print-ready file of these projects can be viewed here: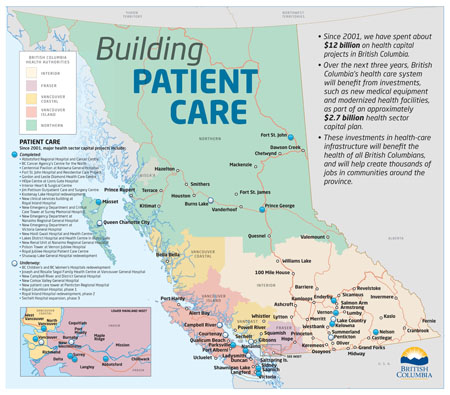 Emergency Care
Government continues to improve emergency department care in British Columbia.
Since 2001, government, regional hospital districts and hospital foundations have committed more than $604 million to improve and expand more than 40 emergency departments throughout the province.
A print-ready file of these improvements can be viewed here: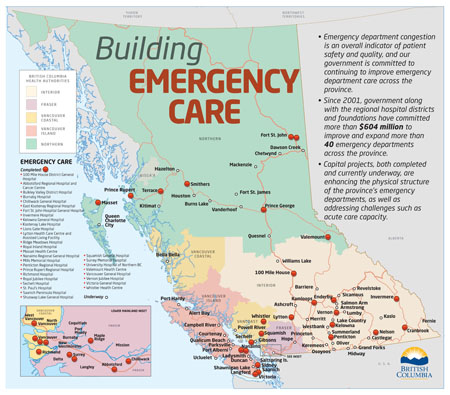 Seniors Care
We are building better care for our seniors to allow them to live in the communities that they call home for as long as possible in an environment that treats them with dignity and respect that they deserve.
See below for B.C. communities that have benefited from the almost 32,000 residential care, assisted living and group home beds available throughout the province.
A print-ready file of these communities can be viewed here: