Citizen Engagement Handbook
The purpose of this document is to provide guidance to ministries, Government Communication and Public Engagement staff, and B.C. public servants that are interested in planning a citizen engagement initiative.
Since 2012, there has been growing interest from B.C. government ministries in engaging the public on a variety of topics. In total there were 218 opportunities for the public to give input between June 2012 and September 2016. Here is a breakdown of those topics by sector:
(Numbers as of September 2016) BC Government Engagement opportunities since 2012, numbers are as of September 2016. The Public has provided input to government on 218 topics: 13 Business & Commerce; 7 Education & Training; 32 Environmental Protection; 10 Families & Residents; 24 Government; 13 Health & Safety; 19 Land & Animals; 56 Natural Resources; 24 Recreation & Parks; and 20 Transportation.
During this time the B.C. government received more than 361,087 contributions through a variety of input methods including 50,920 blog comments, 48,820 feedback forms/surveys and 33,146 emails and letters.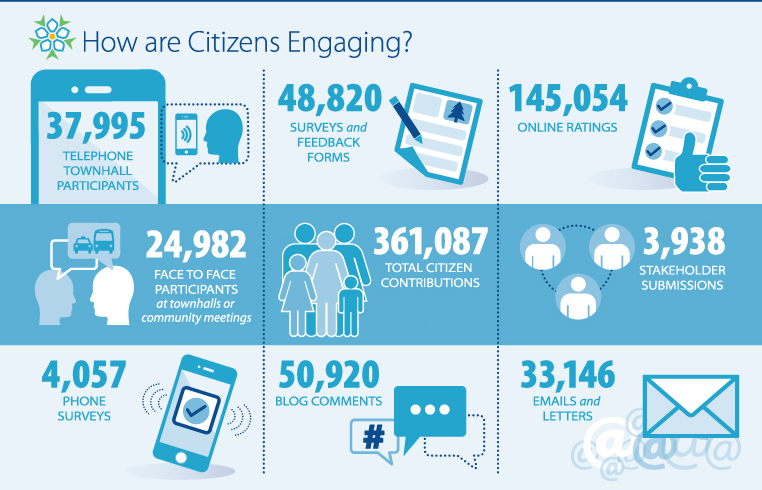 (Numbers as of September 2016) How are Citizens Engaging? 37,995 Telephone Townhall Participants; 48,820 Surveys and Feedback Forms; 145,054 Online Ratings; 24,982 Face-to-face Participants at Townhalls or Community Meetings; 3,938 Stakeholder Submissions; 4,057 Phone Surveys; 50,920 Blog Comments; 33,146 Emails and Letters; 361, 087 Total Citizen Contributions.
This document references many internal-to-government processes, but may also be useful to other governments and citizen engagement practitioners. A complimentary document to the Citizen Engagement Handbook is the B.C. government's Service Design Playbook which focuses on improving service delivery to British Columbians.
For those reading this for the first time it is important to note that the Citizen Engagement Team will do a lot of the heavy lifting and help to guide ministries through the process, however, the ministry's subject matter expertise and their Government Communication and Public Engagement Communications Shop are vital to the overall process. A citizen engagement initiative is a three-way collaborative partnership.