Tourism Success Stories
Elk Falls Suspension Bridge - Campbell River
The vision of the Rotary Club of Campbell River, the Elk Falls Suspension Bridge was developed in partnership with BC Parks and BC Hydro. With funding from community, government, business and Island Coastal Economic Trust (ICET), it is a demonstration of the important role non-profits can play in rallying support for economic development. The bridge will provide opportunities for new target markets such as bus tours, mobility challenged visitors, more adventurous thrill seekers as well as other new hospitality and business opportunities to service and grow these new markets.
Business and Visitor Information Centre - City of Revelstoke
The strong growth of tourism in Revelstoke in recent years prompted the community to build a a new, permanent Tourism and Business Information Centre. The Centre is designed to provide enhanced services to tourists and investors to meet short and long term goals.
Training for World Class Customer Service - Whistler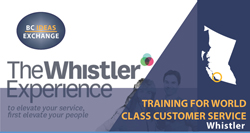 The Whistler Experience™ leverages a world-class learning partnership with University of Victoria's Gustavson School of Business. This executive level service training teaches teams to apply psychology and recognize opportunities to win and keep customers.