Forestry
Wildwood Ecoforest - Cedar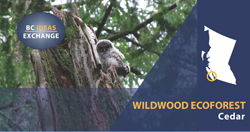 In December 2016, the Ecoforestry Institute Society (EIS) celebrated its acquisition of Wildwood Ecoforest, saving it from a private sale and keeping it in the public domain. For three years, EIS partnered with citizens, advocacy groups and conservation agencies to raise legal and acquisition funds, promote public awareness and develop the legal instruments needed to protect Wildwood forever, ensuring its place as a unique demonstration ecoforest and learning centre.
A Community Forest License - Barriere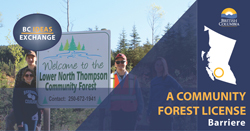 The Lower North Thompson Community Forest Society (LNTCFS) is located in Barriere, B.C. and was created by volunteers in 2004 to pursue a Community Forest License for the Lower North Thompson Valley.